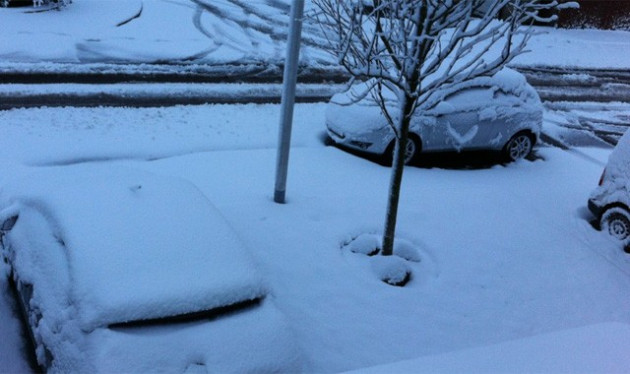 Britain has experienced a stark contrast in weather conditions, with parts of Scotland seeing 18cm of snow while southern England prepares for a hosepipe ban.
Northern parts of Scotland were blanketed by 18cm of snow in just four hours, making last week's record-breaking high temperatures seem like a distant memory.
Temperatures in Scotland are set to drop to -5C as the cold spell sweeps down to northern parts of England, Wales and the Midlands.
During the surprise warm spell, temperatures rose to 23.6C in Aboyne, Aberdeenshire on 27 March, marking a new high in Scotland for the month.
The snow is expected to reach northern England and the Midlands by Wednesday.
Aisling Creevy, a forecaster with MeteoGroup, the Press Association's weather division, said: "A slow-moving Arctic front has brought a wintry mix of weather to parts of Scotland overnight with snow, sleet and rain in northern and central areas.
"Snow and rain showers will continue in Scotland throughout the day and move into northern England before reaching the Midlands tomorrow morning.
"A raw northeasterly wind will also make it feel very cold, with the wind chill taking two or three of degrees off the actual temperature.
"Tomorrow the UK will be noticeably colder and feeling quite raw and we could get widespread lows of around -5C in Scotland overnight."
The snow looks set to miss the southeast of Britain, with the warm March weather already exacerbating the water shortages which have led to an hosepipe ban.
Temperatures are set to hover around the double figure mark in London and the southeast over the next five days, with no sign of rain on the way to help ease the water shortage.
There are seven water companies - Anglian Water, South East Water, Southern Water, Sutton and East Surrey Water, Thames Water, Veolia Water Southeast and Veolia Water Central - which are set to bring in a ban on 5 April in a bid to conserve water after southern areas had two dry winters in a row.
Around 20 million people are set to be affected by the ban in London and southern England, which could last until October.