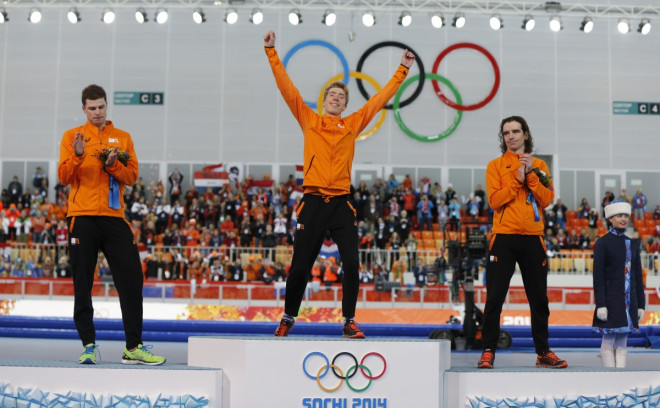 Netherlands and Norway bagged three medals each across seven events on Day 11 of the 2014 Sochi Winter Olympics.
Netherlands reigned supreme in the Men's 10,000m Speed Skating competition by bagging all the three medals.
Tournament favourite Sven Kramer, who won the Men's 5000m Speed Skating competition in 2010 Vancouver Winter Olympics, was stunned by compatriot Jorrit Bergsma who clocked an Olympic record timing of 12:44.45.
Bergsma, however, missed out on Kramer's world record timing by less than three seconds.
Great Britain are one step away from their second gold medal in Russia after progressing to the semi-finals of the Men's Curling event, edging Norway 6-5 in tie-breaker session 1.
Meanwhile, Norway dominated the Nordic Combined – Individual Gundersen LH/10km event, with Joergen Graabak and Magnus Hovdal Moan taking the first and second places respectively.
The third medal for the Norwegians came from Biathlon – Men's Mass Start 15km after Emil Hegle Svendsen finished first, edging France's Martin Fourcade in a close battle. Both men finished at 42 minutes 29.1 seconds, necessitating a photo finish to identify the winner.
Germany added two bronze medals to their tally, with third place finishes by Viktoria Rebensburg and Fabian Riessle in Alpine Skiing – Women's Giant Slalom and Nordic Combined Individual Gundersen LH/10km, respectively.
Russia gained a single silver medal on Tuesday after Nikolay Olyunin finished second in the Men's Snowboard Cross event.
The remaining four gold medals that were up for grabs on Day 11 went to the following athletes.
1) Tina Maze of Slovenia in Alpine Skiing – Women's Giant Slalom
2) David Wise of USA in Freestyle Skiing – Men's Ski Halfpipe
3) Pierre Vaultier of France who won the Men's Snowboard Cross
4) Team Korea comprising Ha-Ri Cho, Alang Kim, Seung-Hi Park and Suk Hee Shim; winning the Ladies' 3000m Relay Finals.
The rankings based on the highest number of gold medals as of Tuesday are as follows:
Rank Nation Gold / Silver / Bronze - Total
1 Germany 8 / 3 / 4 - 15
2 Norway 7 / 4 / 7 - 18
3 Netherlands 6 / 6 / 8 - 20
4 USA 6 / 4 / 10 - 20
5 Russian Fed. 5 / 8 / 6 - 19
You can also refer to the list provided by 'Find The Data', which gives a complete list of medals won in the ongoing Winter Olympics by all nations.