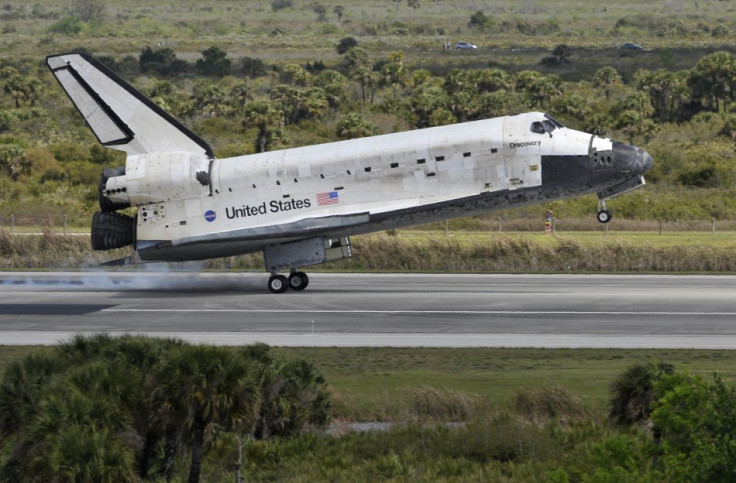 Space shuttle Discovery was decommissioned by the NASA on Friday.
The space shuttle would be kept in the Smithsonian's Steven F. Udvar-Hazy National Air and Space Museum in Washington, D.C., where millions of visitors can get a glimpse of this historic space ship.
In coming months, NASA will be decommissioning its Atlantis and Endeavour space shuttles also.
Discovery was NASA's third space shuttle which carried scientists, launched and repaired satellites and conducted research about outer space. It was brought to the Kennedy Space Center in Florida in November 1983 and made its maiden journey to space in August 1984 to launch three communications satellites.
It returned from its last mission in March this year. The spaceship did more than 30 missions, surpassing the number of missions by other shuttles.
The Museum boasts of Enterprise space shuttle which has been visited by 9 million visitors. Enterprise, which has been at the museum since 2003, would be flown to New York's Intrepid Sea, Air and Space Museum.
The NASA authorities have removed certain attachments and replaced with replicas from Discovery to make it free from any hazardous material.
The shuttle would be carried by NASA's modified Boeing 747 to Dulles Airport in Virginia.
It will then moved to the museum by cranes and placed at the Udvar-Hazy's James S. McDonnell Space Hangar.
According to the National Geography, some of Discovery milestones are:
- Placed Hubble Telescope into earth's orbit in April 1990.
- The shuttle revisits Hubble for second servicing in February 1997.
- Senator and astronaut John H. Glenn flew again in Discovery in October 1998. Glenn became the first U.S. national to orbit Earth in 1962, when he traveled in the Friendship 7 Mercury spacecraft. Thirty-six years later, at 77, he became the oldest person to fly in space.
- Eileen M. Collins as pilot for Discovery's February 1995 mission to the Russian space station Mir became the first woman to take the helm of a space shuttle.
- Discovery was the first U.S. shuttle to approach and fly around Mir.
Discovery mission to the International Space Station (ISS), from July to August of 2005, allowed the shuttle team to study every detail of launch and landing and test new safety protocols.