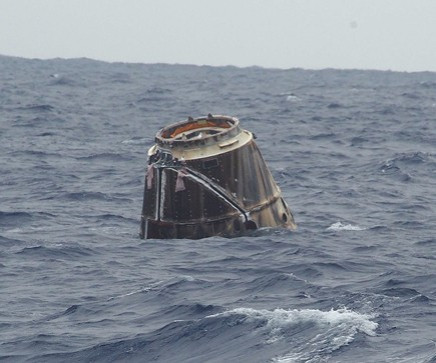 SpaceX dragon has successfully returned to earth from the International Space Station (ISS), according to the Nasa.
The SpaceX's Dragon capsule splashed down in the Pacific Ocean on 31 May, 2012 at 11:42 a.m. EDT.
Dragon was the first commercial vehicle to visit the ISS. It delivered 1,014 pounds of supplies including experiments, food, and clothing to the space station.
SpaceX Dragon is a reusable spacecraft developed by SpaceX, a private space transportation company in California. It was developed under Nasa's Commercial Orbital Transportation Services (COTS) programme.
Dragon's journey to the space station was SpaceX's second demonstration mission under the programme.
On its return trip to the Earth, the capsule carried science experiments that will be returned to researchers hoping to gain new insights provided by the unique microgravity environment in the ISS's laboratories.
In addition to the experiments, Dragon returned a total of 1,367 pounds of hardware and cargo no longer needed aboard the station.
SpaceX dragon splashed down in the Pacific Ocean, exactly a few hundred miles west of Baja California, Mexico. It was launched on 22 May.
The Dragon capsule will be taken in a boat to a port near Los Angeles, where it will be prepared for a return journey to SpaceX's test facility in McGregor, Texas, for processing.
Some cargo would be removed at the port in California and returned to Nasa within 48 hours. The remained would be sent with the capsule to Texas.
"Congratulations to the teams at SpaceX and Nasa who worked hard to make this first commercial mission to the International Space Station an overwhelming success," said Charles Bolden, administrator at the Nasa, in a statement.
"This successful splashdown and the many other achievements of this mission herald a new era in US commercial spaceflight," he added.
Apart from the development of new cargo vehicles, Nasa would also be looking at new innovation and development of safe and cost effective spacecraft and launch vehicles from the commercial industry for the transportation of astronauts to low Earth orbit and the space station.