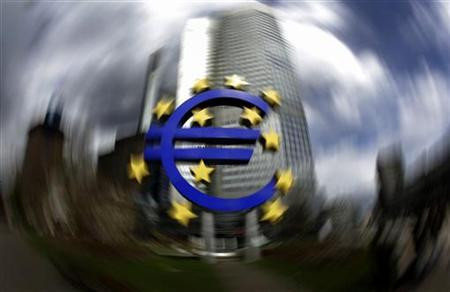 0900 BST: Spanish red
Spain's IBEX 35 index remains the only major European market in the red this morning, falling around 12 points, or 0.2 percent, to 6,389.4. Banks, once again, are the lead decliners with state-owned Bankia falling another 6 percent.
Spanish government bonds, oddly, are showing improvement from their opening levels, with yields falling 6 basis points on benchmark government 10-year bonds to 6.44 percent.
One school of thought suggests the government's preferred plan for Bankia's recapitalisation - using government bonds - adds a bullish tone in that those bonds will be ultimately lodged with the European Central Bank (if the plan were to succeed).
0825 BST: Gilts ease
British government bonds, or Gilts, are falling slightly this morning, pushing yields modestly higher, after a solid start to equity trading and reported comments from the Bank of England's chief economist.
Spencer Dale told BBC Radio Scotland that the balance between growth and inflation in Britain would dictate decisions on expanding the BoE's £325bn programme of quantitative easing.
"Monetary policy at the moment is very stimulatory," he said. "We have undertaken a large amount of quantitative easing and that will continue to flow through the economy."
Benchmark 10-year Gilt yields rose 2 basis points to 1.788 percent while 2-year Gilt yields were 2.5 basis points higher at 0.264 precent.
0815 BST: Earthquake reported
Various residents in Milan have been asked to evacuate buildings, shops and homes after reports of a 6.0 magnitude earthquake near the Italian city.
UPDATE: United States Geological Service says quake was 6.0, hit 32 miles north-east of Parma.
0810 BST: Counting the costs
Retail sales in Spain - the fourth largest economy inside the Eurozone, it's worth remembering - plunged 9.8 percent year-on-year last month, the steepest on record, as demand disappeared amid a deepening recession.
The figure is a full 6 percent higher than the 3.8 percent retail sales fall in March, according to National Statistics Institute figures.
0805 BST: As expected
Europe's share markets are opening with a small boost this morning, led by a solid 0.5 percent (5 point) gain for the FTSE Eurofirst 300, which hit 988.79 in the opening trades after the bell.
London's FTSE 100 rose 13 points, as expected, while the DAX outpaced anticipated gains to rise 1.2 percent in the immediate minutes of trading. Indices in Spain and Italy also posted gains of 0.6 percent.
0750 BST: Good Morning!
Asia markets have set a decent tone to kick-off the morning, rising modestly for a second consecutive session after more hints of spending and stimulus from government officials in China.
The MSCI Asia Index added around 0.6 percent, paring some of its earlier gains after bond markets opened in Europe and investors began to stress-test market reaction to the deepening economic concerns in Spain.
Benchmark 10-year Spanish government debt is now trading at 6.51 percent - the highest yield recorded since the European Central Bank began adding billions in market liquidity through its long-term repo operations, or LTROs. The difference in yield between Spanish bonds and German bunds is now at a Eurozone high of 512 basis points.
Financial bookmakers are looking for a modest rise at the start of European equity markets, with Britain's FTSE 100 expected to gain around 19 points after the bell, Germany's DAX 44 and France's CAC-40 16.
Bond markets will also be active with acutions from Italy and France and a slew of inflation data from Germany
The single currency was little changed at 1.2540 during overnight trading, while gold continued its May collapse, falling another 0.3 percent to $1,571.43 per ounce, extending the precious metal's losing streak to four months, the longest stretch of losses since 1999.