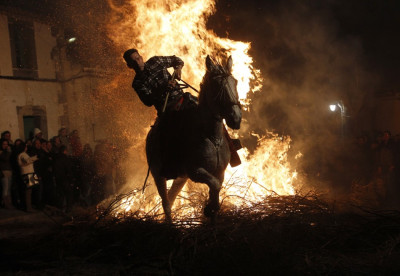 Spectacular images show men in a Spanish village riding their horses through fire in a celebration of the patron saint of animals.
The annual Luminarias festival, which is believed to go back 500 years, takes place in San Bartoleme de los Pinares, 60 miles northwest of Madrid.
According to tradition the horses are purified by passing through the fire to protect them for the coming year.
Dozens of riders take part in the event each year, jumping through the flames until midnight, when the bonfires are used as barbecues for the crowds.