European Crisis Live: Yields Rise To Record Highs After Spain Cut to the Edge of Junk Status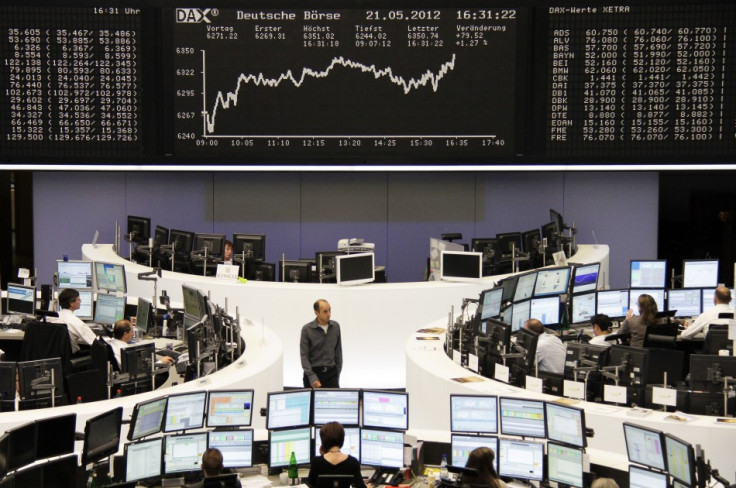 1505 BST: Pro-Growth Litmus Test
German lawmakers will vote to approve the country's participation in both the region's permanent bailout fund, the European Stability Mechanism (ESM) and the Growth and Stability Pact on 29 June. Chancellor Angela Merkel needs opposition support for approval to clear the 66 percent majority needed in both Houses of the German parliament. She'll get it - but only just, and only in the nick of time: the ESM was designed to activate on 1 July.
Interestingly, the key component to her securing opposition support for both votes is the inclusion of growth-related compromises in both pieces of legislation, Reuters is reporting. Perhaps the Lady *is* for turning? And, if so, that could mean a more flexible approach to budget discipline around the Eurozone.
1455 BST: Back on the tiller ...
... after working on a side piece ahead of the Greek elections , the new White Paper on banking regulation in Britain, and the share price plunges in BSKYB and Credit Suisse. Check them out.
Looks as though there's been some mild improvement in bond markets, however, with Spain's benchmark 10-year notes now being quoted at around 6.87 percent after having traded (I'm told by reliable sources) at 6.998 percent earlier this morning (avoiding the dreaded 7 percent breach). German bund futures touched a session-high of 142.41 after tame inflation data from the United States (no inflation Holocaust, then?).
Social media chat seems to be interested in "who knew what" ahead of the huge surge in Greek banking stocks earlier today.
1125 BST: Greek bank stocks
Greek bank stocks have surged more than 20 percent this morning after reports of a "private" opinion poll show pro-bailout parties gaining traction in the final days before Sunday's election. Greek law forbids the publication of public polls in the two weeks prior to any election. The last slate of polls indicated a virtual dead-heat between pro-bailout party New Democracy and the stridently anti-EU leftists, Syriza.
The Athens Stocks Exchange General Index is up around 6.6 percent today, with huge gains for lenders such as Alpha Bank (24 percent) Ellaktor (20.6 percent) and National Bank of Greece (19.5 percent).
1050 BST: Where will you be in 2060?
The UK's Debt Management Office, which manages Gilt sales for the Treasury, auctioned £1.5bn in 48-year bonds (which carry a 4 percent coupon) at an average yield of 3.28 percent - that's around 86 basis points lower than at the previous sale in June 2011.
Just over £2.7bn in total bids were placed for the bonds, indicating a bid-to-cover ratio of 1.81 times.
1045 BST: Beyond the breach?
There's much social media chatter regarding the "magic figure" of 7 percent on European government debt yields. There's no question it's an important (although curiously round) figure, in that it was the threshold after which bailouts were arranged for Greece, Ireland and Portugal.
However, despite what you may have heard/read, we're *not* there yet for Spain. At present, electronic trading platform Tradeweb , the closest thing the opaque bonds markets have to an industry standard, is quoting the following:
B92.161 (6.99) A92.866 (6.822)
What does this mean? A buyer is willing to pay €92.161 for every €100 in Spanish bonds (which carry a 5.85 percent annual coupon). The yield-to-maturity, if the buyer reinvested each and every 5.85 percent coupon *at the same rate* (I know, it's insane) would be 6.99 percent. A seller, meanwhile, would part with her Spanish bonds at €92.866 of face value.
I haven't seen an actual trade at a price that indicates a 7 percent yield-to-maturity (which, as mentioned, is a truly ephemeral figure in the first place). Thus the "mid-market" yield of 6.93 percent (5 basis points from both the bid/offer price) seems about fair.
I'll keep an eye on it.
1020 BST: Italy bond sale
Debt costs at Italy's first bond sale since the Spanish downgrade have surged at its forced to pay 5.3 percent for a €3bn 3-year BTP. That's around 1.4 percent more than at it's previous auction in mid-May. Demand was solid with €1.592 bid for every €1 on offer (compared to €1.52 previously).
The total auction sale was €4.5bn with the €627m 7-year bonds priced to yield 6.10 percent (up 80 basis points from the last sale) and the 8-year bonds priced to yield 6.13 percent (up 80 basis points from the last sale).
1000 BST: Inflation slows in May
Eurozone prices contracted in May by 0.1 percent, keeping the year-on-year pace of inflation unchanged at 2.4 percent. Core inflation figures were 0.0 percent (m/m) and 1.6 percent (y/y).
Wages for the first three months of the year grew by 2 percent (revised down sharply from previous readings of 2.6 percent and analysts' expectations of 2.5 percent).
0930 BST: Record Borrowing
Bank of Spain data shows Spanish banks borrowed a record high €325bn from the European Central Bank in May - up from €317bn in March. The figures are troubling for two reasons: firstly, it's an indication of how difficult it is for Spain's banks to access inter-bank lending and the broader captial markets as investors continue to question the size and scope of the balance sheet impairments inside the banking system.
Secondly, it gives us an indication as to what kind of impact last night's decision by Moody's Investors Service to lower Spain's debt rating to Baa3 will have on the banks that use Spanish government bonds as borrowing collateral.
At present, three of the four major ratings agencies (Fitch, S&P and Moody's) have Spain rated in the "triple-B" category. If Canadian ratings group DBRS, which currently rates Spain at A (high) after a downgrade on 22 May, cuts it into the triple-B range, the European Central Bank could apply a 5 percent "haircut" to Spanish government bonds that are used as collateral. In effect, €1 of bonds could secure €0.95 of lending (plus interest of 1 percent).
Given the obvious reliance on the ECB window (not to mention the €1tn in long-term lending programmes) by Spain's banking system, a call by the ECB to make up the 5 percent "haircut" difference with cash or securities could be potentially devastating, especially when you consider that bank lending in Spain has fallen by €31.4bn since last August (according to figures from Societe Generale research).
Added to this concern is news that Spain's housing market suffered its worst first quarter decline on record: 12.6 percent from the same period last year. So what we're seeing now is both a deterioration of both the quality of the banking systems assets and an increase in the ability to meet their liabilities.
As of 0930 BST, I'm seeing Spanish 10-year bonds quoted at 6.97 percent / 6.86 percent.
0905 BST: Moving markets
The single currency is getting marginal support from the SNB's comments regarding its 1.20 cap on EUR/CHF spot rate - although its more evident in the EUR/USD which is trading at 1.2574. SNB President Thomas Jordan is taking questions in his regular post-decision press briefing - and while his comments are of great interest to the foreign exchange markets, one of his views is having a big impact in the stock market.
Jordan says leverage at Swiss banks UBS and Credit Suisse are "very high" and says he's urging Credit Suisse to either halt dividends or issue shares in order to bolster its capital base. Credit Suisse shares fell 3.5 percent immediately following the comments.
0830 BST: SNB to enforce cap
The Swiss National Bank says it will enforce its 1.20 per Euro cap for the Franc in the international currency markets and is prepared to buy "unlimited quantities" of currencies in order to do so. The Bank makes no change to its key target lending range of 0.0 percent to 0.25 percent, as expected.
In effect, the SNB is warning that "flight to safety" trades which lift the Franc (and thus blunt exports and create dangerous imbalances inside the domestic economy) will not be tolerated. That said, the SNB isn't seeing inflation pressures yet (in fact, it sees -0.5 percent prices moves for this year) and has actually lifted its GDP growth target (to 1.5 percent from 1 percent).
0820 BST: Not sure this makes things better
German Chancellor Angela Merkel says the Eurozone crisis will be the central theme of discussion at this weekend's G20 Summit in Los Cabos, Mexico.
In statements linked to her regular meeting with German State leaders, Merkel also says Europe has a responsibility to create the political union that was not established when the single currency was launched and that this union needs to be established "step-by-step" - although she admits it's a "Herculean task". She warns against "quick fix" solutions (code for "Euro bonds")
0805 BST: Weaker start
Caution prevails as Europe opens in the red with the FTSE 100 down 0.3 percent and Spain's IBEX down 0.5 percent. Germany's DAX is little changed while the CAC-40 is off around 0.2 percent.
Spain's 10-year bond yields are climbing - now 6.91 percent - and are now dangerously close to the 7 percent (trigger) that precipitated bailouts in Greece, Ireland and Portugal.
0750 BST: Good Morning
Last night's move by Moody's Investors Service to cut the debt ratings of Spain and Cyrpus to the edge of "junk" status (Baa3 from A3 for Spain; Ba4 to Ba1 for Cyprus) set the tone for Asian markets overnight, although, under the circumstances, the performance wasn't dramatic. At present, the broadest measure of Asia shares, the MSCI Asia Pacific Index, is trading around 0.5 percent firmer at 113.44.
European markets are set for modest slip at the open, with financial bookmakers calling for a 9 point drop in the FTSE 100 and similar percentage falls for markets in France and Germany. Bond markets are up and trading with yields rising acorss the board - including benchmark 10-year German bunds, which are quoted at 1.47 percent.
Spain's benchmark 10-year bonds are trading at a record-high yield of 6.86 percent while similar maturity bonds for Italy are quoted at 6.30 percent. Italy is tasked with raising €4.5bn in the market today (3 year, 7 year and 8 year auctions) a day after paying nearly 4 percent for 12-month treasury bills and only hours after the Spanish downgrade. A weak or failed auction could ignite significant market concerns ahead of this weekend's pivotal elections in Greece and accelerate conversations about the long-term future of the Eurozone.
Other potential market-moving events today include an interest rate decision from the Swiss National Bank at 0830 BST, the European Central Bank's monthly bulletin at 0900 BST and the final reading of Eurozone inflation for May at 1000 BST.
© Copyright IBTimes 2023. All rights reserved.