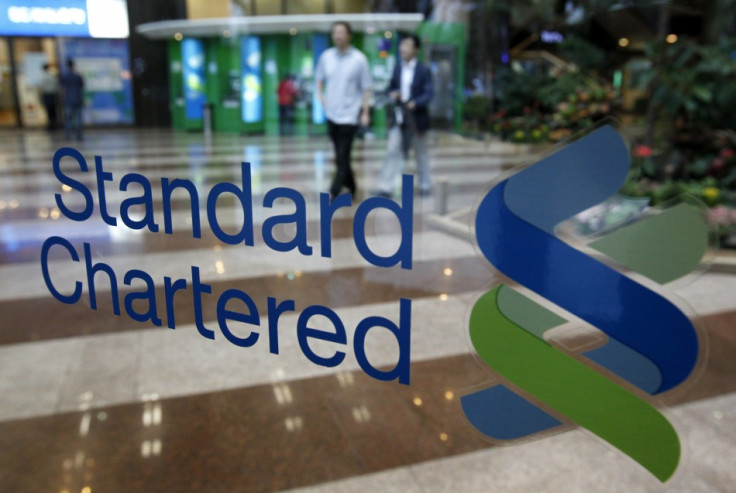 Legal experts in the US and Europe tell the IBTimes UK that Standard Chartered may face further investigations - and possibly charges - following the New York state's filing against the bank for hiding at least a quarter of a trillion dollars worth of transactions tied to Iran. The New York state has also threatened to take away the bank's US banking licence.
"I think everyone is expecting that if the New York state Department of Finance is filing [charges] against Standard Chartered, and one can presume they possess significant evidence, and if that is the case, one would expect the federal government also to file charges eventually," says Marc Greenwald, partner at Quinn Emanuel who specialises in complex commercial litigation and defense of Government investigations.
Greenwald who, in recent years, specialized particularly in representing foreign companies engaged in litigation in courts in the United States, has also previously worked as a federal prosecutor.
"There are multiple jurisdictions that regulate banks in the US; both on the state and federal level," says Greenwald. "The New York State Department of Financial Services filed the charges against Standard Chartered, stemming from activities related to federal sanctions preventing most transactions with Iran. The state prosecuting Standard Chartered would likely be the first step in a bigger case. The fact that the state regulator of is charging the bank under state regulations doesn't prevent the federal government from also filing criminal or civil charges against the bank."
Standard Chartered shares fell the lowest levels since 1988 in London trading on Tuesday, after the New York State authorities accused the bank of acting as a "rogue institution" that hid $250bn worth of transactions tied to Iran and threatened to take away its US banking licence.
The UK-listed bank, which earns the bulk of its profits in emerging markets, vehemently denied the accusations made by the state Department of Financial Services (DFS) in a statement released Tuesday.
"The Group strongly rejects the position or the portrayal of facts as set out in the order issued by the DFS," said Standard Chartered's statement. "The Group had previously reported that it is conducting a review of its historical compliance and is discussing that review with US agencies, including the DFS, the Department of Justice, the Office of Foreign Assets Control, the Federal Reserve Group of New York and the District Attorney of New York. The disclosure appears in our Annual Results of 2010, 2011 and, again most recently, in the 2012 Interim Results in the Risk Review section at p.21 under Regulatory Changes and Compliance."
Legal experts have remarked that this may only be the tip of the iceberg, as Iran sanctions differ across many jurisdictions.
"Sanction compliance is incredibly messy in practise, as there is wide range of international treaties imposing obligations on nation states, which in turn generates national and supra-national legislation such as EU and UK Treasury sanctions," says Stuart Miller, managing partner at law firm Miller Rosenfalck with experience in the United Nations money-laundering sanctions list and the UK & EU regulatory environment. "It's a lawyers' playground for those involved in international trade but it also makes a recipe for confusion and so it is a minefield for the unwary. It is difficult to monitor all situations in different places at different times and there would be no doubt that as a major financial institution, you would be in several conversations with several different regulators at any one time."
Standard Chartered's case closely echoes the case of HSBC, where the UK-listed bank which also derives a substantial portion of its revenue from Asia and emerging markets was found liable by a US Senate subcommittee report for having inadequate systems and controls in place that eventually allowed money laundering violations to place for clients that were linked to drug cartels and terrorism.
"Both HSBC and SCB are heavyweights in these contests," says Miller. "Whilst they may have taken a blow to the chin, it is worth remembering that their gloves are now on and they are entitled to reply - so, expect this particular bout to go the full 15 rounds. I anticipate a points decision, not a knock-out."
US regulators have targeted UK and European banks for its dealings with countries with US sanctions against them since 2009. The US Justice Department, the OFAC and the Manhattan District Attorney's office have investigated a number of major UK and European banks for similar conduct, which has resulted in more than $2.3bn worth of fines.
Experts have remarked that the difference between sanction agreements in different jurisdictions, results is segmented investigations.
"The sanctions regime vary from country to country, individuals and companies, which are largely driven out of political concerns," says Miller. "There is a sort of hierarchy of sanctions, beginning with those sanctions that are UN driven, garnered out of UN Security Council resolutions, where political issues are the drivers - and in the case of Iran, in last 6 years, there have been half a dozen UN Security Council sanctions. There tends to be a step by step diplomatic and legal progression. In the case of Iran, one of the earliest these was UN Security Council resolution 1696 in 2006, banning supplies of nuclear related materials and then, when that didn't have the desired impact, in early 2007 the sanctions turned financial."
"When the UN publishes the details of a sanction, the UN member nations are expected to take steps to implement these in a practical sense and as an international treaty obligation. What you then get is an implementation at a national level and, for example, at an EU level. In the UK nowadays, we rarely impose national sanctions that aren't co-ordinated with our EU partners," adds Miller.
Notably, the US at a national level has been earmarked at having more stringent sanctions and blanket bans, which differ from the UN and EU laws.
"The US do a lot more at a national level and have imposed their own sanctions on Iran going further back, which by now includes arms bans, sanctions on practically every economic area and even blanket sanctions that restrict virtually any kind of financial or political activity with certain countries and even down to individuals and companies," says Miller. "Last year, the US even implemented a ban of US parties trading with Tidewater Middle East Co. and Iran Air, as well as Iran's Revolutionary Guard Corp (IRGC). In February 2012, the US went even further and banned activities with Iran's Central Bank."
Greenwald adds that "in my experience US regulators would coordinate with other regulators in different jurisdictions but would retain autonomy to decide whether or not to bring charges based on the US regulators' discretion."
In the case of Standard Chartered, lawyers believe that if the group is found liable for the charges filed against it, the punishment maybe monetarily severe but it is likely that it would keep its US banking licence.
"In cases like Standard Chartered or HSBC, it is often that the case is resolved between the regulator and the group. The government prefers to work out agreements and often the bank being investigated will settle by agreeing to a fine and conditions before any details are made public," says Greenwald. "I don't think it's likely that Standard Chartered will be stripped of its New York or US banking licence but it is certainly possible, especially for a bank that isn't a core US banking institution. However, these kind of cases are usually resolved before these courses of action are taken."
"I wouldn't be surprised if there was a fine for Standard Chartered, that it would be ultimately large, as this alleged case of misconduct is unprecedented. With any fine, there are also usually agreements to also change supervisory or reporting practices," adds Greenwald. "The US has a very bright line between civil and criminal cases. Banking authorities filed civil proceedings against Standard Chartered and the only results can be in disbarment, the lifting of a licence, prevention of operating in certain areas and places and fines. In a civil case, you cannot be found guilty, you can only be liable. Right now, this is not a criminal case, but it is still possible for the government to file criminal charges, if it wishes to do so, on evidence it may have."