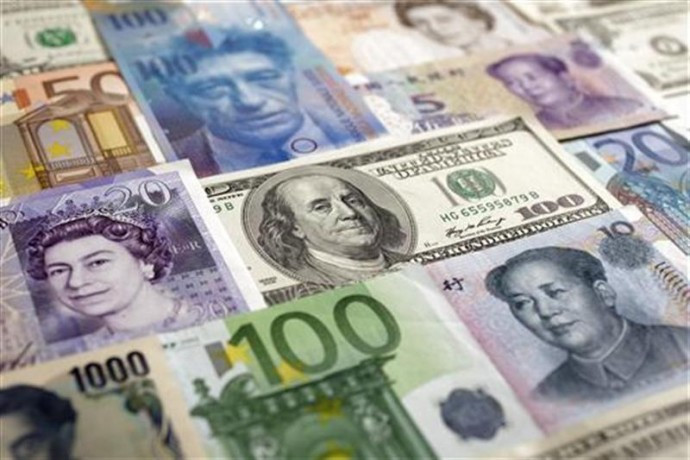 Major currencies are in play with the US Federal Reserve scheduled to announce its quarterly monetary policy on 18 June. For Sterling, the MPC minutes will show how hawkish the policy making body has become with the improved growth and employment conditions in the economy.
Bank of England Governor Mark Carney has already bluntly said the central bank may start tightening monetary policy sooner than the market's expectations.
"There's already great speculation about the exact timing of the first rate hike and this decision is becoming more balanced. It could happen sooner than markets currently expect," Carney said in this year's Mansion House speech on 13 June.
"Growth has been much stronger and unemployment has fallen much faster than either we or anyone else expected at last year's Mansion House dinner. So far this has been largely matched by indicators which suggest that there is more supply capacity in the labour market than we had previously thought, " he said.
The MPC expects the rate at which slack is being eroded to slow during the second half of this year as output growth eases and productivity growth recovers. But thus far there are few signs of a deceleration in output growth, Carney said.
Carney also highlighted the need for getting back to the targeted inflation, which is 2%.
"The MPC's current guidance makes clear that we will set monetary policy to meet the inflation target while using up that spare capacity. This has implications for the timing, pace and degree of Bank Rate increases," Carney said.
As per Tuesday's data, UK's core consumer price index growth slowed to 1.6% year-on-year in May while analysts were expecting 1.7% and compared to 2.0% in April.
Headline inflation slowed to 1.5% y/y and fell 01% m/m versus consensus of 1.7% and 0.2% rise respectively. In April, the numbers were 1.8% and 0.4%.
US inflation
In the US, inflation quickened faster than expected in May, data showed Tuesday.
Headline CPI rose 2.1% year-over-year versus 2.0% consensus, which was the same it registered in April. Month-over-month, it rose 0.4% when analysts were expecting 0.2% and compared to the previous print of 0.3%.
The Federal Open Market Committee (FOMC) will reduce the pace of monthly asset purchases by $10 billion to $35 billion, economists project. Most of the market participants expect the Fed to stop bond buying at its October meeting.
The Fed will release a new set of quarterly forecasts for unemployment, inflation, economic growth and the benchmark federal funds rate on Wednesday. In March, policymakers predicted their target rate, now close to zero, would be 1% at the end of 2015 and 2.25% a year later.
Sterling
The British currency is trading close to 1.7010, the five-year high it rallied to against the greenback, after Carney's speech on 13 June.
On the higher side, the level to watch above the 1.7010 peak is 1.7045 ahead of 1.7323, the 50% retracement of the downtrend from November 2007 to January 2009. What comes next is 1.7443.
It has supports at 1.6844 and 1.6692 ahead of 1.6459 and 1.6251. A breach of this will destabilise the higher-lows-steady-highs pattern from March 2009.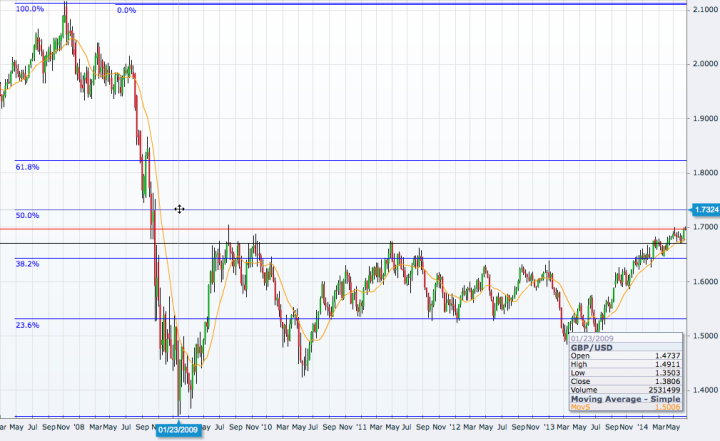 EUR/GBP is trading near an 18-month low 0.7982 and is broadly in a downtrend since the end of 2008. The trending channel has completed two waves and the third one may complete near 0.7400. Before that the pair may see a strong support near 0.7756-0.7691.
Resistances are 0.8100, 0.8200 and 0.8300 but the stronger one is 0.8400, a break of which will threaten the downward channel.