US news channel CNN has been accused of being "rape apologists" following the conviction of two high school footballers for raping a 16-year-old girl.
Ma'lik Richmond, 16, and Trenton Mays, 17, were convicted for the assault in the town of Steubenville, Ohio, and each sentenced to at least a year in juvenile detention.
The case gained huge interest because of suggestions that authorities in the small town tried to cover up the crime to protect the teenagers - two of the most celebrated members of the "Big Red" Steubenville High School American football team, a huge source of pride and income for the town.
Critics turned on CNN's coverage of the conviction, with people accusing the network of placing too much emphasis on how the rape would affect the young footballer's lives instead of the 16-year-old victim.
In an exchange between news anchor Candy Crowley and reporter Poppy Harlow during CNN's State of the Union, Harlow discussed how the pair's conviction had ruined their "promising futures" and watched their tearful breakdown as their world "fell apart".
"I've never experienced anything like it," she told Crowley. "It was incredibly emotional - incredibly difficult even for an outsider like me to watch what happened as these two young men that had such promising futures - star football players, very good students - watched as their life fell apart.
"Richmond, when that sentence came down, collapsed into the arms of his attorney. He said to me, 'My life is over. No one is going to want me now.'
"Both found guilty of raping this 16-year-old girl at a series of parties back in August, alcohol-fuelled parties. Alcohol is a huge part in this."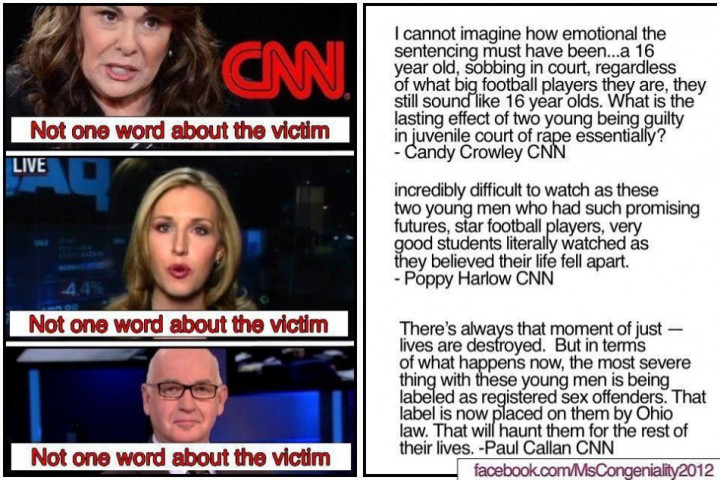 In a separate interview, Crowley asked asked CNN legal contributor Paul Callan how the guilty verdict would affect the teenagers. He responded "it will have a lasting impact" on their lives.
The televised exchanges led to accusations that the network was too sympathetic towards the teenagers.
Kate Aurthur, the chief Los Angeles correspondent for Buzzfeed, tweeted: "Hey, @PoppyHarlowCNN, these young men raped a girl. Why are you so upset on their behalf? Your coverage is bizarre. #Steubenville".
Twitter user @castiels_vein wrote to CNN: "How about apologising for sympathizing with rapists? How deluded do you have to be?"
The UniteWomen campaign group tweeted images of the reporters and transcipts of their comments under the banner "Not one word about the victim".
A petition demanding that the broadcaster apologise for its coverage of the rape trial has gathered more than 20,000 signatures.
IB Times UK's request for a comment from CNN was not returned at the time of publishing.