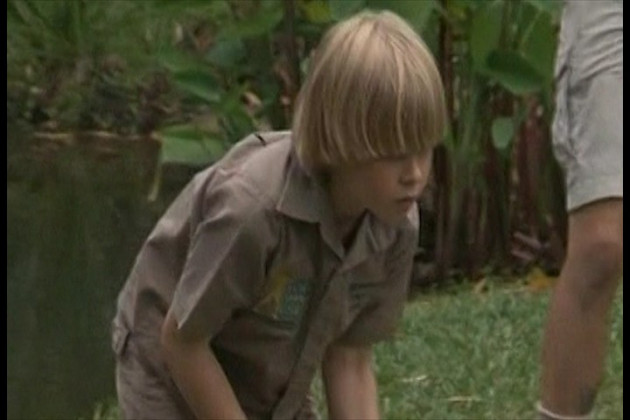 The son of world famous crocodile hunter Steve Irwin appears on his way to following in his father's footsteps after he was filmed feeding his first saltwater crocodile. Eight-year-old Robert gave the beast dinner at the Irwin family zoo in Beerwah, Australia.
Sporting the same trademark long blond hair as his dad, Robert said he found the experience exciting.
"When they're walking right at you, it's funny watching," he said.
It was not the first time Robert had been caught on camera in the vicinity of the man-eating reptile. His dad caused outrage when he was filmed holding one-month-old Robert in one hand while feeding a giant crocodile with the other.
"I would be considered a bad parent if I didn't teach my children to be croc-savvy," Steve explained at the time.
It appears the fearless youngster has inherited his dad's daredevil attitude after telling reporters at the zoo: "I'm not really scared of anything. Every day I get to wake up to the tigers and elephants and crocs and everything."
Steve Irwin was killed in 2006 after a stingray stabbed him in the chest while the explorer was filming for an underwater documentary in Australia's Great Barrier Reef.
The wife of the late wildlife expert, Terri Irwin, said that the family would continue to maintain his legacy on animal conservation.
"Steve built most of what you see, and Steve's presence on television was larger than life," she said.
"But I'm a very determined woman and together, with Bindi and Robert, we're going to be able to take things into the future in a big way."
Irwin rose to international fame with his wildlife documentary show, The Crocodile Hunter, which enjoyed five successful seasons from 1997 to 2004. The show spawned numerous spin-offs and the Irwin family are working on their first TV show together since his death.