The man responsible for turning around the ailing Windows division at Microsoft, Steven Sinofsky, has left the company.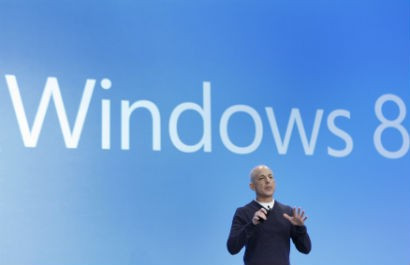 In a shock announcement this morning Microsoft CEO Steve Ballmer said he was grateful for everything Sinofsky had done during his time at the company. Sinofsky had been seen by some as a natural successor to Ballmer.
Sinofsky became president of the Windows division in July 2009, following the poorly received Vista version of the popular desktop OS.
In a memo to staff at Microsoft, Ballmer said Sinofsky was the one who decided to leave the company:
"As we enter this new era, and with the successful launch of Windows 8 and Surface behind us, Steven Sinofsky has decided to leave the company. Steven joined Microsoft in 1989 as a software development engineer and has contributed to the company in many ways."
He oversaw the development and release of the hugely popular and financially successful Windows 7 and just last month Sinofsky, was the driving force behind the launch of Windows 8, with Sinofsky demonstrating the radical new OS on stage.
In a statement, Sinofsky said:
"It is impossible to count the blessings I have received over my years at Microsoft. I am humbled by the professionalism and generosity of everyone I have had the good fortune to work with at this awesome company."
Responsibilities
Microsoft has also announced that Sinofsky's responsibilities will be passed to two long-time Microsoft employees.
Julie Larson-Green, who has been at Microsoft since 2003, will be promoted to oversee all Windows software and hardware engineering.
Tami Reller, who is currently the company's chief financial officer and chief marketing officer, will now add the business side of Windows to her responsibilities.
Larson-Green during her almost two decades at Microsoft has been involved in the early development of Internet Explorer, as well as a design overhaul of Office. She was also heavily involved in the development of both Windows 7 and 8.
"Leading Windows engineering is an incredible challenge and opportunity, and as I looked at the technical and business skills required to continue our Windows trajectory - great communication skills, a proven ability to work across product groups, strong design, deep technical expertise, and a history of anticipating and meeting customer needs - it was clear to me that Julie is the best possible person for this job, and I'm excited to have her in this role," Steve Ballmer said.
President
Interestingly however, Microsoft has not announced a new President of Windows, leading to speculation that someone else will come in to lead the division as a whole.
The shock departure of Sinofsky mirrors that of Scott Forstall at Apple just a few weeks ago. Forstall was eventually forced out after failing to sign a letter of apology over the Apple Maps debacle. It also emerged that Forstall had clashed with a number of Apple executives, particularly design chief Jony Ive.
According to sources within Microsoft who spoke to the Verge, a similar situation may have led to Sinofsky's departure with personalitiy clashes rather than poor performance the reason behind his depature.
Over the weekend, Ballmer told French newspaper Le Parisien that sales of the company's new Surface tablet had begun "modestly" but it is unlikely that any initial disappointing sales figures were behind Sinofsky's departure.