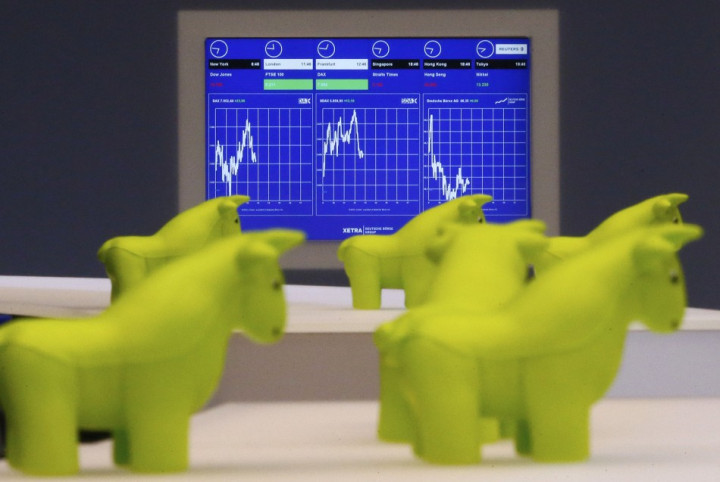 European markets opened higher on Wednesday ahead of US Federal Reserve Chairman Ben Bernanke's bi-annual testimony to the US Congress.
The Stoxx Europe 600 index opened 0.1% higher to 295.69
Britain's FTSE 100, Germany's DAX and France's CAC 40 opened 0.3% higher each.
Spain's IBEX 35 gained 0.2% while Italy's FTSE MIB inched up 0.03 %.
Bernanke's testimony could provide hints as to the future pace of the Fed's $85bn (€65bn, £56bn) a month bond-buying program. Global markets had posted gains last week after Bernanke said the Fed was in no hurry to hike rates once the unemployment rate threshold of 6.5% was reached.
The UK will put out jobs data for the month of June early in the day. The Bank of England will release minutes from its first MPC meeting under new governor Mark Carney. The Office of Budget Responsibility (OBR) will put out a public finance update today.
Market participants will also be following the auction of 10-year bonds in Germany.
Earlier, in Heidelberg in south-western Germany, EU Justice Commissioner Viviane Reding called for abolishing the "Troika", the group entrusted to manage bailouts in the European Union (EU).
The 'Troika' comprises of the International Monetary Fund (IMF), the European Commission, and the European Central Bank (ECB). "Getting the IMF on board in recent years was an emergency solution. In future, we Europeans have to be able to resolve our problems on our own," Reuters quoted Reding, who is also vice-president of the European Commission, as saying.
The Bank of Canada will announce its interest rate decision later today and will follow it up with the release of its monetary policy report. The US will put out housing market data later in the day.
In company news, UK-based commercial property developer Land Securities, Dutch firm ASML Holding, Swiss pharmaceutical major Novartis and Swedish banks Nordea and Svenska will all put out earnings reports during the day. British gold miner Hochschild Mining and Mexican gold miner Fresnillo will release second quarter output figures today.
Asian and US Markets
In Asia, the Japanese Nikkei finished 0.11% higher on Wednesday. Australia's S&P/ASX index closed 0.09% lower, while the Shanghai Composite index ended 1% lower. However, South Korea's Kospi closed 1.13% higher.
Earlier in Asia, stock markets were choppy as investors awaited Bernanke's testimony to Congress.
Economic data from China showed that foreign-direct-investment flows have risen by over 20% in June, 2013. State-owned firms logged a 7% year-on-year increase in profits in the first half, picking up from the pace of 6.5% in the first five months, the Xinhua news service reported on 16 June.
In other news, Reuters reported that China's Ministry of Land and Resources expects land prices to rise further in the ongoing quarter.
On Wall Street, indices ended lower on Tuesday as investors digested Kansas City Fed President Esther George's comment that the central bank should scale back its asset buys "faster and sooner" as monthly jobs numbers are improving.
The US consumer price index rose 0.5% in June on surging gasoline prices. Industrial production inched up 0.3% last month.
Economists polled by Reuters had expected consumer inflation to increase 0.3% in June. A separate Reuters poll had predicted a 0.2% increase last month.
The Dow finished 32.41 points lower at 15,451.85. The S&P 500 ended 6.24 points lower at 1,676.26, while the Nasdaq closed 8.99 points lower at 3,598.50.