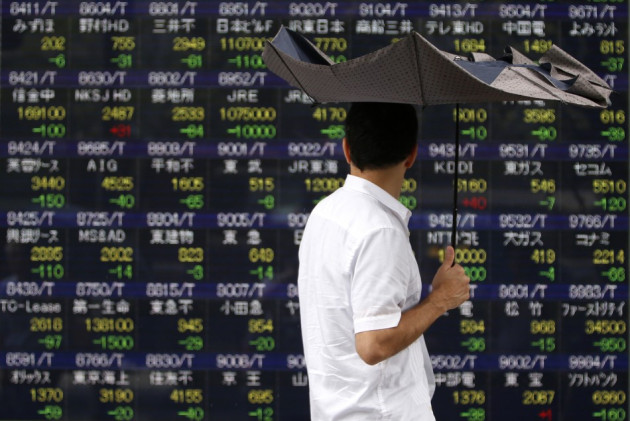 Most Asian markets traded lower on Friday afternoon, reversing modest gains despite two waves of upbeat economic data from China, the world's second largest economy.
The Japanese Nikkei finished 0.07% higher or 9.63 points to 13,615.19.
South Korea's Kospi finished 0.17% lower or 3.26 points to 1,880.71 points.
Australia's S&P/ASX finished 0.19% lower or 9.60 points to 5,055.20.
The Shanghai Composite index was trading 0.26% higher or 5.34 points to 2,050.23.
Hong Kong's Hang Seng was trading 0.58% higher or 125.27 points to 21,781.15.
China reported stronger-than-expected industrial output growth for the month of July. Industrial production grew at its fastest pace since February and rose 9.7% last month from a year ago. Economists polled by Dow Jones Newswires and Reuters expected output to increase by 9%.
Earlier, data from the National Bureau of Statistics (NBS) showed China's consumer price inflation held steady in July and remained below the government's 3.5% target. Consumer prices rose 2.7% year-on-year last month. Economists expected prices to increase by 2.8%.
"We feel even just consensus readings on China data will be enough to satisfy investors and promote the recovery," said IG Markets strategist Stan Shamu.
He said better-than-expected Chinese trade data for July, released on Thursday, helped improve sentiment in global markets.
Wall Street Higher
On Wall Street, indices ended higher on Thursday following upbeat Chinese trade data.
The Dow finished 27.65 points higher at 15,498.32. The S&P 500 index closed 6.57 points higher at 1,697.48. The Nasdaq Composite ended 15.12 points higher at 3,669.12.
Company Stock Movements
In Shanghai, property developer Poly Real Estate Group lost 1.2% Haitong Securities shed 0.9%.
In Hong Kong, China Coal Energy gained 2.6% and Kunlun Energy moved up 2.2%.
In Tokyo, diversified conglomerate Mitsubishi Material shot up 7.5%. Telecoms firm Softbank added 1.8% and security software developer Trend Micro moved up 1.4%.
Camera-maker Nikon tanked 15% after weak first-quarter results.
In Sydney, gold miner Newcrest Mining shot up 3.4%. Diversified miner BHP Billiton moved up 2% and Anglo-Australian miner Rio Tinto gained 1.7%.
Retailer Wesfarmers lost 1% and the Commonwealth Bank of Australia shed 0.5%.
In Seoul, index heavyweight Samsung Electronics gained 1.07%. Automaker Kia Motors lost 1.32% and part-owner Hyundai Motor fell 1.56%.