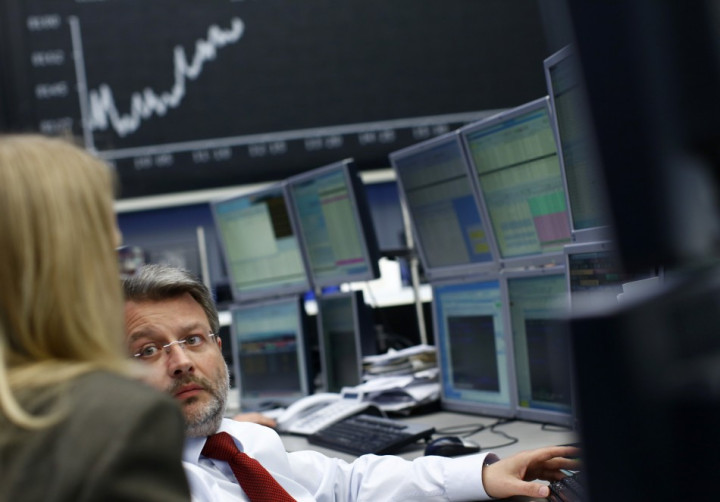 European markets opened higher on Thursday as the minutes from the US Federal Reserve's July policy meeting failed to provide clarity on the timing of the planned QE taper.
The Stoxx Europe 600 index opened 0.1% higher to 300.92.
Britain's FTSE 100 opened 0.1% higher.
Germany's DAX 30 opened 0.2% higher.
France's CAC 40 opened 0.3% higher.
Italy's FTSE MIB was up 0.96% in early trade.
Spain's IBEX 35 was up 1.13% in early trade.
The minutes of the US central bank's July meeting suggested that the Fed could trim its massive monthly bond-buying programme as early as September, though uncertainty still dominates.
The Fed's $85bn a month bond-buying program has stimulated the US economy and the markets the world over for a while now.
"The Fed certainly seems to have mastered the art of keeping the market guessing ... The only way forward is to continue closely watching US economic data for clues on how soon we can expect tapering to start," said IG Markets strategist Stan Shamu.
Markets participants will be tracking preliminary purchasing managers index (PMI) data coming in from the Eurozone's statistics office during the day.
Data released Thursday morning showed that the German preliminary composite PMI rose to 53.4 in August from 52.1 in July.
However, the French preliminary composite PMI dropped to a two-month low of 47.9 in August, from 49.1 in July. The August reading is in line with market consensus.
In company news, UK-based engineering firm IMI, Danish retailer Ahold and construction services firm Koninklijke Bam Groep will release earnings updates during the day.
In other news, data from the UK showed there are almost 400,000 homes with planning permission waiting to be built, at a time when the country is suffering from a serious shortage in housing supply. This backlog had been reduced by just 6,000 during 2012 and now developers are submitting fewer planning applications and taking longer to finish vital construction work.
In Asia and the US
In Asia, the Japanese Nikkei finished 0.44% lower, Australia's S&P/ASX closed 0.48% lower and South Korea's Kospi ended 0.98% lower on Thursday.
Earlier in Asia, markets reversed early losses on news that China's manufacturing sector was improving. However, upbeat Chinese data failed to undo the damage triggered by fears that the US Federal Reserve was on track to trim its asset buys later this year.
China's manufacturing sector experienced a strong recovery in August with improved output and new orders, a positive sign that the world's second-largest economy is picking up pace after two quarters of slow-down. The HSBC flash China manufacturing purchasing managers' index (PMI) rose to a four-month high at 50.1 in August from 47.7 in July. That was well ahead of the economists' estimated reading of 48.3.
"China's manufacturing growth has started to stabilise on the back of modest improvements of new business and output. This is mainly driven by the initial filtering-through of recent fine-tuning measures and companies' restocking activities," said HSBC's chief China economist Hongbin Qu.
On Wall Street, indices finished lower as Fed fears weighed on investor sentiment. The Dow finished 105.44 points lower at 14,897.55, closing below the benchmark 15,000 level.
The S&P 500 index closed 9.55 points lower at 1,642.80 while the Nasdaq ended 13.80 points lower at 3,599.79.