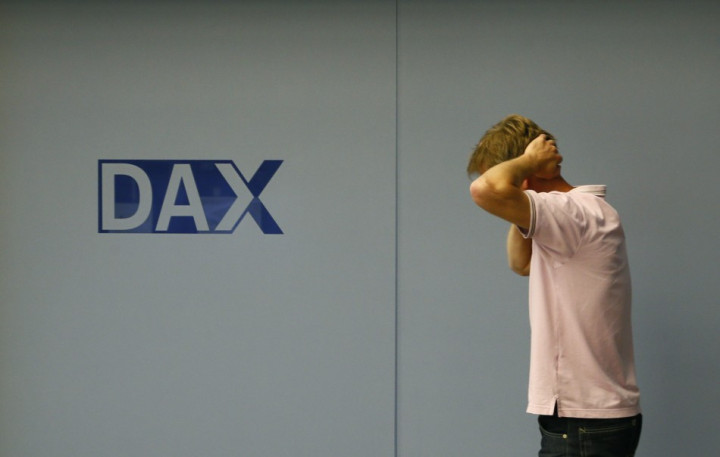 European markets opened mixed on Wednesday as a raft of eurozone economic data is set to show that the region will exit its longest recession in history.
Europe's FTSEurofirst 300 opened 0.1% lower to 1,236.16 points.
Britain's FTSE 100 opened flat in early deals.
Germany's DAX and Spain's IBEX opened 0.1% higher.
France's CAC 40 and Italy's FTSE MIB opened 0.2% higher.
Markets are tentative on Wednesday despite Germany and France beating analysts' expectations and posting better-than-expected economic growth.
However, helped by German and France, a Reuters survey of market economists say that the eurozone's economy will grow by 0.2% in the April to June second quarter.
Earlier, data from France showed that country has come out of recession. The French economy expanded 0.5% in the second quarter, compared to a year-ago, and beat expectations of a 0.2% expansion.
Meanwhile, Germany, Europe's largest economy, overshot analysts' expectations by posting its strongest rate of economic growth in more than a year, following a rise in domestic private and public consumption.
Market participants will also be tracking British unemployment data and the Bank of England policy minutes due later in the day.
In company news, UK-based property developer Balfour Beatty's profit plunged 70% in the first half of 2013, when compared with a year before, after its Australian professional services and UK construction markets both took a hit.
Pest-control services provider Rentokil and commercial property investment firm CLS Holdings will report earnings during the day. German magazine publisher Bauer, utilities firm RWE and Switzerland's largest insurer Swiss Life will also put out their earnings updates today.
Elsewhere, Barclays' finance director Chris Lucas is retiring, over six months ahead of schedule, due to unspecified health reasons. Lucas, who announced his retirement amid the Serious Fraud Office's (SFO) ongoing investigation in the bank's dealings with Qatar during the credit crisis, was set to step down on 28 February 2014.
In Asia and the US
In Asia, the Japanese Nikkei finished 1.32% higher while South Korea's Kospi closed 0.57% higher. Australia's S&P/ASX closed 0.01% lower on Wednesday.
Earlier in Asia, markets were mixed in choppy trade after upbeat US economic data reinforced fears of an early reduction in the Federal Reserve's monetary stimulus.
Data from the US showed that retail sales, excluding cars, gasoline and building materials, rose 0.5% in July, its fastest pace in seven months. The news sparked fears among market participants that the Fed could begin trimming its massive monthly asset buys as early as September.
In China, the government will reduce service charges for over a dozen federal departments and agencies as it attempts to slash bureaucracy to improve the business environment in the world's second-largest economy. The decision to cut fees for 20 different services at 14 departments, effective 1 October, is part of the government's efforts to reduce red tape countrywide and promote reforms.
In other news, Jaguar-Land Rover (JLR) will recall thousands of vehicles in China to deal with possible engine and oil leakage problems, China's quality watchdog said on Tuesday.
Elsewhere, Japan's Mizuho Financial Group is negotiating to acquire Australia and New Zealand Banking Group's minority stake in Bank Pan Indonesia. Talks are believed to be at an early stage and industry sources value the deal at around $570m (£368m, €428).
On Wall Street, indices ended higher on Tuesday following positive retail sales data.
US equities were also supported by Atlanta Fed President Dennis Lockhart's comment that recent US economic data does not provide "a clear picture" for the central bank to zero-in on a timeline for its planned QE taper.
The Dow finished 31.33 points higher at 15,451.01. The S&P 500 closed 4.69 points higher at 1,694.16 while the Nasdaq ended 14.49 points higher at 3,684.44.