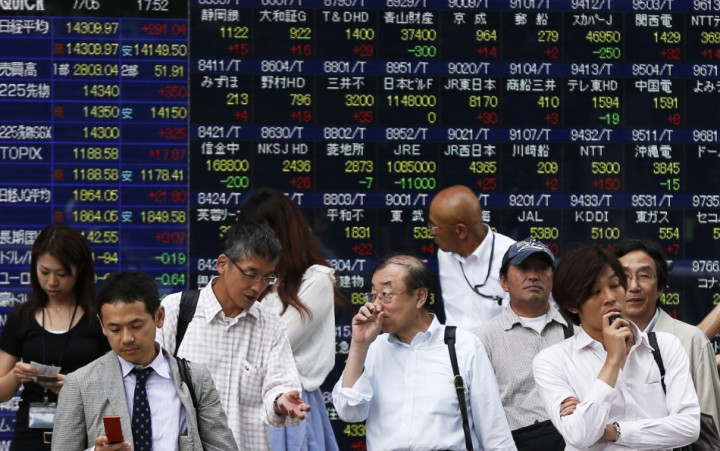 Asian markets outside South Korea opened higher on positive cues from the US. However, disappointing trade data from China forced markets to shed early gains
The Japanese Nikkei was down 0.88% or 127.71 points to 14,345.19, after touching a six-week high earlier in the day.
South Korea's Kospi was down 0.54% or 9.86 points to 1,820.49 points.
The Hang Seng was down 0.14% or 28.45 points to 20,654.56.
The Shanghai Composite index was up 0.30% or 5.88 points to 1971.33.
Australia's S&P/ASX was up 0.17% or 8.10 points to 4889.80
Japanese and Korean investors held back ahead of monetary policy decisions due on Thursday in both countries.
Elsewhere, Chinese government data showed that both exports and imports declined in June. Exports dropped 3.1% from a year earlier, and are well below the market expectations of a 4% rise. Imports dipped 0.7%, way below a Reuters poll that forecast an 8% annual increase for the month of June.
On Wall Street, indices ended higher on 9 July, boosted by a positive start to the second quarter earnings season.
Aluminium producer Alcoa, which usually marks the start to every earnings season, has reported better-than- expected results. Alcoa, which is seen as a barometer of global manufacturing, expects the global demand for aluminium to grow 7% this year.
The Dow finished 75.65 points higher at 15,300.34, led by Caterpillar and Cisco. The S&P 500 ended 11.86 points higher at 1,652.32 while the Nasdaq closed 19.43 points higher at 3,504.26.
In Tokyo, security software maker Trend Micro fell 1.8% while consumer electronics major Toshiba was down 1.4%.
Suntory Beverage and Food added 2.4% and brewer Asahi Group Holdings moved up 1.8%.
Aeon rose 1.6% after it reported an increase in its quarterly profits. Department store Takashimaya gained 1.6%.
In Seoul, index heavyweight Samsung Electronics inched up 0.6%. Automaker Hyundai Motor, the second-biggest stock on the index, gained 1%.
Shares of Asiana Airlines dropped 1% as investigators in the US shared details of its Boeing 777 crash in San Francisco.
In Hong Kong, China Construction Bank gained 1.3%, while Industrial and Commercial Bank of China moved up 1.1%. The latter is the world's top bank by tier 1 capital.
PetroChina inched up 0.5% after US benchmark crude oil prices ended at their highest level in 14 months.
In Shanghai, miner Rare-Earth shot up 7%. Sinopec gained 3% while Guanghui Energy added over 2%, after US benchmark crude oil prices ended at their highest level in 14 months.
Realty firm Poly Real Estate Group moved up 1.1%.
In Sydney, Origin Energy gained 1.4% while Woodside Petroleum inched up 0.5% after US benchmark crude oil prices ended at their highest level in 14 months.
Metals and mining stocks gained after aluminium major Alcoa played down concerns about a slowdown in China.
Alumina jumped 3.6%. Resources major BHP Billiton moved up 1.4%. Anglo-Australian miner Rio Tinto added 1.3%.
Iron ore miner Fortescue Metals and rival Atlas Iron gained 1% each.
Australian consumer sentiment data is holding steady. Retailer Myer lost over 2% while Harvey Norman and David Jones lost 1.8% each. The Westpac-Melbourne Institute Consumer Sentiment Index fell by 0.1% in July to 102.1. A result above 100 indicates that optimists out-number pessimists.