Asian Stocks Drop on Escalating Syria Conflict Fears as US Intervention Looms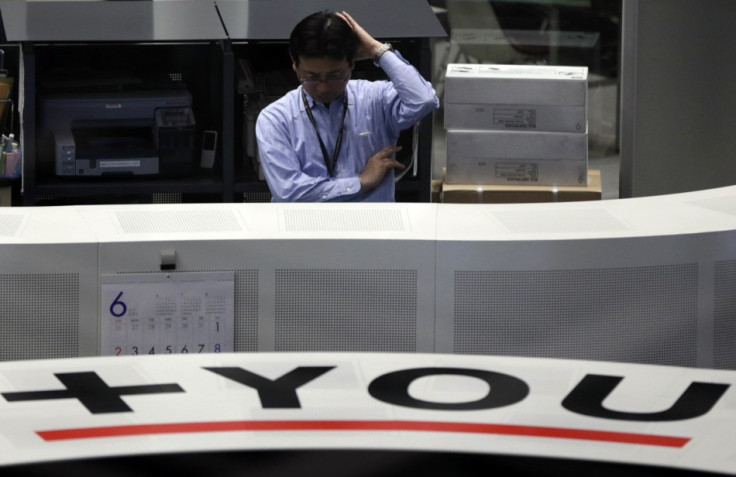 Asian markets have fallen in a global sell-off as market participants rushed to cut their risk exposure ahead of potential air strikes by the US and its allies against Syrian president Bashar al-Assad's regime.
The Japanese Nikkei finished 1.51% lower or 203.91 points at 13,338.46.
Australia's S&P/ASX finished 1.00% lower or 51.50 points at 5,089.70.
South Korea's Kospi finished 0.07% lower or 1.32 points at 1,884.52.
Hong Kong's Hang Seng was trading 1.39% lower or 304.41 points to 21,570.36.
The Shanghai Composite was trading 0.40% higher or 8.33 points to 2,111.90.
US president Barack Obama was still undecided on taking military action in Syria but his options categorically did not include regime change, according to White House spokesman Jay Carney.
As multiple reports quoting anonymous US officials warned that strikes in Syria would begin in a matter of days, Carney stressed that Obama had not planned to convene Congress over a possible attack.
Carney said it was preposterous to suggest that president Bashar al-Assad's forces were not responsible for the chemical attack in the Damascus suburb of Ghouta, which resulted in the deaths of 300 people.
US defence secretary Chuck Hagel told the BBC that the US military is "ready to go" if President Obama orders action against Syria.
British prime minister David Cameron has recalled parliament for an urgent debate on Syria.
The MPs will formally debate what Britain should do in response to the alleged gas attack in which hundreds died.
"This selloff is a clear knee-jerk reaction by global market participants who are clearly reducing risk over fears the situation in Syria could deteriorate substantially. It's just a typical case of irrational fear driving investors' decision making," said Tim Radford, global analyst at Rivkin Securities.
"The best opportunity is to buy the fear driven selloff, and wait until global leaders restore certainty over the chemical attacks in Syria. It still remains unlikely we'll see a full scale military conflict in Syria, but rather a short-term aerial strike on key strategic targets important to the Assad regime."
Wall Street Slammed
On Wall Street, indices ended lower on growing worries over potential US military intervention in Syria.
The Dow Jones Industrial Average finished 170.33 points or 1.14% lower at 14,776.13, pulled down by Bank of America and Microsoft.
The S&P 500 index ended 26.30 points or 1.59% lower at 1,630.48 while the Nasdaq Composite closed 79.05 points or 2.16% lower at 3,578.52.
Company Stock Movements
In Tokyo, Tokyo Steel Manufacturing plunged 7.5% while automaker Suzuki Motor lost 4.3%.
Matsui Securities lost 4.2% while tractors and heavy equipment maker Kubota was down 3.5%.
In Shanghai, real estate firm Gemdale was down 2.4% while rival Poly Real Estate Group lost 2.2%.
State-owned energy major PetroChina lost 1.4% on news that three top executives, including the chairman of Kunlun, were being investigated by authorities for "severe disciplinary violations."
China's second-largest gold miner by value Shangdong Gold and rival Zhongjin Gold shot up 9% each, boosted by higher gold prices.
In Hong Kong, China Resources Land lost 4.7%.
PetroChina fell 3.7% while its natural gas distribution subsidiary Kunlun tanked 11.5%.
In Australia, resources stocks were down even after gold and oil futures logged gains in the US overnight.
Resources major BHP Billiton fell 1.9%, gold miner Newcrest Mining lost 1.5%, while oil and gas explorer Santos was down 1.2%.
Australia's largest retailer Woolworths added 1.5% after it forecast a 4% to 7% earnings growth for the 2014 financial year. The company's net income rose 24% to A$2.26bn ($2bn) in the year to June, in line with market consensus.
Iron ore miner BC Iron jumped 7% after it reported a 41% jump in full-year underlying profit. AGL Energy shot up 4% after it reported a 30% jump in full-year revenue.
In Seoul, index heavyweight Samsung Electronics gave up 0.5% while KB Financial Group was down 1.9%.
LG Display, the world's second largest flat-panels maker, lost 1%.
© Copyright IBTimes 2023. All rights reserved.