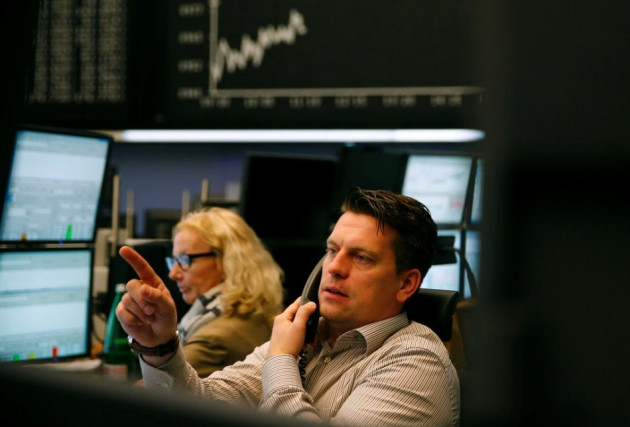 European markets witnessed mixed trade in the opening minutes on 16 December, and traded higher thereafter, as investors awaited clarity on the future pace of the US Federal Reserve's massive monthly asset buys.
The Stoxx Europe 600 index opened 0.1% lower to 309.44.
Britain's FTSE 100 and France's CAC 40 opened 0.1% lower.
Germany's DAX opened 0.1% higher.
Spain's IBEX 35 was trading 0.90% higher after opening flat.
Italy's FTSE MIB was trading 0.71% higher after opening flat.
The Fed's FOMC will meet on 17-18 December. The central bank will announce its monetary policy decision at the end of the two-day meeting, when it could reveal a reduction in its $85bn-a-month bond buying stimulus.
Standard Chartered said in a note to clients: "We see the Fed holding fire at its 17-18 December meeting, with bond-buying remaining unchanged at USD 85bn/month and no change to the interest rate on excess reserves. A reduction of the quantitative easing (QE) programme is on the horizon; however, we think that the Fed will, and can afford to, wait several more months before tapering, gathering evidence that the recovery is entrenched and that inflation is picking up".
"Calling 'escape velocity' at this point is premature, in our view. November CPI data, released a day before the meeting, will likely continue to show subdued inflationary pressures, giving further latitude to the Fed. We also believe that any policy change will come after Janet Yellen takes on her new role. QE tapering would then be a relatively quick process, in our view, ending in Q4-2014", the British bank added.
Market players will be tracking European Central Bank (ECB) chief Mario Draghi's speech, at 14:00GMT.
Earlier, data from research group Markit showed that the preliminary Eurozone PMI composite rose to 52.1 in December, from 51.7 in November. The reading brought the rate of growth close to the 27-month peak seen in September and marked a reversal of the easing in the rate of growth seen over the previous two months.
Markit's German manufacturing (PMI) rose to a seasonally adjusted 54.2 in December from a final reading of 52.7 in the preceding month. The latest German reading beat expectations and is the highest rate of increase since June 2011.
Tim Moore, senior economist at Markit and author of the Flash Germany PMI, said: "Manufacturing achieved a particularly strong end to the year, with improving new order flows and renewed job creation also providing encouragement that the sector has gained momentum since the autumn."
Markit data also showed that France's preliminary composite PMI dropped to a 7-month low of 47.0 in December, from 48.0 in the preceding month.
Andrew Harker, senior economist at Markit and author of the Flash French PMI, said "The last flash PMI readings for 2013 paint a worrying picture on the health of the French economy. The return to contraction in November has been followed up with a sharper reduction in December, with falling new business at the heart of this as clients were reportedly reluctant to commit to new contracts. Firms will hope that such reticence ends in the new year as they seek to avoid another protracted downturn."
In company news, Britain's GlaxoSmithKline was trading 0.29% higher at 09:23GMT in London, after the drugmaker announced it was looking to raise its stake in its Indian arm by 25% through an open offer.
In Asia
The Japanese Nikkei finished 1.62% lower on 16 December. The Shanghai Composite finished 1.60% lower, Australia's S&P/ASX finished 0.17% lower and South Korea's Kospi finished 0.09%.
Markets traded lower, with Chinese and Japanese equities leading losses in the region, amid the uncertainty surrounding the future pace of US stimulus.
In China, HSBC's preliminary China manufacturing PMI dropped to 50.5 in December, against a final reading of 50.8 in November. The data weighed down on Chinese equities.
In Tokyo, a stronger yen pulled down Japanese exporters' stocks. Japanese investors largely shrugged off a mixed outcome from the Bank of Japan's quarterly tankan survey.
Asian stock markets outside Japan finished the week ended 14 December lower, with the Nikkei leading the pack and the Kospi trailing.
On Wall Street
On Wall Street, most indices ended higher on 13 December but gains were capped as investors awaited the Fed decision.
The Dow finished 15.93 points, or 0.1%, higher at 15,755.36.
The S&P 500 ended 0.18 points, or 0.01%, lower at 1,775.32.
The Nasdaqclosed 2.57 points, or about 0.1%, higher at 4,000.98.
For the week ended 14 December, the Dow and the S&P 500 finished 1.7% lower each, while the Nasdaq closed 1.5% lower.