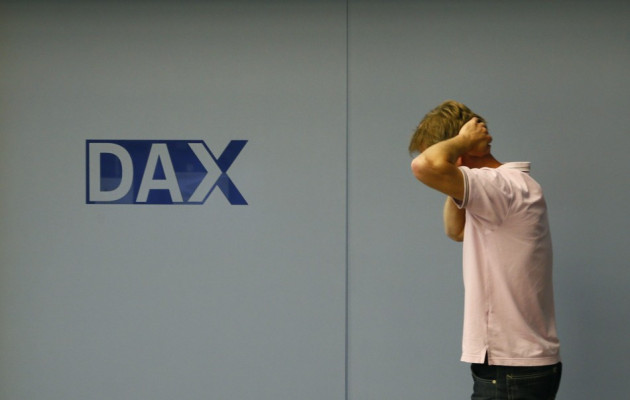 European markets outside Spain opened higher on 2 December, and markets outside Germany continued trading to the downside thereafter, even as data showed that eurozone factory activity accelerated to its fastest pace in over two years in November.
The Stoxx Europe 600 index opened 0.2% higher to 325.79.
Britain's FTSE 100 and Germany's DAX opened 0.1% higher.
France's CAC 40 opened 0.3% higher.
Spain's IBEX 35 was trading 0.72% lower after opening flat.
Italy's FTSE MIB was trading 0.66% lower after opening higher.
Manufacturing growth in the 17-nation Eurozone extended into a fifth successive month in November.
Markit's Eurozone Manufacturing Purchasing Managers' Index (PMI) rose to 51.6 in November from 51.3 in the preceding month. An index measuring output inched up to 53.1 from 52.9.
Chris Williamson, Chief Economist at Markit said: "The November manufacturing PMI surveys bring good news on the whole, but suggest there's still a lot to worry about in terms of the health of the eurozone economy".
"The big concern is France, which was the only country except Greece to see exports fall. With some improvement in domestic demand helping Greek producers report the first increase in output in over four years, [but] France has sunk to the bottom of the eurozone PMI rankings".
"The other major concern is that employment continues to fall as companies seek to become leaner and more competitive. Any substantial improvement to the region's unemployment situation still seems frustratingly far off", Williamson added.
Market participants will be tracking the European Central Bank's (ECB) final policy meeting for the year this week.
They will also be tracking US Federal Reserve chief Ben Bernanke's speech, ahead of the release of US third-quarter GDP and non-farm payrolls data.
In the UK, the government pledged to cut energy bills by £50 a year, via a series of measures, while a number of the UK's 'Big Six' energy companies have revealed that they are either slashing household bills or not raising prices until 2015.
In other news, British Prime Minister David Cameron arrived in Beijing, pledging to champion a new EU-China free trade agreement which could potentially be worth £1.8bn a year for the UK alone.
In company news, Thyssenkrupp was trading 6.80% lower to €18.00 in Frankfurt at 09:09 hrs GMT, after the German steelmaker said it plans to raise up to €1bn (£828m, $1.36bn) through a share sale.
The firm, over the weekend, agreed to sell its US steel plant to rivals ArcelorMittal and Nippon Steel & Sumitomo Metal for $1.55bn.
In Asia
Australia's S&P/ASX finished 0.76% lower on 2 December. South Korea's Kospi finished 0.69% lower, the Shanghai Composite finished 0.59% lower, while the Japanese Nikkei finished 0.04% lower
Hong Kong's Hang Seng bucked the trend and finished 0.66% higher.
Mumbai's BSE Sensex was trading 0.58% higher .
In Shanghai, news that Beijing would revoke the year-long freeze on stock market listings weighed down on the benchmark index. Experts said the addition of new shares could siphon off liquidity from shares that are being traded.
Meanwhile, data from China showed that factory activity in the world's second-largest economy expanded in November.
HSBC's China manufacturing Purchasing Managers' Index (PMI) reading for November came in at 50.8, almost unchanged from the preceding month's 50.9. The government's PMI reading came in at 51.4%, beating expectations.
Cautious trade prevailed in Sydney, where market players await the Reserve Bank of Australia's interest rate decision, due out on 3 December.
South Korea's benchmark index reversed early gains on the back of mixed economic data.
Factory activity in Korea hit a six-month high in November, but inflation stayed below the 1% level for a third successive month.
Thailand's benchmark SET Index lost over 1% and the Thai baht dropped to a three-month low of 32.26 to the US dollar, pulled down by anti-government protests.
Thai opposition leader Suthep Thaugsuban has given Prime Minister Yingluck Shinawatra two days to resign as anti-government protests spiral further out of control. Suthep, who is spearheading the protests, gave the ultimatum during a secret meeting mediated by the army.
Asian stock markets outside Australia finished the week ended 30 November higher, with India's BSE Sensex leading the pack and Australia's ASX 200 trailing.
Wall Street Mixed
On Wall Street, most indices ended lower on 29 November as investors took profits.
After finishing at a record high on 27 November, the Dow ended 10.92 points lower or 0.07% at 16,086.41.
The S&P 500 finished 1.42 points lower or 0.08% at 1,805.81.
The Nasdaq closed 17.34 points lower or 0.5% at 3,487.82.
The Dow rose 0.1% in the week ended 30 November and 2.6% for the month as a whole.
The S&P 500 gained nearly 0.1% for the week and 1.9% in November.
The Nasdaq moved up 1.9% for the week and 2.8% in November.