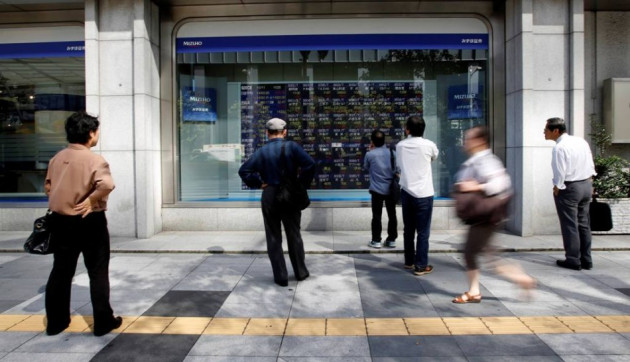 Asian markets outside Japan traded higher on 18 October after Chinese government data showed that growth in the world's second-largest economy accelerated to its fastest pace in the third quarter of 2013.
However, gains were capped as market players questioned the sustainability of China's economic recovery amid unstable global demand.
The Japanese Nikkei finished 0.17% lower or 24.97 points at 14,561.54.
Australia's S&P/ASX finished 0.73% higher or 38.40 points at 5,321.50.
South Korea's Kospi finished 0.58% higher or 11.79 points at 2,052.40.
The Shanghai Composite finished 0.24% higher or 5.24 points at 2,193.78.
Hong Kong's Hang Seng was trading 0.80% higher or 185.43 points to 23,280.31.
India's BSE Sensex was trading 1.50% higher or 306.78 points to 20,722.29.
China recovered from a growth slowdown in the third quarter, thanks to the country's "mini stimulus" package that fuelled domestic demand and boosted industrial production.
China's gross domestic product (GDP) expanded by 7.8% year-on-year in the July-September quarter, up from 7.5% in the preceding quarter. The quarterly growth rate was the fastest in the current fiscal year and was in line with analysts' estimates.
Factory output in the three months to September rose 10.1% from a year earlier, 1 percentage point higher than the growth rate in the first half of the year. Factory output in September rose 10.2% from a year earlier, down from August's annual pace of 10.4%.
China's statistics office expects the country's economy to expand by 7.5% this year.
"The Q3 GDP figure is in line with market expectations but the uncertainty is whether the current recovery is sustainable," Shen Jianguang, chief China economist with Mizuho Securities in Hong Kong told Reuters.
"We think the recovery in the third quarter was mainly driven by the strong momentum of the property market," Shen added.
In Australia, the benchmark ASX 200 index struck a new five-year high as investors cheered upbeat China growth data. The mainland is Australia's largest trading partner.
Some of China's third-quarter GDP growth was supported through provisional state spending, which is highly unlikely to continue into 2014, TD Securities said in a note. "Nevertheless, we hold to our view that sustainable Chinese growth, even at lower levels, remains supportive for the Australian dollar, as urbanization and social housing construction requires Australia's close proximity and high-quality commodities. We target 7.6% GDP growth for 2013," TD Securities added.
In India, the BSE Sensex hit a three-year high and was trading close to a near six-year high. The benchmark index crossed the 21,000 mark for the very first time on 8 January, 2008.
"The bottomline is that for four-five years [the Sensex] has not moved anywhere. Therefore, I take difference with the fact when people say: Oh, this market is at all time high," said Samir Arora, Fund Manager at Helios Capital Management.
"Look around. Does it look like all time high? The issue is about time. It is five years since this level was reached. That is my point. Everything is well-known and FIIs are not idiots even if some of you or some of us may believe that," Arora told CNBC-TV18
Wall Street Mixed
On Wall Street, indices witnessed mixed trade on 17 October, a day after politicians in the US reached a debt ceiling deal, ending the 16-day fiscal gridlock.
The S&P 500 struck a new high while the Nasdaq hit a 13-year high.
The Dow finished 2.18 points lower at 15,371.65.
The S&P 500 ended 11.61 points higher at 1,733.15, while the Nasdaq closed 23.71 higher at 3,863.15.
The CBOE Volatility Index (VIX), broadly regarded as the best gauge of fear in the market, fell below 14.
Company Stock Movements
In Tokyo, a stronger yen weighed on some exporters' stocks. Steel maker JFE Holdings lost 3.2% while industrial conglomerate Komatsu shed 1%.
Industrial robots maker Fanuc shed 1%.
In Shanghai, brokerages Haitong Securities and Citic Securities shot up over 3% each.
Property developers Vanke, Gemdale and Poly Real Estate added 1% each in choppy trade.
In Hong Kong, pan-Asian insurer AIA Group soared 42% on news that its new business value struck a record high in the third quarter, driven by the Chinese and South East Asian markets.
Casino operator Sands China shot up 8.9% after it reported a 43% rise in third-quarter net revenue to $2.34bn.
Rivals Wynn Macau and MGM China Holdings gained 6.6% and 5.3% respectively on the news.
Lenovo Group dropped 3.1% after the Wall Street Journal reported that the PC maker was looking to acquire troubled mobile-phone maker BlackBerry.
In Mumbai, the country's second largest lender by assets ICICI Bank gained 2.6%.
Lupin, the world's largest maker of formulations to treat tuberculosis, gained 1.3%.
ITC, Asia's second-largest listed tobacco firm, added 1%.
Larsen & Toubro, India's largest engineering company, moved up 1%.
In Sydney, gold miners Evolution Mining and Newcrest Mining jumped over 5% on higher bullion prices.
Australia's third biggest oil producer Santos shed 0.9% after it reported a 1% drop in third-quarter output and after it revised its full-year production outlook to the lower end of its previous guidance.
In Seoul, Samsung Engineering lost over 3% after it reported a net loss of 525bn won ($494m) for the July-September quarter, as against a net profit of 124bn a year ago.
LG Display added over 2% after it reported a 51% increase in annual net profit for the third quarter.