European Equities Strike Five-Year Highs on Positive China Growth Data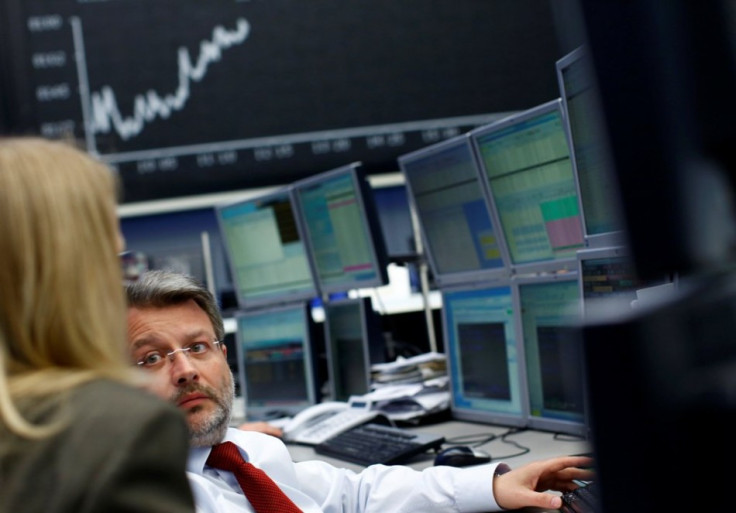 European stocks struck five-year highs on 18 October, buoyed by upbeat China growth data and an overnight rally on Wall Street.
The Stoxx Europe 600 index opened 0.5% higher to 317.49.
Britain's FTSE 100 and France's CAC 40 opened 0.5% higher.
Germany's DAX 30 opened 0.2% higher.
Spain's IBEX 35 was trading 0.44% higher.
Italy's FTSE MIB was trading 0.04% lower.
The world's second largest economy recovered from a growth slowdown in the third quarter, thanks to Beijing's "mini stimulus" package that fuelled domestic demand and boosted industrial production.
China's gross domestic product (GDP) expanded by 7.8% year-on-year in the July-September quarter, up from 7.5% in the preceding quarter. The quarterly growth rate was the fastest in the current fiscal year and was in line with analysts' estimates.
Factory output in the three months to September rose 10.1% from a year earlier, 1 percentage point higher than the growth rate in the first half of the year. Factory output in September rose 10.2% from a year earlier, down from August's annual pace of 10.4%.
China's statistics office expects the country's economy to expand by 7.5% this year.
Now that the US showdown is over, investor focus will turn to the Federal Reserve's stimulus taper decision.
Market players expect the Fed to defer the planned cutback of its $85 billion-a-month bond-buying stimulus, a move that is expected to boost sentiments across global markets.
The US Labor Department said it would release September's jobs report on 22 October. The widely tracked jobs data will throw more light on the health of the US economy and can impact the Fed's QE taper decision.
The US will get busy counting the costs of the 16-day partial government shutdown.
The shutdown had cost the US economy an estimated $24bn and is expected to result in a significant reduction in fourth-quarter growth, ratings firm Standard & Poor's estimated.
"There are no winners here. These last few weeks have inflicted completely unnecessary damage on our economy," US President Barack Obama said. "We don't know yet the full scope of the damage, but every analyst out there believes it slowed our growth."
In company news, resources major Anglo American said its copper production jumped 32% year-on-year in the July-September quarter. However, iron-ore output dropped in the third quarter.
Russia's largest steelmaker Evraz said its third-quarter steel output dropped 3%, from the preceding quarter, to 3.96 million tones. Lower global demand forced the company to shut plants, resulting in a drop in production.
In other news, President Obama and Italian premier Enrico Letta congratulated each other for surviving extended budget crises, when they met in Washington on 17 October. The two leaders agreed to work to advance EU-US trade talks, reported Reuters.

In Asia
In Asia, the Japanese Nikkei finished 0.17% lower on 18 October. Australia's S&P/ASX finished 0.73% higher, South Korea's Kospi ended 0.58% higher and the Shanghai Composite closed 0.24% higher.
Earlier, markets outside Japan traded higher after Chinese government data showed that growth in China accelerated to its fastest pace in the third quarter of 2013.
However, gains were capped as market players questioned the sustainability of China's economic recovery amid unstable global demand.
"The Q3 GDP figure is in line with market expectations but the uncertainty is whether the current recovery is sustainable," Shen Jianguang, chief China economist with Mizuho Securities in Hong Kong told Reuters.
"We think the recovery [in China] in the third quarter was mainly driven by the strong momentum of the property market," Shen added.
In Australia, the benchmark ASX 200 index struck a new five-year high as investors cheered upbeat China growth data. The mainland is Australia's largest trading partner.
Some of China's third-quarter GDP growth was supported through provisional state spending, which is highly unlikely to continue into 2014, TD Securities said in a note. "Nevertheless, we hold to our view that sustainable Chinese growth, even at lower levels, remains supportive for the Australian dollar, as urbanization and social housing construction requires Australia's close proximity and high-quality commodities. We target 7.6% GDP growth for 2013," TD Securities added.
In India, the BSE Sensex hit a three-year high and was trading close to a near six-year high. The benchmark index crossed the 21,000 mark for the very first time on 8 January, 2008.
"The bottom line is that for four-five years [the Sensex] has not moved anywhere. Therefore, I take difference with the fact when people say: Oh, this market is at all time high," said Samir Arora, Fund Manager at Helios Capital Management.
"Look around. Does it look like all time high? The issue is about time. It is five years since this level was reached. That is my point. Everything is well-known and FIIs are not idiots even if some of you or some of us may believe that," Arora told CNBC-TV18
Wall Street Mixed
On Wall Street, indices witnessed mixed trade on 17 October, a day after politicians in the US reached a debt ceiling deal, ending the 16-day fiscal gridlock.
The S&P 500 struck a new high while the Nasdaq hit a 13-year high.
The Dow finished 2.18 points lower at 15,371.65.
The S&P 500 ended 11.61 points higher at 1,733.15, while the Nasdaq closed 23.71 higher at 3,863.15.
The CBOE Volatility Index (VIX), broadly regarded as the best gauge of fear in the market, fell below 14.
© Copyright IBTimes 2023. All rights reserved.