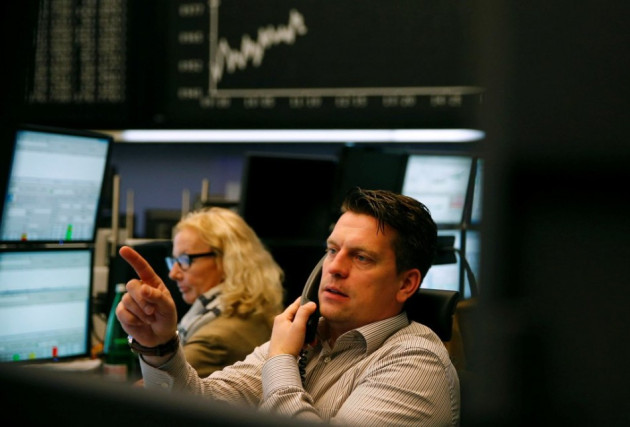 European markets opened higher on 4 November and continued trading higher thereafter, ahead of key central bank meetings during the week.
The Stoxx Europe 600 index opened 0.3% higher to 322.53.
Britain's FTSE 100 opened 0.4% higher.
Germany's DAX 30 and France's CAC 40 opened 0.3% higher.
Spain's IBEX 35 was trading 0.24% higher after opening higher.
Italy's FTSE MIB was trading 0.50% higher after opening higher.
Market participants will be tracking the Bank of England (BoE) and European Central Bank's (ECB) policy meetings this week.
While the BoE is expected to leave its monetary policy unchanged, the ECB could lower its main refinancing rate, at 0.50% currently, when it meets on 7 November.
Preliminary data from the Eurozone's statistics office showed last week that inflation unexpectedly dropped to 0.7% year-on-year in October, the lowest for nearly four years. The latest inflation reading points to a stuttering economic recovery in the 17-nation bloc and could warrant an ECB rate cut, according to analysts.
Market players will also be tracking US nonfarm payrolls data due on 8 November, which will throw more light on the health of the world's largest economy.
Investors await October construction PMI data from Britain.
October Manufacturing PMI data from Germany, France, Italy, Spain and the Eurozone's statistics office has been released.
In company news, banking major HSBC reported a 10% increase in third quarter underlying profit before tax to $5.06bn.
Low-cost carrier Ryanair's stock was trading 11.48% lower at 08:53 am in London. The firm cut its yearly profit outlook again, as intense competition in Europe is expected to weigh down on average air fares.
In Asia and the US
In Asia, South Korea's Kospi finished 0.70% lower, while Australia's S&P/ASX finished 0.38% lower.
Financial markets in Japan were closed for the Culture Day public holiday
Financial markets in India were closed for the Diwali public holiday.
Earlier, markets outside Shanghai reversed early gains, ahead of a crucial Communist Party meeting in China.
China's Communist Party will hold a key meeting of senior party officials on 9-12 November when leaders are expected to detail the nation's economic agenda for the next decade.
Meanwhile, data from China showed that the nation's services sector expanded at its fastest pace in 13 months in October, to 56.3 from 55.4 in September.
The latest reading, which suggests that the world's second largest economy is stabilising, had propped up the markets in early trading on 4 November.
Market players largely dismissed comments from Dallas Federal Reserve president Richard Fisher on 4 November. Speaking in Sydney, Fisher said that the US central bank's $85bn asset-buying stimulus would not increase or extend indefinitely.
Markets outside Japan finished the week ended 2 November higher. India's BSE Sensex led the pack and the Japanese Nikkei trailed.
For the month of October, the Sensex was the region's outperformer with gains of around 8.5% while the Shanghai Composite was the laggard, losing 1.15%.
On Wall Street, indices ended higher on 2 November following upbeat US manufacturing data.
The Dow finished 69.80 points higher, or 0.45 % to 15,615, 55.
The S&P 500 closed 5.1 points higher, or 0.29% to end at 1,761.64.
The Nasdaqended 2.34 points higher or 0.06% to 3,922.04.
For the week ended 2 November, the Dow finished 0.5% higher while the S&P 500 inched up 0.1% higher. However, the Nasdaq finished 0.5% lower.
Earlier, data from the US showed that factory activity further expanded in the month of October. The Institute for Supply Management's index of industrial activity inched up 0.2 percentage points to 56.4 in October, its highest level since April 2011. A reading above 50 points to growth.