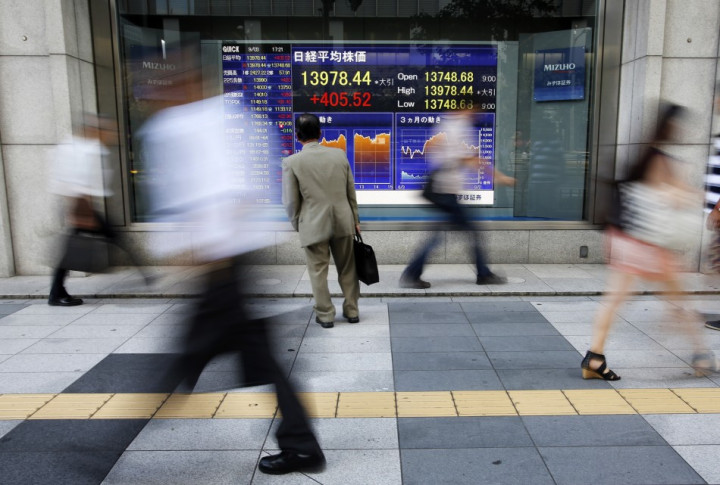 Asian markets outside Shanghai traded lower on 30 September, pulled down by lower-than-expected China factory activity data and on fears of an imminent shutdown of the US government.
The Japanese Nikkei finished 2.06% lower or 304.27 points at 14,455.80.
Australia's S&P/ASX finished 1.66% lower or 88.20 points at 5,218.90.
South Korea's Kospi finished 0.74% lower or 14.84 points at 1,996.96.
India's BSE Sensex was trading 1.27% lower or 251.04 points to 19,476.23.
Hong Kong's Hang Seng was trading 1.29% lower or 300.14 points to 22,906.90.
The Shanghai Composite was trading 0.54% higher or 11.65 points to 2,171.68.
The US Congress has just one day to decide how to continue funding the government beyond 30 September, and market players hope that a last-minute deal will be reached. In 2011, the first US debt ceiling crisis was resolved at the very last minute.
On 27 September, the Senate approved an emergency-funding measure to keep the government running until 15 November. Congress will have to vote on that measure before 1 October.
A potential government shutdown will not impact national security-related functions. However, it could cut funds to school lunch schemes targeting poor children, delay pay cheques to military personnel, impact foreign embassy operations, compel museums to close and cripple essential services like air traffic control and food inspection.
It could also force 800,000 federal employees to take unpaid leave and disrupt the flow of economic data from government agencies. The US Labor Department is expected to release the crucial nonfarm payroll numbers at the end of the week.
Meanwhile, in China, the final reading on HSBC's gauge of the country's manufacturing activity came in at 50.2 for the month of September, lower than the initial reading of 51.2.
Lower-than-expected China purchasing managers' index (PMI) data weighed on investor sentiment across the region.
Financial markets in China will be closed for the rest of the week for the National Day Golden Week holidays.
Stock markets across Asia finished the week ended 28 September on a mixed note. Australia's ASX lead the pack and India's Sensex trailed.
Wall Street Down
On Wall Street, indices ended lower as US government shutdown fears weighed on the markets.
The Dow finished 70.06 points lower at 15,258.24, pulled down by Cisco and IBM.
The S&P 500 closed 6.92 points lower at 1,691.75 while the Nasdaq ended 5.83 points lower at 3,781.59.
For the week ended 28 September, the Dow lost 1.25% and the S&P 500 lost 1.06%. However, the Nasdaq inched up 0.18%.
Company Stock Movements
In Tokyo, Mizuho Financial, the country's third-biggest bank my market value, fell 4.1% in intra-day trade after regulators pulled up the lender for its dealings with organised crime groups.
Rivals Mitsubishi UFJ and Sumitomo Mitsui Financial lost 2% each following the news.
Nippon Steel & Sumitomo Metal fell by over 3%. Consumer electronic components maker Mitsumi Electric too lost over 3%.
In Shanghai, shares of Shanghai International Port and Shanghai International Airport jumped over 2%, a day after Beijing officially opened the Shanghai free trade zone.
Retailers BesTV New Media surged 10% while Beijing Wangfuijing Department Store added over 5% ahead of week-long holidays in China.
In Mumbai, steel manufacturers were pulled down on concerns that downbeat China PMI data could threaten short-term steel demand.
Tata Steel, India's biggest producer, fell 3.9%. State-owned Steel Authority of India lost 2.1%, while rival JSW Steel fell 1.9%.
ICICI Bank, India's second-largest lender by assets, dropped 3.4%. State bank of India, the country's largest lender by assets, lost 2.4%.
In Sydney, Coal miner White Energy tanked 12%. Uranium miner Paladin Energy and Linc Energy dropped by about 6% each after Brent crude oil prices slid below $108 a barrel.
Last week, oil prices dipped after tensions eased in the Middle East, allaying fears of supply disruptions.
Copper miner OZ Minerals added 3%, a day after the Daily Mail reported that Glencore Xstrata was looking to acquire the Australian firm.
However, a 30 September Reuters report said Switzerland-based Glencore was unlikely to bid for OZ Minerals.
In Seoul, LG Display, the world's second-largest maker of flat panels dropped 3%. Kia Motors and part-owner Hyundai Motors shed about 2% each.