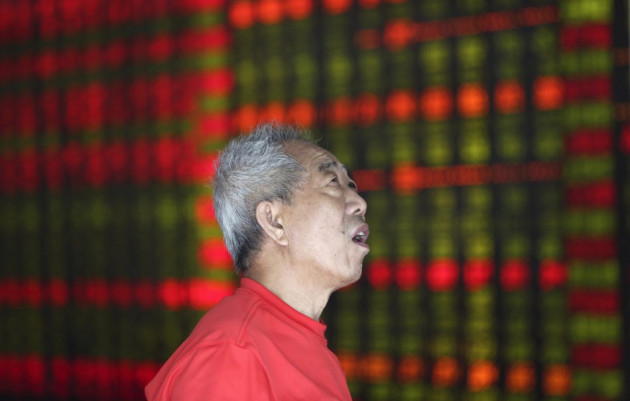 Asian stock markets outside India traded higher on 21 October after comments from Beijing boosted investor sentiment across the region.
The Japanese Nikkei finished 0.91% higher or 132.03 points at 14,693.57.
Australia's S&P/ASX finished 0.57% higher or 30.30 points at 5,351.80.
South Korea's Kospi finished 0.61% higher or 12.40 points at 2,053.01.
The Shanghai Composite was trading 1.62% higher or 35.46 points at 2,229.24.
Hong Kong's Hang Seng was trading 0.37% higher or 85.55 points to 23,425.65.
India's BSE Sensex was trading 0.30% lower or 62.21 points to 20,820.68.
In China, Premier Li Keqiang said there should be "no slackening" in executing policies that ensured that the country's growth targets were met.
China's gross domestic product (GDP) expanded by 7.8% year-on-year in the July-September quarter. The government's statistics office expects the country's economy to expand by 7.5% this year.
In Australia, the benchmark ASX index struck a new five-year high after mining stocks logged strong gains during the day.
In India, the benchmark index was trading lower as investors took profits. On 18 October, the BSE Sensex hit a three-year high and traded close to a near six-year high, boosted by upbeat China growth data.
"Premier Li's comments, along with reports that A-share IPO approvals will likely not resume soon, are responsible for the more positive tone in the market today," Cao Xuefeng, a Chengdu-based analyst with Huaxi Securities told Reuters.
"The Australian market is looking more bullish by the day. While fundamentally many analysts would argue the market is fairly valued at current levels, price action is indicating otherwise. Forward earnings suggest Australia stocks are good value, Tim Radford, global analyst at Rivkin Securities said in a note to clients.
"Technically, momentum is again to the upside, and with stocks entering a seasonally strong period amid a significant reduction in headline risk we believe decent upside is ahead for Australian equities leading into the end of 2013," Radford added.
Wall Street Up
On Wall Street, indices ended higher on 18 October as investors cheered upbeat earnings data.
The Dow Jones Industrial Average finished 28 points higher at 15,399.65.
The S&P 500 ended 11.35 points higher at 1,744.50, while the Nasdaq closed 51.13 points higher at 3,914.28, striking a new 13-year high.
For the week, the Dow added 1.07%, the S&P 500 shot up 2.42%, and the Nasdaq surged 3.23%.
The CBOE Volatility Index (VIX), broadly regarded as the best gauge of fear in the market, finished near 13.
Company Stock Movements
In Tokyo, building-products maker LIXIL Group added 2.5% after the Nikkei newspaper reported that the firm could report an 80% annual spike in consolidated operating profit for the six months ended September.
Automaker Suzuki Motor jumped 2.4% while gaming major Nintendo added 1.2%.
Fashion label United Arrows gained 2% after a Nikkei report said that the firm's group operating profit for the six months ended September would in step with guidance.
Telecoms major Softbank gained 2% on news that it had paid $1.26bn for a majority stake in Brightstar, a US-based mobile phone distributor.
In Shanghai, Fosun Pharmaceutical Group jumped 10% on news its subsidiary Chongqing Fochon entered a licensing agreement with Switzerland's SELLAS Clinical.
Shanghai Shimao added 2% while China Merchants Property gained 1% ahead of the release of China's monthly house price index.
In Hong Kong, Hutchison Whampoa lost 2.8% on news that it had dropped plans to sells its Hong Kong supermarket business ParknShop. Billionaire Li ka-Shing's firm could list it's A S Watson retail division instead, reported Bloomberg.
In Mumbai, the benchmark index traded flat after investors took profits. IT firm Tata Consultancy Services lost 2% while rival Infosys shed 0.5%. Banking major HDFC lost 1.7%.
In Sydney, iron ore miner Sundance Resources soared 28%. The firm put out a statement last week saying it was not aware as to why its stock had been trading so heavily.
Rival Fortescue Metals shot up 3%.
Resources major BHP Biliton added 1.4% ahead of the release of its quarterly output numbers on 22 October.
Qantas Airways lost 5.6% after the airline warned on 18 October that fare yields could drop this year, which could result in the company posting a loss this year.
In Seoul, index heavyweight Samsung Electronics shed about 1% ahead of the release of the new Apple iPad on 22 October.
LG Chemical fell 3% after it reported a 14% drop in third-quarter operating profit on 18 September.