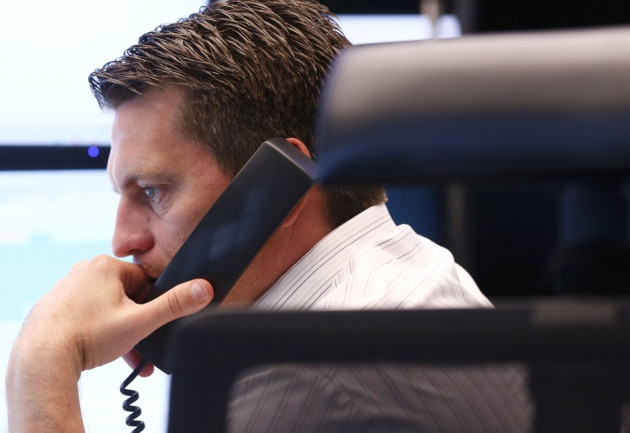 European markets opened lower on 12 November and continued trading to the downside thereafter.
Investors await the release of a reforms outline in China, amid the uncertainty surrounding the future pace of the US Federal Reserve's bond-buying stimulus.
The Stoxx Europe 600 index opened 0.2% lower to 323.01.
Britain's FTSE 100 index opened 0.3% lower.
France's CAC 40 index opened 0.1% lower.
Germany's DAX 30 index opened slightly lower.
Spain's IBEX 35 was trading 0.58% lower after opening lower.
Italy's FTSE MIB was trading 0.12% lower after opening lower.
Market players hope that China's new leaders will put out a reforms plan that can transform the world's second largest economy.
The ongoing four-day closed-door meeting of senior Communist Party officials will end on 12 November. The official Xinhua news agency is expected to make public the nation's economic agenda for the next decade later in the day.
Market participants will be tracking October's inflation data coming in from the UK, Germany and Italy.
They will also be tracking comments from three Federal Reserve presidents, Dennis Lockhart, Richard Fisher and Narayana Kocherlakota, later in the day.
Earlier, data from Britain showed that the imbalance between supply and demand for houses was pushing property prices higher in the UK, even as the impact of government schemes such as Help to Buy were reducing people's interest to rent.
Tim Radford, global analyst at Rivkin Securities said in a note to clients: "Global investors will closely watch newly elected US Fed chairman Janet Yellen when she faces her confirmation hearing in front of the Senate Banking Committee on [ 14 November]. Depending on what she says, the hearing could provide market participants with some real insights into what to expect from the new Fed chair next year when she takes over from Ben Bernanke, particularly her stance on current highly accommodative Fed policies".
"While the hearing could be a non-event, any signs of hawkishness on her part will be negative for markets, dragging stocks and commodities lower, and seeing further strength in the U.S dollar and bond yields", Radford added.
In company news, Italy's Mediaset and Banco Popolare will put out their earnings updates during the day.
Telecoms giant Vodafone reported a half-yearly pre-tax profit of £1.5bn ($2.4bn) and said that trading in Europe remained "very tough at present".
British property developer Land Securities reported a pretax profit of £397.9m ($636.59m) as against £131.4m in the year-ago period.
Deutsche Post, German chip maker Infineon and French media firm Lagardere have put out their earnings updates.
Asian Markets Mixed
The Japanese Nikkei finished 2.23% higher on 12 November. South Korea's Kospi finished 0.92% higher, the Shanghai Composite finished 0.82% higher and Australia's S&P/ASX finished 0.11% higher.
Earlier, markets outside Hong Kong and India traded higher, ahead of the release of a reforms blueprint in China and amid the uncertainty surrounding the future pace of US monetary stimulus.
Dallas Federal Reserve President Richard Fisher's comment failed to impact regional investor sentiment. Fisher told CNBC that the US Fed "will have to taper back on [the] pace of [its asset] purchases but that doesn't mean [the central bank would] stop".
In Australia, sentiment was dampened after a National Australia Bank survey revealed that business confidence had dropped from October's three-and-a-half year high.
Elsewhere, in the Philippines, tropical cyclone Zoraida struck the landmass, still reeling under the devastation caused by Typhoon Haiyan. The UK and the US are sending warships to the Philippines to boost rescue operations.
Daiwa Securities said in a note to clients: "Persistent speculation over when the US Fed may start winding down its $85 billion-a-month bond-buying programme is likely to remain a key driver of the market."
Wall Street Up
On Wall Street, indices logged modest gains on 11 November, ahead of the release of earnings reports from retailers including Wal-Mart and Macy's.
The Dow finished 21.32 points higher or 0.14% at 15,783.10, a third record close for the benchmark index this month.
The S&P 500 closed 1.28 points higher or 0.07% at 1,771.88.
The Nasdaq ended 0.56 points higher or 0.01% at 3,919.79.
The CBOE Volatility Index, considered the broadest gauge of fear in the market, declined to 12.53.
"Corporate earnings have been strong, and the view is that the Fed is on hold for the foreseeable future, so the focus turns to the holiday season, and the strength of the U.S. consumer," said Alan Skrainka, chief investment officer at Cornerstone Wealth Management.
Results from retailers are likely to be "okay, and reflective of an economy where it needs to be," Skrainka told CNBC.