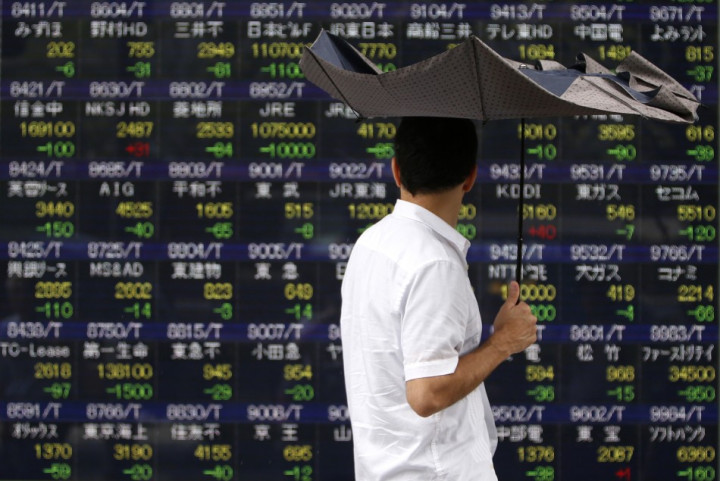 Asian markets reversed early gains and traded lower on 7 October, as fears of a US credit default worsened, amid the ongoing US government shutdown.
The Japanese Nikkei finished 1.22% lower or 170.99 points at 13,853.32.
Australia's S&P/ASX finished 0.90% lower or 46.90 points at 5,161.10.
South Korea's Kospi finished 0.13% lower or 2.56 points at 1,994.42.
Hong Kong's Hang Seng was trading 0.57% lower or 131.38 points to 23,007.16.
India's BSE Sensex was trading 0.93% lower or 184.92 points to 19,731.03.
Financial markets in China will re-open on 8 October, after the Golden Week holidays.
The US shutdown will enter its seventh day on 7 October. House Speaker John Boehner has demanded that the government must agree to spending cuts in exchange for raising the debt ceiling.
Boehner told ABC that the US was headed towards a credit default.
The world's largest economy will run out of cash to pay its bills on 17 October if the government's borrowing limit is not raised. The country's laws limit its borrowing to $16.7tn (£10.4tn, €12.3tn). Market analysts say that the Treasury would probably not be able to pay its bills if the ceiling is not raised.
The "markets remain unimpressed with the lack of progress in breaking the US deadlock," Kenichi Hirano, market adviser at Tachibana Securities told Marketwatch.
Most markets finished the week ended 5 October lower, with India's Sensex leading the pack and the Japanese Nikkei trailing.
Wall Street Up
On Wall Street, indices ended higher on 4 October despite the ongoing political deadlock in Washington.
The Dow finished 76.10 points higher at 15,072.58, propped up by Boeing and Disney.
The S&P 500 closed 11.84 points higher at 1,690.50, while the Nasdaq ended 33.41 points higher at 3,807.75.
For the week ended 5 October, the Dow lost 1.22% and the S&P 500 shed 0.07%. However, the Nasdaq inched up 0.69%.
Company Stock Movements
In Tokyo, troubled utility firm Tokyo Electric Power tanked 8% after it revealed that a power failure knocked-out several pumps used to cool the crippled nuclear reactors at the Fukushima Daiichi power plant.
Loss-making consumer electronics firm Sharp lost over 3%, dropping to a near six-month low, ahead of the pricing of a $1.5bn share sale.
Japan Airlines shot up 3% on news that the airline would purchase aircraft from France's Airbus, breaking US-based Boeing's domination of the Japanese market.
Rival ANA, Japan's largest carrier, lost 2% on the news.
Sumitomo Mitsui Financial, the country's second-largest bank by market value, inched up 0.1% after the company revised upwards its earnings outlook for the six months ended 30 September. The bank said last week that it expects a net profit for the period under review.
In Mumbai, ICICI Bank dropped 3.1% while rival HDFC Bank fell 2.4%.
Weak Asian shares also dented the sentiment as U.S. lawmakers showed no signs of making any progress to resolve the budget standoff.
Apollo Tyres jumped some 3.8%. US-based Cooper Tire & Rubber said on 4 October that it had filed a complaint in a US court to push Apollo to complete its $2.5bn acquisition of the American firm in a timely manner, reported Reuters.
In Singapore, investment firm Asiasons Capital nose-dived 90% to S$0.17 while sterilization-services company Bluemont Group plunged 81% to S$0.167 in early trade. Trading in both stocks resumed following a halt imposed by Singapore Exchange on 4 October.
In Sydney, Discovery Metals tanked 11% on news that one of its shareholders, Singapore-listed Blumont, plunged in early trade, extending 4 October's 56% drop. Blumont subsidiary Bluemont Copper owns a 12% stake in Discovery.
Gold miner Kingsgate Consolidated fell some 4% despite higher spot gold prices. Gold prices are set for a rebound this week as the ongoing US shutdown has boosted the precious metal's safe haven status, according to a survey.
Qantas Airways finished 3.5% lower on news that its budget carrier Jetstar was to take delivery of its first Boeing 787 Dreamliner aircraft.
Macquarie, Commonwealth Bank of Australia and National Australia Bank shed over 1% each.
In Seoul, index heavyweight Samsung Electronics gained over 1%. On 4 October the firm estimated that its July-September earnings shot up 25% to a record $9.4bn (10tn won)
The news helped LG Electronics, which gained 2%.