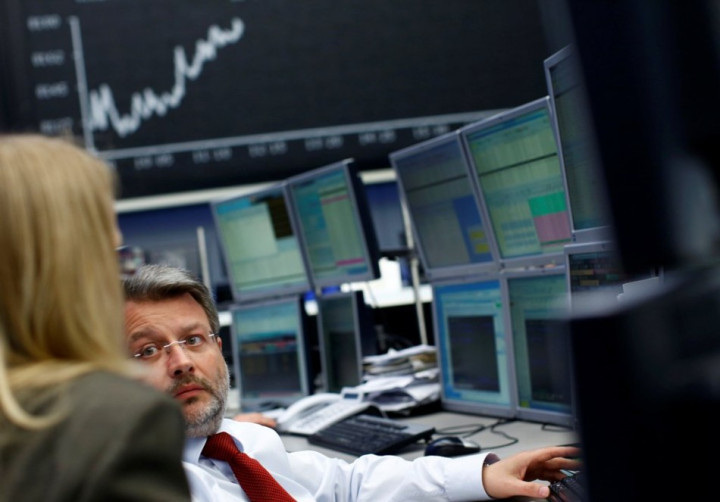 European markets opened higher on 10 October after US President Barack Obama officially nominated Janet Yellen as the next chairwoman of the Federal Reserve.
However, fears that the US could default on its debt obligations capped gains.
The Stoxx Europe 600 index opened 0.3% higher to 306.10.
Britain's FTSE 100 opened 0.4% higher.
Germany's DAX opened 0.5% higher.
France's CAC 40 opened 0.7% higher.
Italy's FTSE MIB was trading 1.02% higher.
Spain's IBEX 35 was trading 1.01% higher.
Yellen, currently Ben Bernanke's deputy at the world's most powerful central bank, became the clear frontrunner to step into the role as the world's top central banker after her rival Larry Summers withdrew from the race in September.
Bernanke's current term expires in January 2014.
Informed opinion makers do not expect any dramatic surprises from Yellen in terms of monetary policy. She is expected to continue Bernanke's aggressive stimulus programme where the Federal Reserve buys $85bn (£52.9bn, €62.6bn) worth of assets every month to prop up the US economy.
On 9 October, President Obama decided to meet US lawmakers in a bid to end the political stalemate in Washington. The president met congressional Democrats on Wednesday and is due to meet Republicans on 10 October.
The US government shutdown will enter its tenth day on 10 October and Congress has eight days to decide on whether to raise the US debt limit.
The world's largest economy could run out of cash to pay its bills after 17 Octoberif the government's borrowing limit is not raised. The country's laws limit its borrowing to $16.7tn (£10.4tn, €12.3tn).
There are various estimates as to when the US government could run out of money.
Economists at JPMorgan provided a precise date of 24 October. An article in Time.com pointed out that, "they (the economists at JP Morgan) write that it is 'extremely unlikely' the Treasury will be able to make it's payments more than a few days after the 24th, and that the Treasury would most certainly have to default on some payments by 1 November, when large outlays for Social Security, Medicare, retirement benefits for military and civil services workers, and interest payments are due."
The Bipartisan Policy Center expects the date to be anywhere between 22 October and 1 November.
Market players in Europe will be tracking the Bank of England (BoE) interest rate decision.
They will also be tracking the European Central Bank's monthly report, due out today, for more perspective on prevailing economic conditions in the region.
In company news, British books and stationery retailer WH Smith reported a 6% increase in annual profit, beating forecasts.
Recruitment services provider Hays said its total net fees, on a like-for-like basis, rose 2% in the September quarter.
In Asia and the US
In Asia, the Japanese Nikkei finished 1.12% higher on 10 October. However, Australia's S&P/ASX finished 0.11% lower while South Korea's Kospi ended 0.07% lower.
Earlier in Asia, most markets traded lower even after President Obama scheduled meetings with politicians in a bid to break the ongoing budget impasse and prevent America from defaulting on its debt obligations.
In Japan, government data showed that core private-sector machinery orders in August increased 5.4% over July, beating expectations. A Reuter's survey had forecast a 2% increase.
The news boosted Japanese stocks. The August reading suggested that Prime Minister Shinzo Abe's policies, dubbed 'Abenomics', were filtering through to companies.
Elsewhere, in South Korea, the country's central bank left its policy rate unchanged at 2.50%.
"Everyone is trying to remain optimistic about the US budget impasse and until that's restored it's hard to move forward," said Kelly Teoh, market strategist at trading firm IG, in Singapore.
On Wall Street, indices witnessed mixed trade amid the ongoing political gridlock in Washington.
The Dow finished 26.45 points higher at 14,802.98, propped up by IBM and AT&T.
The S&P 500 closed 0.95 points higher at 1,656.40.
However, the Nasdaq ended 17.06 points lower at 3,677.78, suffering its worst three-day losing streak in over 12 weeks.
The CBOE Volatility Index (VIX), broadly considered the best gauge of fear in the market, ended below 20.