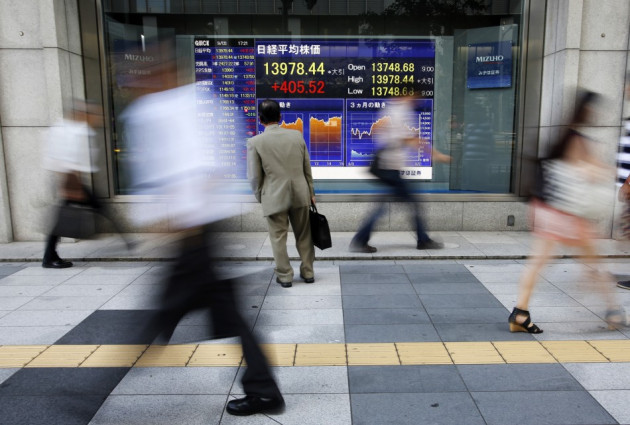 Asian markets witnessed mixed trade on 22 October as market players refrained from making big bets ahead of the release of a closely watched US labour market report.
The Japanese Nikkei finished 0.13% higher or 19.68 points at 14,713.25.
Australia's S&P/ASX finished 0.40% higher or 21.30 points at 5,373.10.
South Korea's Kospi finished 0.15% higher or 3.11 points at 2,056.12.
The Shanghai Composite was trading 0.98% lower or 21.93 points at 2,207.31.
Hong Kong's Hang Seng was trading 0.44% lower or 102.37 points to 23,335.78.
India's BSE Sensex was trading 0.24% lower or 50.29 points to 20,843.60.
The US Labor Department will release the crucial nonfarm payrolls report later in the day, delayed by 18 days owing to the 16-day government shutdown.
Economists polled by MarketWatch forecast the American economy to have created 185,000 new jobs in September, up from 169,000 in August. The unemployment rate is expected to remain unchanged at 7.3%.
The widely tracked jobs report will throw more light on the health of the world's largest economy and can impact the US Federal Reserve's quantitative easing (QE) taper decision.
The 16-day fiscal gridlock has cost the US economy an estimated $24bn and is expected to result in a significant reduction in fourth-quarter growth, ratings firm Standard & Poor's estimated.
Analysts believe that the damage done to the US economy could force the Fed to defer the planned cutback of its $85 billion-a-month bond-buying stimulus, to early 2014.
In China, data from September showed that the prices of new homes rose across 69 out of 70 cities. Prices increased an average 8.19% on an annual basis, against 7.48% in August and 6.70% in July, Wall Street Journal data showed.
Higher house prices are often viewed negatively by the markets as they could attract government intervention that is aimed at cooling the property market. The news pulled down realty stocks in China.
"Ahead of the belated release of the September jobs report, markets are set to remain range bound, with most assets consolidating recent moves," Mitul Kotecha, head of global FX strategy at Credit Agricole told CNBC.
Wall Street Mostly Higher
On Wall Street, most indices logged modest gains as market participants exercised caution ahead of the release of the September jobs report.
The Dow finished 7.45 points lower at 15,392.20, pulled down by Boeing and UnitedHealth.
The S&P 500 closed 0.16 points higher at 1,744.66, while the Nasdaq closed 5.77 points higher at 3,920.05, striking a new 13-year high.
The CBOE Volatility Index (VIX), broadly regarded as the best gauge of fear in the market, finished above 13.
Company Stock Movements
In Tokyo, chemicals maker Asahi Kasei added 1.8% following a Nikkei newspaper report that the firm's consolidated first-half operating profit could have soared 83% on an annual basis to more than ¥70bn.
Exporters' stocks gained on a stronger US dollar.
Camera maker Nikon added 1.6% while rival Canon moved up 1%.
Consumer electronics major Sony gained 1%.
Apple-suppliers' stocks gained ahead of the release of the new iPad models. Murata Manufacturing shot up 2.2% while Meiko Electronics added 1.6%.
In Shanghai, real estate developers Gemdale, Poly Real Estate Shanghai Shimao lost about 2% each.
In Hong Kong, China Mobile, the world's largest mobile carrier by subscribers fell 3.7% on news that the company's nine-month net profit dropped 1.9%. The firm cited rising competition and higher network investments as the reasons for the drop in performance.
Realty firm China Overseas Land & Investment lost 1.2% while China Resources Land shed 0.8%.
In Mumbai, Reliance Industries shed 0.6% as investors took profits.
Wipro added 2.1% while Cairn India, the operator of the nation's biggest oilfield on land, gained 1.3%.
In Sydney, resources major BHP Billiton added 2% after it said that it expected to produce 212 million metric tons of iron ore, a 2.4% increase over its previous guidance.
Rival Fortescue Metals gained 1.5% on the news.
Retailer David Jones lost 1.8% after Chief Executive Paul Zahra said on 21 October that he would quit the company after the company finds a successor.
In Seoul, index heavyweight SK Hynix dropped 3%.
Shinhan Financial fell 3% after BNP Paribas decided to sell 4.8 million Shinhan shares.
Samsung Electronics fell 1.3%. The company will report quarterly earnings later this week.
The country's largest banking group Woori Finance fell over 1% on news that the government had received more than the minimum number of required bids to sell its stake in firm.