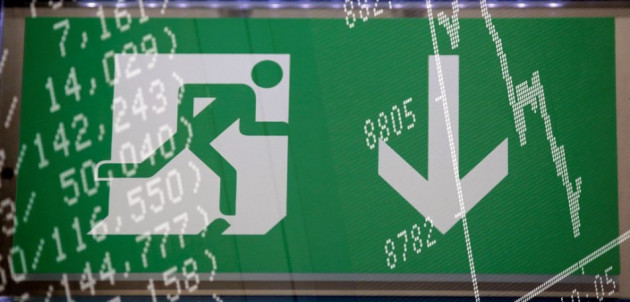 European markets opened lower on 8 November, and continued trading to the downside, ahead of the release of a crucial US labour market report.
The Stoxx Europe 600 index opened 0.5% lower to 321.73.
Britain's FTSE 100 and Germany's DAX 30 opened 0.5% lower.
France's CAC 40 opened 0.7% lower.
Spain's IBEX 35 was trading 0.68% lower after opening lower.
Italy's FTSE MIB was trading 0.25% lower after opening lower.
The US government will put out the October nonfarm payrolls report later in the day.
Economists polled by Reuters forecast the American economy to have created 125,000 jobs in October, as against 148,000 in September. The latest reading could be one of the weakest payrolls reports so far this year.
The world's leading economy expanded by 2.8% in the July-September third-quarter, higher than the second-quarter's 2.5% growth rate and way above forecasts of a 2% expansion.
Together, the two sets of data will throw more light on the health of the world's largest economy and can influence the US Federal Reserve's 18 December monetary policy decision.
The Fed's $85bn bond-buying stimulus has supported the US economy and stock markets the world over for a while now.
In company news, Anglo-Spanish airline holding firm IAG and Telecom Italia will put out their earnings updates during the day.
British engineering major Rolls Royce, German insurer Allianz, Spain's Telefonica, and Swiss luxury goods maker Richemont have all released their earnings updates.
Earlier, the European Central Bank (ECB) cut its main interest rate to 0.25% from 0.50%.
Preliminary data from the eurozone's statistics office showed last week that inflation unexpectedly dropped to 0.7% year-on-year in October, the lowest for nearly four years. The reading points to a stuttering economic recovery in the 17-nation bloc and warranted an ECB rate cut.
Commerzbank Corporates & Markets said in a note to clients: "Despite the fall of the inflation rate below 1%, the Eurozone is not heading for deflation. It is more rather the case that the effects of many tax increases have dropped out of the year-on-year comparison recently and food and energy prices have barely risen any further".
"The core inflation rate has been moving sideways at a low level since mid 2010 amid the weak economy and internal depreciation in some countries. This is unlikely to change for the time being. The inflation rate should have reached the bottom and it will probably stay at around 1% in 2014", the German bank added.
Asian Markets Drop
In Asia, the Shanghai Composite index finished 1.09% lower on 8 November.
The Japanese Nikkei finished 1.00% lower, South Korea's Kospi finished 0.96% lower, while Australia's S&P/ASX finished 0.39% lower.
Earlier, markets traded lower as a downbeat handover from Wall Street overshadowed positive economic data from China.
In Japan, equities finished at a one-month low, partly because of weak domestic earnings reports.
In South Korea, equities finished at a two-month low, pulled down by technology firms.
Government data from China showed that export growth bounced back in October. Exports from the world's second largest economy increased 5.6% year-on-year in October, beating estimates.
Exports from China had dropped 0.3% in September.
However positive China data failed to boost investor sentiment in Asia, which woke up to fears of a probable early reduction in the US Federal Reserve's $85bn bond-buying stimulus, on the back of upbeat US growth data.
Tim Radford, global analyst at Rivkin Securities said in a note to clients: "It was a volatile session [on Wall Street] overnight where social media company Twitter soared 72% above its IPO price, US equities tumbled and global currency markets moved all over the place".
"The catalyst for much of the ruckus was much better than expected US GDP figures".
"While [overnight] selling [in the US] was triggered by better than expected US GDP figures, leading to higher expectations the Fed will start withdrawing stimulus, downside was mostly driven by investors locking in gains from recent upside. With no immediate signs the Fed will start tapering in December despite strong GDP data, selling driven by taper on concerns should be seen as a buying opportunity for market participants," Radford said.
"Given the Fed's dual mandate is price stability and employment, the important release to watch is tonight's non-farm payrolls. A strong pickup in employment in October, anything above a forecasted 120,000 increase, might extend overnight selling pressure, sending broader equity indices back toward near-term support. Saying that, considering last night's selloff wasn't even that bad, there's not much reason to worry about the emergence of heavy downside, particularly if there aren't any major surprises from tonight's release", Radford added.
Wall Street Down
On Wall Street, indices ended lower on 7 November following the release of positive US third-quarter GDP data.
The Dow finished 152.9 points lower or 1% at 13,593.98. The S&P 500 closed 23.34 points lower or 1.3% at 1,747.15.
The Nasdaq finished 74.61 points lower or 1.1% at 3,857.33.
The CBOE Volatility Index (VIX), broadly regarded as the best gauge of fear in the markets, rose close to 14.
Earlier, a huge investor interest in Twitter's stock saw it open at $45.10, a 73.5% pop.
"What's hurting US markets is they have just gone up so much, so a pause is very much to be expected here," David Kelly, chief market strategist at JPMorgan Funds told CNBC.