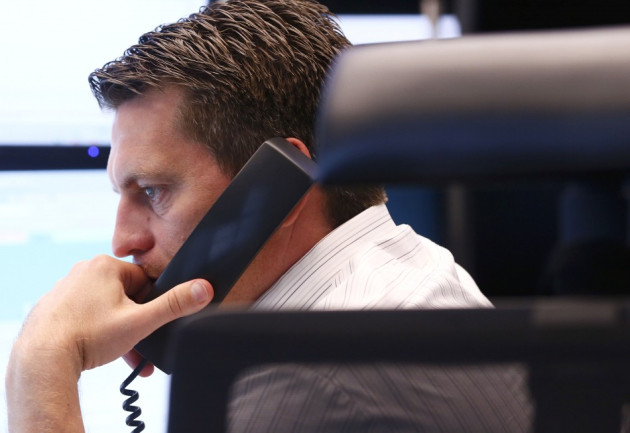 European markets outside the UK opened lower, and continued trading lower thereafter, as market players braced themselves for the release of a closely watched US labour market report.
The Stoxx Europe 600 index opened 0.1% lower to 319.28.
Britain's FTSE 100 opened 0.1% higher.
France's CAC 40 opened 0.2% lower.
Germany's DAX 30 opened 0.1% lower.
Spain's IBEX 35 was trading 0.05% higher after opening lower.
Italy's FTSE MIB was trading 0.13% higher after opening lower.
The US Labor Department will release the crucial nonfarm payrolls report later in the day, delayed by 18 days owing to the 16-day government shutdown.
Economists polled by MarketWatch forecast the American economy to have created 185,000 new jobs in September, up from 169,000 in August. The unemployment rate is expected to remain unchanged at 7.3%.
The widely tracked jobs report will throw more light on the health of the world's largest economy and can impact the US Federal Reserve's quantitative easing (QE) taper decision.
The 16-day fiscal gridlock has cost the US economy an estimated $24bn and is expected to result in a significant reduction in fourth-quarter growth, ratings firm Standard & Poor's estimated.
Analysts believe that the damage done to the US economy could force the Fed to defer the planned cutback of its $85 billion-a-month bond-buying stimulus, to early 2014.
In company news, British semiconductor maker ARM Holdings, Franco-Italian semiconductor manufacturer STMicro and Swedbank will all put out their earnings updates during the day.
Earlier, government data from the UK showed that public sector net debt excluding temporary effects of financial interventions was £1,211.8bn at the end of September 2013. That figure is equivalent to 75.9% of British gross domestic product (GDP).
Elswehere, the German central bank warned that Europe's strongest economy could be on the cusp of a housing price bubble as the demand for new homes was outstripping supply.
Data from Switzerland showed that the country's trade surplus widened to 2.49bn Swiss francs in September.
In company news, Europe's largest drugmaker by sales Novartis raised its forecast for the second time this year as India-based rival Ranbaxy Laboratories failed to begin selling a copy of Diovan, the blood-pressure treatment drug in the US.
In Portugal, Antonio Pires de Lima, the recently appointed finance minister said the country would do "whatever it takes" to avoid another international bailout.
"But there is strong commitment, almost an obsession, to recover our sovereignty, and that will be only possible if we end up this assistance program in 2015," he told CNBC on 21 October.
In Asia and the US
In Asia, the Japanese Nikkei finished 0.13% higher on 22 October. South Korea's Kospi ended 0.15% higher while Australia's S&P/ASX finished 0.40% higher.
In China, data from September showed that the prices of new homes rose across 69 out of 70 cities. Prices increased an average 8.19% on an annual basis, against 7.48% in August and 6.70% in July, Wall Street Journal data showed.
Higher house prices are often viewed negatively by the markets as they could attract government intervention that is aimed at cooling the property market. The news pulled down realty stocks on Chinese bourses.
"Ahead of the belated release of the September jobs report, markets are set to remain range bound, with most assets consolidating recent moves," Mitul Kotecha, head of global FX strategy at Credit Agricole told CNBC.
On Wall Street, most indices logged modest gains as traders exercised caution ahead of the release of the September jobs report.
The Dow finished 7.45 points lower at 15,392.20, pulled down by Boeing and UnitedHealth.
The S&P 500 closed 0.16 points higher at 1,744.66, while the Nasdaq closed 5.77 points higher at 3,920.05, striking a new 13-year high.
The CBOE Volatility Index (VIX), broadly regarded as the best gauge of fear in the market, finished above 13.