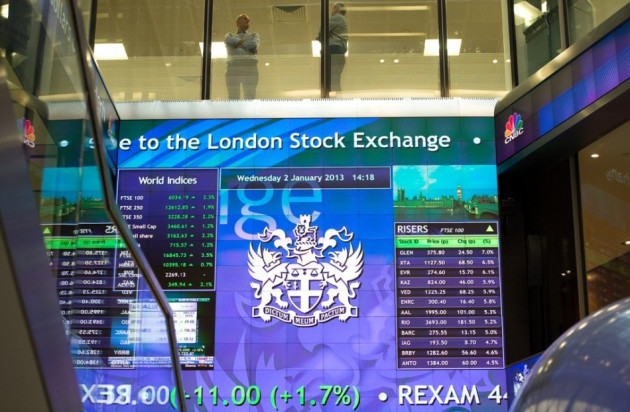 European stocks witnessed mixed trade in the opening minutes on 21 October, as market players exercised caution ahead of the release of a closely watched US labour market report.
The Stoxx Europe 600 index opened 0.1% higher to 318.77.
Britain's FTSE 100 opened 0.1% higher.
France's CAC 40 opened 0.1% lower.
Germany's DAX opened 0.2% lower.
Spain's IBEX 35 was trading 0.27% lower.
Italy's FTSE MIB was trading 0.50% lower.
The US Labor Department will release September's non-farm payrolls report on 22 October. The widely tracked jobs data will throw more light on the health of the US economy and can impact the Federal Reserve's quantitative easing (QE) taper decision.
The 16-day government shutdown has cost the US economy an estimated $24bn and is expected to result in a significant reduction in fourth-quarter growth, ratings firm Standard & Poor's estimated.
Analysts believe that the damage done to the world's leading economy could force the Fed to defer the planned cutback of its $85 billion-a-month bond-buying stimulus, to early 2014.
In the UK, household finances continue to remain under pressure, according to a survey. The Markit UK monthly household finances index rose to 41.0 in October from 40.8 in September. A reading above 50 suggests finances are improving while a number below this level means that they are deteriorating.
In Germany, Chancellor Angela Merkel's party and the centre-left SPD are expected to initiate official discussions this week, in a bid to form a coalition government.
Data from Europe's strongest economy showed that producer prices rose to a seasonally adjusted annual rate of 0.3% in September, from -0.1% in August. The September reading was higher than what analysts had forecast.
Earlier, Bank of England (BoE) policymaker Ben Broadbent said the central bank would consider a rate hike only after Britain's economic recovery was secure.
"We want to ensure that this recovery, which is only just beginning in a way, continues and is not choked off by a premature rise in interest rates," said Broadbent.
In Asia and the US
In Asia, the Japanese Nikkei finished 0.91% higher on 21 October. South Korea's Kospi ended 0.6% higher while Australia's S&P/ASX finished 0.57% higher.
Earlier, stock markets outside India traded higher after comments from Beijing boosted investor sentiment across the region.
In China, Premier Li Keqiang said there should be "no slackening" in executing policies that ensured that the country's growth targets were met.
China's gross domestic product (GDP) expanded by 7.8% year-on-year in the July-September quarter. The government's statistics office expects the country's economy to expand by 7.5% this year.
In Australia, the benchmark ASX index struck a new five-year high after mining stocks logged strong gains during the day.
In India, the benchmark index was trading lower as investors took profits. On 18 October, the BSE Sensex hit a three-year high and traded close to a near six-year high, boosted by upbeat China growth data.
"Premier Li's comments, along with reports that A-share IPO approvals will likely not resume soon, are responsible for the more positive tone in the market today," Cao Xuefeng, a Chengdu-based analyst with Huaxi Securities told Reuters.
"The Australian market is looking more bullish by the day. While fundamentally many analysts would argue the market is fairly valued at current levels, price action is indicating otherwise. Forward earnings suggest Australia stocks are good value, Tim Radford, global analyst at Rivkin Securities said in a note to clients.
"Technically, momentum is again to the upside, and with stocks entering a seasonally strong period amid a significant reduction in headline risk we believe decent upside is ahead for Australian equities leading into the end of 2013," Radford added.
For the week ended 19 October, Asian markets outside mainland China finished higher. India's Sensex led the pack and the Shanghai Composite trailed.
On Wall Street, indices ended higher on 18 October as investors cheered upbeat earnings data.
The Dow Jones Industrial Average finished 28 points higher at 15,399.65.
The S&P 500 ended 11.35 points higher at 1,744.50, while the Nasdaq closed 51.13 points higher at 3,914.28, striking a new 13-year high.
For the week ended 19 October, the Dow added 1.07%, the S&P 500 shot up 2.42%, and the Nasdaq surged 3.23%.
The CBOE Volatility Index (VIX), broadly regarded as the best gauge of fear in the market, finished near 13.