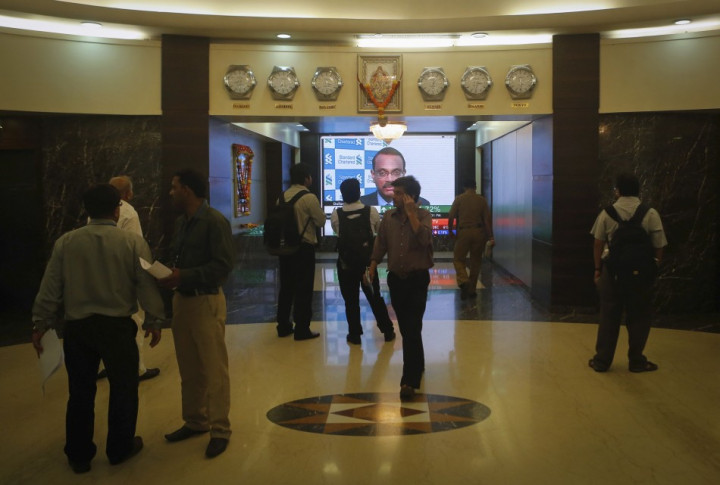 Most Asian stock markets finished the week lower with India's Sensex leading the pack and the Japanese Nikkei trailing.
Markets outside Shanghai traded lower at the beginning of the week, pulled down by lower-than-expected China factory activity data and on fears of an imminent shutdown of the US government.
In China, the final reading on HSBC's gauge of the country's manufacturing activity came in at 50.2 for the month of September, lower than the initial reading of 51.2. Downbeat purchasing managers' index (PMI) data weighed on investor sentiment across the region.
Markets witnessed mixed trade on 1 October, with most indices reversing early gains, as traders digested news that the US government would shut down indefinitely.
In Japan, Prime Minister Shinzo Abe announced that the national sales tax would increase to 8%, from 5% at present, next April. Market players welcomed Abe's decision as they expect a massive $50bn stimulus package that can tone down the impact of the tax hike.
In South Korea, government data revealed that the country's September exports fell 1.5% from a year ago.
Elsewhere, in Australia, the country's central bank left its official interest rate at a record low 2.5 % for the second successive month.
In India, government data revealed that the country's current account deficit (CAD) grew less than expected in the April-June quarter. The CAD for the three months to June was $21.8bn. Economists had forecast that the deficit would rise to $23bn-$25bn, reported Reuters.
Japanese shares dropped to a three-week low on 2 October. They were pulled down by a stronger yen and by the absence of details from the Japanese government about how it would shield the world's third largest economy from a planned increase in consumption tax.
Meanwhile, trading across the rest of Asia was muted amid US budget concerns.
Data from Australia revealed that the country logged a wider-than-expected trade deficit of A$815m for the month of August. However, the August reading was lower than July's reading of $A1.4bn.
Markets outside Japan traded higher on 3 October after upbeat Chinese economic data overcame concerns about the continuing US budget deadlock.
However, trading volumes were thin as financial markets in South Korea and mainland China were shut for public holidays.
In China, government data revealed that the services purchasing manager's index (PMI) jumped to a six-month high in September, suggesting that the Chinese economy was recovering, albeit at a slow pace. The September reading rose to 55.4, from 53.9 in August.
Earlier, data from two surveys showed that China's manufacturing sector hardly expanded in September, suggesting that a recent recovery in factory activity in the world's second largest economy could be losing momentum.
In company news, Tokyo Electric Power lost 4% on news that new radioactive water-leaks had surfaced at its crippled and polluted Fukushima Daiichi nuclear power plant. Japanese lenders are ready to provide a $5.9bn lifeline to the troubled utility firm.
Markets outside India traded lower on 4 October amid the US government shutdown, which entered its fourth day and threatens to cause serious damage to the world's leading economy.
The partial shutdown of the US government would cost the country anywhere from $300m a day to $10bn in a week in lost economic output, according to economic consultancies and the White House.
In Japan, the country's central bank left its monetary policy unchanged.
"Japan's economy is recovering moderately. Overseas economies as a whole are gradually heading toward a pick-up, although a lackluster performance is partly seen," the Bank of Japan said in a statement. "With regard to the outlook, Japan's economy is expected to continue a moderate recovery. The year-on-year rate of increase in the CPI is likely to rise gradually," the BoJ statement added.
Economists expect the Japanese central bank to make changes to monetary policy post April, 2014, after the controversial hike in the sales tax takes effect.
Market Movements
India's S&P BSE Sensex finished 0.30% higher at 19,915.95.
Hong Kong's Hang Seng ended 0.34% lower at 23,138.54.
South Korea's Kospi finished 0.43% lower at 1,996.98.
Australia's S&P/ASX 200 finished 1.41% lower at 5,208.00.
The Japanese Nikkei index ended 3.09% lower at 14,024.31.
Financial markets in mainland China were closed for the National Day Golden Week holidays.
The Week Ahead
The week ahead will see market participants track developments in Washington as the budget standoff threatens to negatively impact the upcoming debt-ceiling vote.
Financial markets in China will resume trade, on 8 October, after a week-long holiday and could react negatively to ongoing political developments in the US. Stock markets in mainland China have not had a chance to react to the US shutdown given that have been shut since 1 October.
The People's Bank of China (PBOC) will put out loan disbursals data for the month of September.
The Bank of Japan (BoJ) will release the minutes of its recently held policy meeting, and will also put out the results of its monthly economic survey.
BoJ Governor Haruhiko Kuroda will hold a press conference about monetary policies in Tokyo.
The Japanese government will put out the results of a regional economic survey, alongside machinery orders data for the month of August.
Australia will put out its unemployment rate and employment change numbers for the month of September.