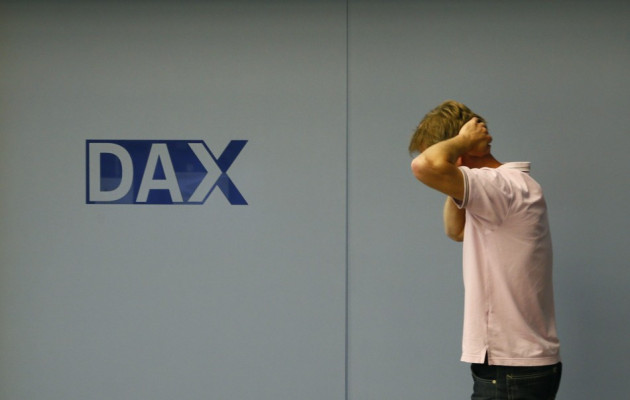 European markets opened lower on 25 October, and continued trading to the downside thereafter, ahead of the release of economic data from Germany and the UK.
The Stoxx Europe 600 index opened 0.3% lower to 319.40.
Britain's FTSE 100 opened 0.1% lower.
France's CAC 40 opened 0.8% lower.
Germany's DAX opened 0.3% lower.
Spain's IBEX 35 was trading 0.98% lower after opening lower.
Italy's FTSE MIB was trading 0.88% lower after opening lower.
Market participants in Europe will be tracking preliminary UK third quarter GDP data due out at 9:30 am BST.
They will also be tracking October's Ifo business climate data for Germany, expected at 9:00 am BST.
Both sets of numbers will throw more light on the health of the British and Germany economies especially after data from Markit, on 24 October, showed that Eurozone business had activity slowed down in October.
In company news, Spain's second-biggest bank BBVA said its nine-month net profit nearly doubled to €3.1bn (£2.64bn), compared to the corresponding period a year ago. However, the latest figures were below analysts' predictions. BBVA's stock lost 1.2%.
Truck maker Volvo dropped 6.7% as plant refittings pulled down the company's earnings.
Swedish consumer electronics major Electrolux lost 5.4% after its third-quarter earnings missed expectations.
Automaker Renault was down 4% on lower third-quarter sales.
British retailer Debenhams was down 2.7% after the department store reported a pre-tax profit drop in its full-year results.
Earlier, Bank of England Governor Mark Carney warned that Britain would have to surrender its leading position in financial services sector if the government rescued banks in a future crisis.
"If we don't end 'too big to fail', we can't support a financial sector of this size," Carney said in a speech to celebrate the 125th anniversary of the Financial Times.
German Chancellor Angela Merkel said France and Germany want to hold talks with the US over Washington's alleged snooping activities, even as fresh disclosures of NSA surveillance on world leaders emerged.
Following claims the US intelligence was eavesdropping on Merkel's telephone conversations, the German leader has urged the US to agree a "no-spying" deal with its European allies.
The US already has a "no-spying" agreement with Britain, Australia, Canada and New Zealand.
In Asia and the US
In Asia, the Japanese Nikkei finished 2.75% lower on 25 October. South Korea's Kospi ended 0.60% lower while Australia's S&P/ASX finished 0.25% lower.
Earlier, markets outside Australia traded lower after concerns surrounding a repeat of June's credit crisis in China fuelled a sell-off.
China has reported a sharp increase in money-market rates. The 7-day repo rate, the interest rate at which the central bank repurchases government securities and a key measure of liquidity, opened at 4.8% on 25 October and followed close to a 7% overnight increase.
The People's Bank of China (PBOC) tightened liquidity by withdrawing cash from the system on 24 October.
The developments, fuelled concerns of a potential liquidity crunch in the world's second-largest economy which weighed down on Asian stocks on 25 October.
In South Korea, central bank data showed that the country's real GDP increased 1.1% in the July-September quarter, against a 1.1% increase in the preceding quarter.
Elsewhere, Canada's largest dairy processor Saputo is back in the lead to acquire Australian dairy processor Warrnambool Cheese & Butter (WCB).
On Wall Street, indices ended higher as investors cheered upbeat economic and earnings data from China.
The Dow finished 95.88 points higher at 15,509.21.
The S&P 500 closed 5.69 points higher at 1,752.07 while the Nasdaq ended 21.89 points higher at 3,928.96.
The CBOE Volatility Index (VIX), broadly regarded as the best gauge of fear in the market, hovered at 13.