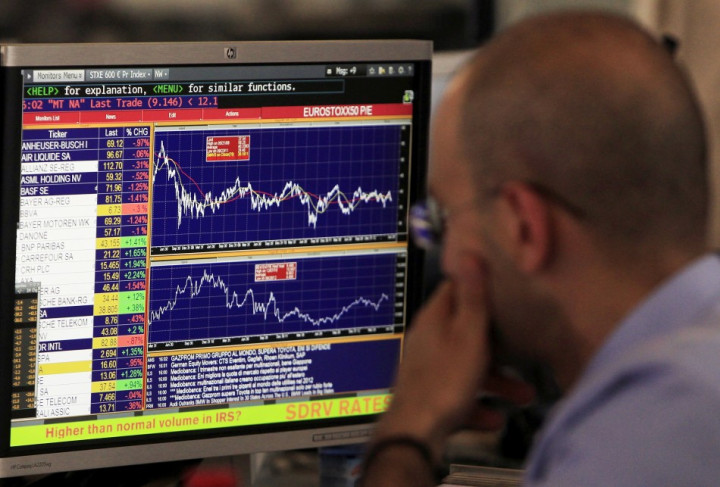 European markets opened lower with investors adopting a wait-and-watch policy ahead of the US Federal Reserve's two-day meet beginning later today. Investors are unsure about the future pace of the Fed's $85bn a month bond-buying programme that has stimulated markets the world over for a while now.
Europe's FTSEUROFIRST 300 was down 0.1% to 1,183.73 points in early deals. Britain's FTSE 100 was down 0.1% too in early deals
France's CAC-40 opened 0.5% lower, while Germany's DAX was down 0.2%
Spain's IBEX and Italy's FTSE MIB fell 0.3% in opening trade.
The US Federal Reserve's Federal Open Market Committee (FOMC) will meet later in the day and Fed chief Ben Bernanke is due to speak after the two-day meet, on Wednesday.
"We expect this nervousness to continue to dominate until the FOMC rate decision and Chairman [Ben] Bernanke's press conference on Wednesday, with asset prices remaining vulnerable to news headlines, keeping the volatility elevated," Barclays analysts said.
Investors in Europe will continue tracking developments at the G8 summit this week. Aside from addressing the conflict in Syria, Prime Minister David Cameron has maintained that as host of this year's summit he would ensure the focus would be on discussing a clampdown on global tax dodging by multinational corporations who hold assets in tax havens around the world.
G8 leaders also said on Monday they would continue to back Japan's stimulus initiatives. The news pulled the yen down, against the US dollar.
Investors will also be tracking British consumer price index (CPI) data, alongside a raft of economic data coming in from the US later in the day.
Data from the German ZEW Economic Sentiment Index, which gauges the six-month economic outlook, will shed light on the state of Europe's strongest economy
In the UK, Monday's news that households were the least pessimistic about their financial situation for almost three and a half years could boost market sentiment in that country in due course. The growing sense that the British economy was at the start of a recovery boosted sentiment among some households.
Elsewhere in Europe, Italian premier Enrico Letta maintained his country would honour EU deficit limits, snubbing a call from former prime minister Silvio Berlusconi to ignore the borrowing ceiling to pay for tax cuts promised before the recent election, Reuters reported.
In Turkey, the government said it could ask the military to quell protests. Anti-government protestors have occupied Gezi park in central Istanbul for over two weeks now, demanding the government cancel plans to construct a mall over the park.
In Asia, the Japanese Nikkei closed 0.20% lower at the end of day's trade on 18 June. Australia's S&P/ASX closed 0.24% lower, while South Korea's Kospi ended 0.93 % higher.
Earlier in Asia, most markets were down on Tuesday as investors tread cautiously, unsure about the future pace of the Fed's bond-buying program.
On Wall Street, indices ended higher on 17 June owing to the lack of new information about the future pace of the Fed's asset buys. The Dow shot up 109.67 points to finish at 15,179.85. The S&P 500 inched up 12.31 points to end at 1,639.04, while the Nasdaq moved up 28.58 points to close at 3,452.13.