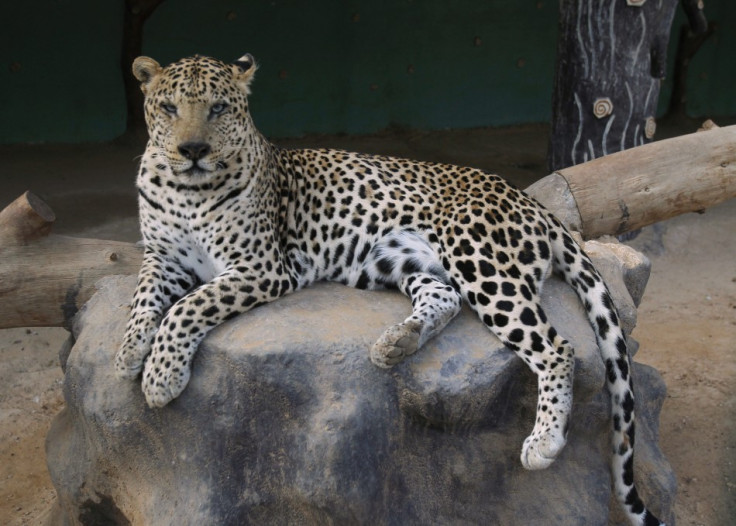 An African male leopard with strawberry locks has been spotted for the first time at South Africa's Madikwe Game Reserve, according to conservationists.
Tourists have reportedly seen the leopard but the experts at Panthera, a U.S.-based wild cat-conservation group came to know about it when they received a photo of the animal from Deon De Villiers, a photographer and safari guide, asking them about the odd colour.
African leopards normally have tawny coats with black spots. But the experts were surprised when a leopard with the strawberry-colored coat was spotted.
Panthera President Luke Hunter suspects that the pinkish hue of the leopard is because of erythrism, a little-understood genetic condition that is believed to cause either an overproduction of red pigments or an underproduction of dark pigments, reported the National Geographic.
Hunter's group which has collobarated with the National Geographic's Big Cats Initiative said that it was very rare to see such leopards. "It's really rare-I don't know of another credible example in leopards," said Hunter.
"It's surprising that [a photo of the leopard] didn't come out sooner, because he's relatively used to vehicles," he added.
Erythrism is also known as erythrochroism which refers to an unusual reddish pigmentation of an animal's fur, hair, skin or feather. But Hunter noted that Erythrism is very unusual in carnivores and the condition appears most often in raccoons, Eurasian badgers, and coyotes.
"There are some spotted leopard skins and melanistic specimens, black panthers, in museums with red undertones, but fading probably contributes to that," he said.
The strawberry leopard looked healthy as the leopard is able to use its spotted fur to move closer to its prey unseen and kill them. But hunter believes that if the big cat leaves the borders of the Madikwe Game Reserve, it may face danger and could end up as a trophy hunter's prize.
Though it is rare, this is not the first time animals and insects have been spotted having erythrism. A 'red' variant of short hand grasshopper was found on a mountain heath from the Rock and Pillar Range in New Zealand in 2010.
As a result of the erythrism condition, a rare pink katydid which normally appears in green was discovered in North America in 2011.