A town in southern Saudi Arabia has been shelled by Iranian-backed Houthi rebels.
Saudi officials said Houthis inflicted casualties during their shelling of the Saudi city of Najran. Schools have been shut down and flights to and from the capital Riyadh cancelled as the airport is closed.
Coalition spokesman Brigadier General Ahmed Assiri said hospitals, buses and schools had been struck during the attacks, which he said "would not go unpunished."
Najran is close to the border between Saudi Arabia and Yemen which has seen a number of skirmishes recently. Last Thursday (30 April) three border guards and many rebels were killed in fighting in the area.
Fighting remains intense in Yemen and the United Nations (UN) has warned humanitarian supplies must get through to civilians who face shortages of food, medicine and other necessities. The UN appealed to the Saudis to stop air strikes against Sana'a airport so supplies could get through.
Saudi King Salman said in a speech in Riyadh that Saudi Arabia would establish a centre to coordinate relief, involving other members of the coalition and the UN, to provide aid for ordinary Yemenis.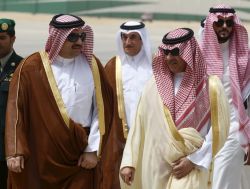 "We hope that the United Nations will participate effectively with what this centre will shoulder, including coordinating all humanitarian and relief works for the Yemeni people with the participation of the countries that are supporting the Gulf initiative," said King Salman, who earlier sacked senior aide Mohammed al-Tobayshi for apparently striking a photo-journalist.
Also present at the Gulf Cooperation Council (GCC) summit was French President François Hollande, who said France was "by the side" of the Coalition.
US Secretary of State John Kerry is due in Saudi Arabia in the next few days in a bid to bring about a ceasefire and allow aid to reach Yemen.
The UN estimates at least 1,200 people have died in fighting since March and 300,000 people have been displaced. Many civilians are now leaving the port of Aden as Houthi rebels attempt to capture the city. Troops loyal to President Ali Abdullah Saleh, who left the country in April, have also fled.