Saudi Arabia has recommenced bombing targets in neighbouring Yemen, just hours after announcing the month-long campaign of air strikes had come to an end, saying the bombing had achieved its goals.
Sites in the port city of Aden and Yemen's third-largest city, Taiz, were targeted by Saudi bombers, with dozens of people reported dead or wounded. Fighting was also reported in the Huta city of Lahj and in Daleh.
Aden's deputy governor Nayef al-Bakri told Al Jazeera the latest bombing raids had struck Houthi tanks and forces.
In Taiz, Haithi rebels had occupied the headquarters of the 35th Armoured Brigade loyal to the government. An army officer inside told AFP dozens had been killed or wounded in fighting to remove the Houthi.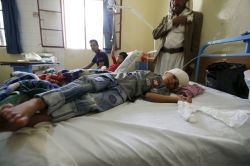 In a televised statement made in Riyadh, Yemen's President Abd-Rabbu Mansour Hadi said: "I extend on my behalf and on behalf of the Yemeni people sincere thanks and appreciation for the Arab and Muslim brothers and our partners in the coalition for supporting legitimacy."
Meanwhile, at least seven al Qaeda operatives are said to have been killed by a US drone in the east of the country, where the terrorist group is thought to be consolidating its presence.
Today's violence comes hours after coalition spokesman Brigadier-General Ahmed al-Asiri said Operation "Decisive Storm" had achieved its objectives and would be replaced by Operation "Renewal of Hope".
The Houthis have called for peace talks, but only once a complete ceasefire is in operation, according to CNN.
In further ominous developments, Iranian state media announced that a flotilla of Iranian battleships has reached the area and is docked off Yemen's southern coast. The US fears the ships are supplying the Houthi rebels with weapons and equipment.
The return to hostilities comes a day after the World Health Organisation (WHO) warned that health services in the impoverished country were close to breaking point.
Between 19 March and 17 April at least 944 people died and 3,487 were wounded in fighting, while a lack of water is impacting on hygiene in hospitals. Basic medicines have risen in price by 300% and consultations at health centres have dropped by 40%.