Yemen: Disaster looming as humanitarian aid is stranded due to fuel shortages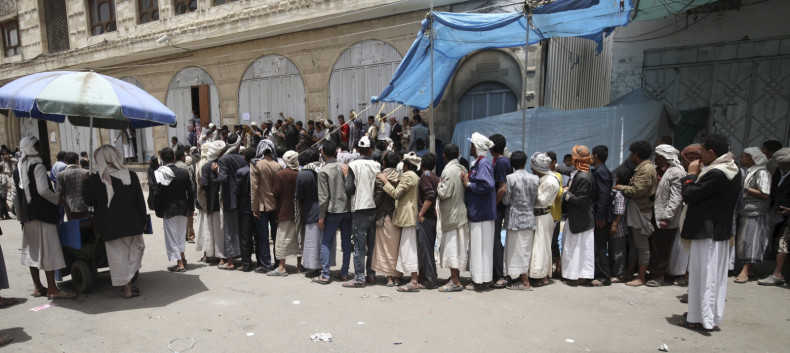 In what has become a common sight throughout Yemen, thousands are forced to queue to buy fuel and basic foodstuffs, such as wheat, which have been in short supply since the recent escalation of violence in the country.
On 21 April, Saudi Arabia and a coalition of Gulf allies announced the end of Operation Decisive Storm, a month-long campaign of air strikes against Shi'ite Houthi fighters who took control of the country in January, but said it would continue to impose a naval blockade.
The blockade on Yemeni ports seeks to prevent weapons and fighters from bolstering the Houthi ranks and has been accompanied by aerial restrictions; only a number of humanitarian flights have reached the country, primarily for Unicef and Medecins Sans Frontieres (MSF).
On 10 April, the first airlift of urgent medical and other supplies from Unicef arrived at Sana'a International Airport but the agency has told IBTimes UK it is struggling to transport the aid outside of the capital and more supplies are waiting to be delivered.
"For the last week, every day we've been trying to get a plane in and every day there has been a different problem," Julien Harneis, Unicef Yemen representative, said.
Yemen is running out of fuel
One of the challenges many aid agencies face is moving their goods around, in part because of the deteriorating security situation but also because of massive fuel shortages in the country on the border of Saudi Arabia, the world's top oil exporter.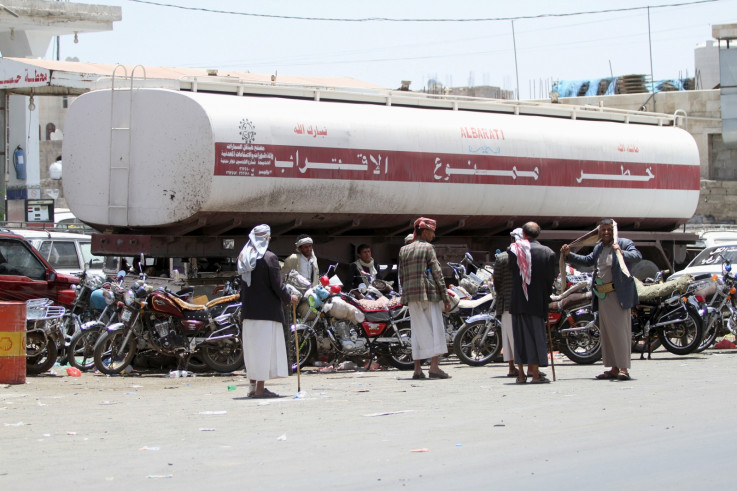 Motorcycles are seen in a queue at a petrol station amid a shortage of fuel in Sana'a
REUTERS/Mohamed al-Sayaghi
While there are no official figures measuring the supplies of fuel in the country, Oxfam says refined petrol and diesel are reported to be in "extremely short supplies".
Grant Pritchard, head of advocacy for Oxfam in the capital Sana'a, told IBTimes UK some areas have completely run out of fuel.
Where fuel is available, prices have skyrocketed, with Oxfam estimating they have quadrupled in some areas.
Pritchard said: "It all comes down to transport: a handful of flights with humanitarian assistance have been permitted to land, primarily in Sana'a, but aid agencies like Oxfam, MSF and Unicef are struggling to access fuel to transport around the country the urgently required small amount of humanitarian assistance that has been brought into Yemen.
"Already, what has been allowed to fly into the country is a drop in the humanitarian ocean in terms of need [...] but finding fuel to actually deliver this aid is becoming increasingly difficult."
Staple food shortage 'adding to the misery'
Before the coalition strikes, an estimated 10 million Yemenis were "food insecure", meaning they did not have enough to eat each day, according to the World Food Programme (WFP).
As a consequence of the escalation in violence over the past month, this number has increased by a further two million, representing a 13% rise since the start of the crisis.
"So we now have 12 million people - half the Yemeni population - that are not getting enough to eat. From a food perspective, it's a fairly dire humanitarian situation," Pritchard said.
In terms of shortages and price rises, the situation varies from area to area, and commodity to commodity. However, most governorates have reported "massive" shortages of food, particularly staples, "which is adding to the misery on the ground", he added.
For instance, Oxfam has received reports that the price of wheat, a staple of the Yemeni diet, has increased by as much as 50% in some areas.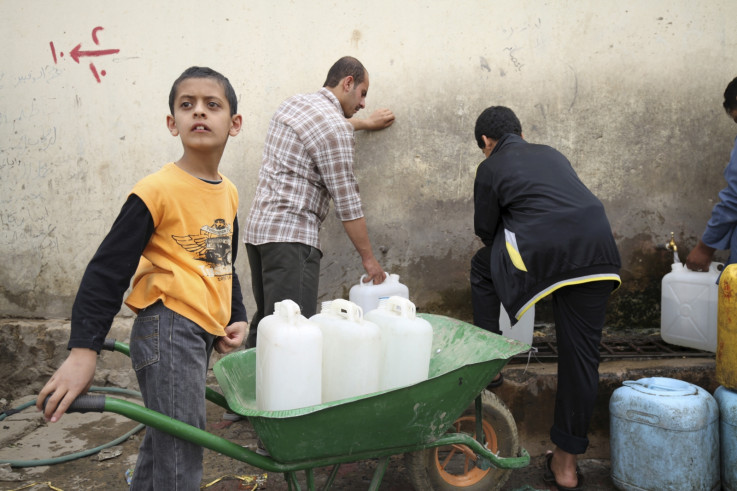 A boy transports containers of water at a private well as people store water, amid shortage of clean drinking water, in Sana'a
REUTERS/Mohamed al-Sayaghi
No access to safe drinking water
Fuel resources are also used for the pumping of clean water from underground sources.
Before the violence escalated, more than 50% of the population did not have access to clean, fresh water and those who did were relying on generators to pump water from underground reserves.
"Clearly, if there is no fuel or diesel to power those generators, people are looking for alternatives, which often mean they go for unsafe sources, which has a knock-on effect on health," Pritchard said.
Imminent collapse of healthcare services
On 22 April, the World Health Organization said a collapse of health care services is imminent in the country, saying the lack of fuel has also disrupted functionality of ambulances and the delivery of health supplies across the country.
Hospitals in particular are struggling and have not been able to power heir back-up generators, while Oxfam has received reports that Al Thawra Hospital in Sana'a was considering closing its doors "because it didn't have any diesel to power its generators and therefore wasn't able to do what it does: treat the sick and injured".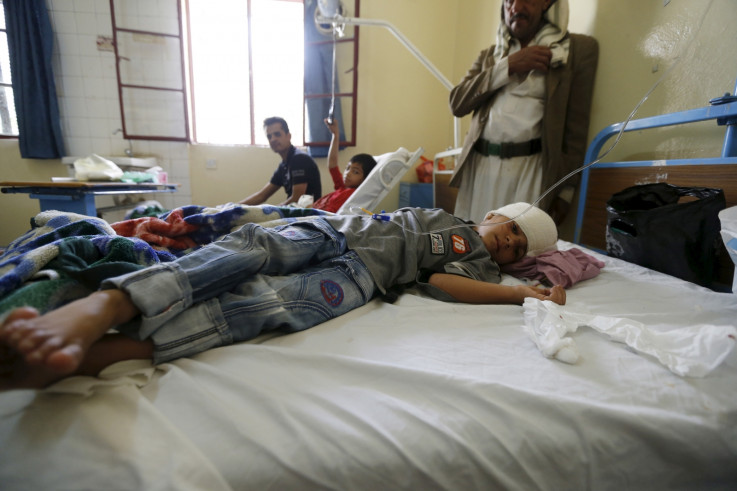 A boy injured in a suicide bomb attack lies on a hospital bed in Sana'a amid an imminent collapse of health care services in the country
REUTERS/Khaled Abdullah
"Medical supplies as well as oxygen and blood are all in short supply in many governorates," Pritchard added.
"The situation is dire and is deteriorating by the day, and we need all parties to allow humanitarian access and the import of sufficient basic commodities in sufficient quantities to allow us to respond to those needs."
'End the blockade and sign a ceasefire'
Oxfam, which has 160 Yemeni staff throughout the country, has welcomed the end to the 27-day-long air strike campaign that has claimed as many as 900 lives, half of which were civilians, but says only an end to the blockade and "a fully negotiated peace and permanent ceasefire" will alleviate the humanitarian situation.
"We need to re-open the land, sea and air routes into the country so that essential supplies like fuel, food and medical supplies can actually reach the population," Pritchard said. "It is important that food, fuel and medical supplies are allowed to be imported in sufficient quantities to meet those needs."
Yemen is the Middle East's poorest country with 16 million - more than 60% of the population - were already reliant on aid to survive.