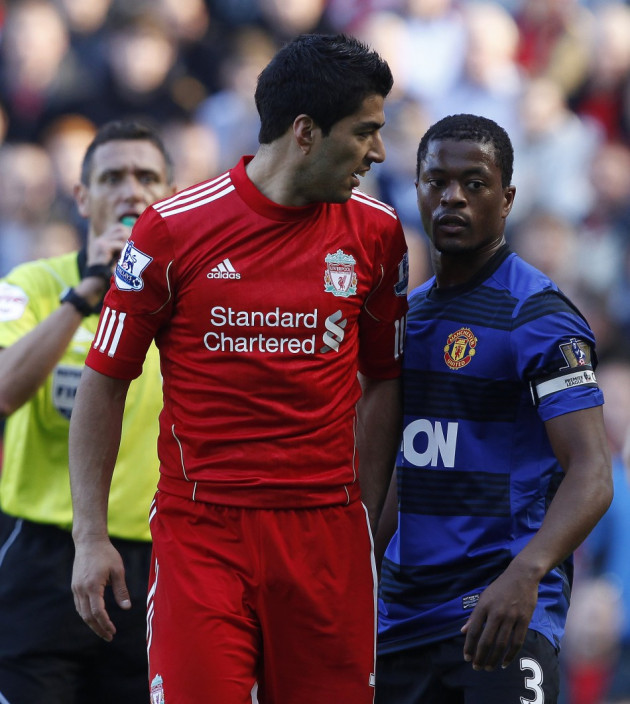 Liverpool striker Luis Suarez has issued Manchester United fans a stark warning ahead of his visit to Old Trafford on Saturday, by suggesting their inevitably hostile reception will only serve to spur him on.
The controversial Anfield talisman has suggested he has no intention of apologising to Manchester United's stand-in captain Patrice Evra, when the duo meet for the first time since the Liverpool star was suspended and fined for racially abusing the Frenchman during the reverse Premier League fixture in October.
Already the most intense rivalry in English football between the country's two most successful clubs, Suarez can expect a hugely hostile reception from Manchester United fans' when Sir Alex Ferguson's side host Liverpool at the weekend.
Ahead of the game Suarez has once again stoked the fires by suggesting his well-documented alleged abuse of the aforementioned Manchester United fullback should never have been broadcast away from the pitch. Anticipating the Old Trafford reception, the Liverpool number seven also suggests he is prepared for it and ready to respond with a match-winning performance.
Speaking to a Uruguayan radio station, and quoted in The Times, the Liverpool striker is reported to have said: "I knew what I did and there is a kind of football law that says 'what happens on the pitch stays on the pitch and that's the end of the story'.
"I know against Man United it is going to be tense because I'm going to face Evra. I know Man United fans are going to try to make me feel uncomfortable, but I have to tell them they are going to spur me on if they whistle at me."
If Suarez's comments appear reckless in their timing, Manchester United and Liverpool respective managers have seemingly done little to diminish the mounting tension.
On Tuesday evening, in an interview with CNN, Sir Alex Ferguson urged the Football Association to issue more severe punishments for transgressions like the aforementioned Suarez case.
The Manchester United manager said: "I don't understand at all where it's coming from (re-emergence of racially aggravated offences),
"This is a moment where we have to take stock and we should do something about it if it's surfacing again, and be really hard and firm on any form or shape of racism.
"There have been a couple of examples recently, which is not good. In 2012, you can't believe it. It was obvious maybe 20 years ago and the improvements have been for everyone to see.
"I have had some fantastic black players, and with every one of them I have enjoyed my working relationship."
Ferguson's deliberately timed comments were broadcast 24-hours after Kenny Dalglish responded to questioning regarding Suarez's return for Liverpool, during the 0-0 draw against Tottenham on Monday night.
Rather than take the opportunity to alleviate the unease between the two clubs, the Anfield chief chose to bring additional strain to the upcoming fixture, by reiterating his support for Suarez and again suggesting the player should never have been banned for his alleged indiscretion in the first place.
"It's fantastic for us to have Luis back - he should never have been out in the first place," The Liverpool boss told The Times in his post-match press-conference on Monday.
Manchester United host Liverpool at Old Trafford in the lunch-time Premier League kick-off on Saturday.