Pakistan Suicide Bomb Kills 29 at Policeman's Funeral in Quetta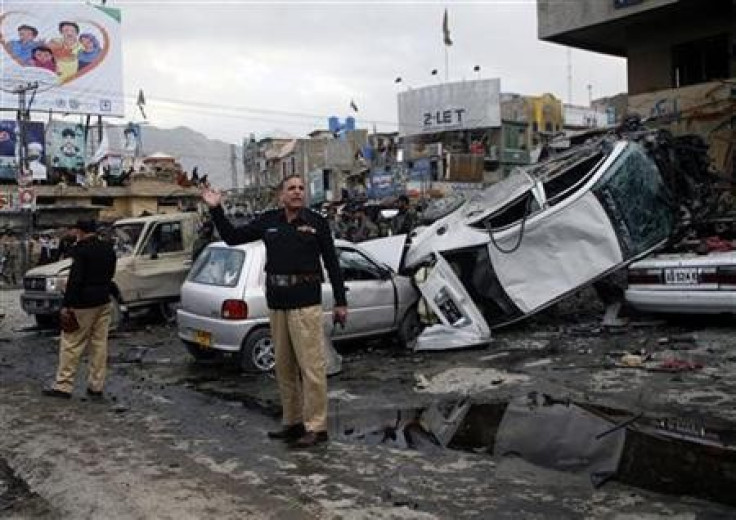 At least five senior officers are among the 29 victims of a suicide bomb that went off at the funeral of a policeman in the Pakistani city of Quetta.
The attack took place in the restive provincial capital of Baluchistan on Eid al-Fitr, which marks the end of the Muslim Holy month of Ramadan. The explosion also left 62 people wounded, according to Babar Yaqoob Fateh Mohammad, the provincial chief secretary.
Among the dead were several children attending the funeral and Fayyaz Sumbal, the city's deputy general of operations. Reuters reported policemen wandering amidst the blood and body parts in search for colleagues.
The suicide bomber was wearing a jacket packed with ball bearings and shrapnel, which detonated just outside the mosque as senior officers were queuing to offer prayers for their colleague, who was killed earlier in the day.
Although there was no immediate claim of responsibility, Quetta is home to several militant groups including the Taliban and separatist fighters.
Pakistan has been hit by a wave of attacks since the government of Prime Minister Nawaz Sharif came to power after a May election.
In rural eastern Afghanistan, a bomb planted in a graveyard killed 14 members of a single family, which was gathering to celebrate Eid with a traditional visit to the tomb of a relative.
The bomb went off in Nangarhar province's Ghany Khel district. Among the victims were seven women and seven children, according to Masum Khan Hashimi, the province's deputy police chief.
The relative whose tomb they were visiting was a tribal elder named Haji Khayali, who worked for a security company and was killed by the Taliban earlier this year.
The dead man's brother, Haji Ghalib, was reportedly once a Taliban sympathiser who served time in Guatanamo Bay. However in the aftermatch of the bomb he renounced the movement he had once supported, saying: "My family is finished. These people are inhuman."
© Copyright IBTimes 2023. All rights reserved.