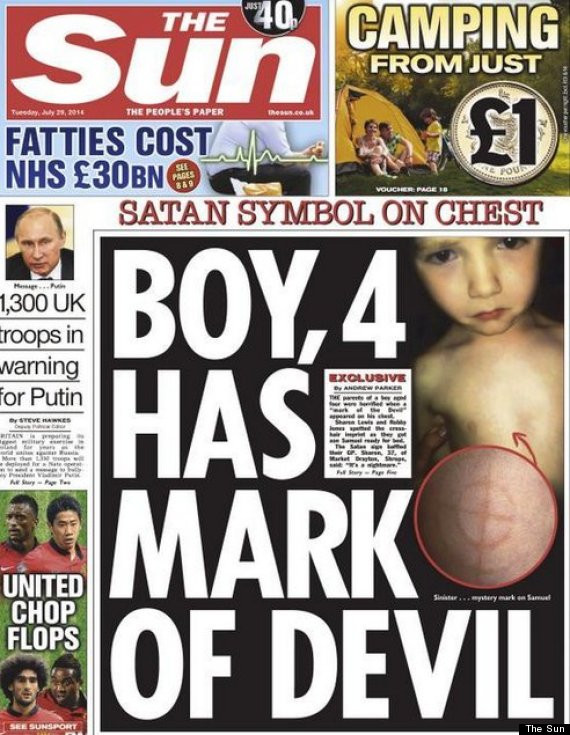 The Sun newspaper faces a furious backlash from Twitter users, including one MP, on Tuesday after publishing a front page story accusing a young British boy of being associated with the devil.
Critics say the newspaper is "going on a witch hunt" and are demanding that the story, "BOY, 4, HAS MARK OF DEVIL", is pulled from the website and an apology issued.
In the story, the "shocked" mother of Samuel Jones reveals her horror that her young child has "been cursed" by an "evil spirit".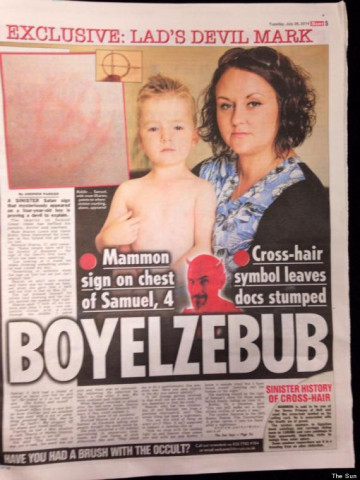 The article begins: "A sinister Satan sign that mysteriously appears on a four-year-old boy is proving a devil to explain."
"Just looking at it made me shake thinking something unnatural had visited my boy", says the mother, Sharon Jones, who has been photographed alongside her young son for the paper, which has the biggest readership of any daily paper in the UK.
"Something or someone made the sign on him but we just can't explain how", Sharon goes on to tell The Sun journalist.
She shared the image of the mark on her son's chest on Facebook before turning to the national newspaper, which has around 2 million daily readers, for answers. The family say they are "desperate for the truth" and "confused and frightened" by the appearance of the mark.
Conservative MP Sarah Wollaston spoke out on Twitter against the article, branding it "damaging".
She wrote: "@TheSunNewspaper should pull their damaging front page story with photo of a child. He does not carry 'mark of devil' he is a real child!"
Others have speculated the mark could simply be the result of a hairdryer burn, posting photos of hairdryers with remarkably similar designs to the mark seen on the boy's body.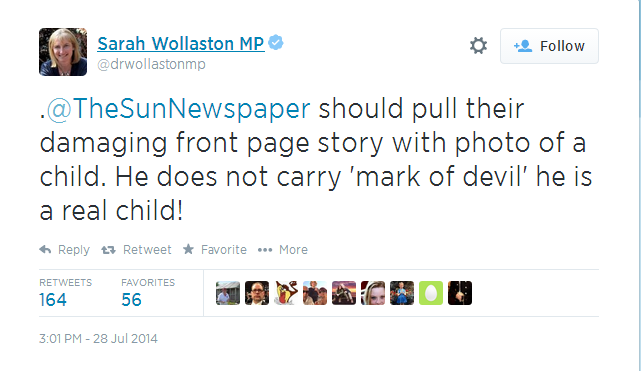 Twitter users also blasted the parents of the boy, who "need to take a good look at themselves", according to one user.
Another, @Angledweb, tweeted: "The Sun is literally demonising a child on its front page. Surely that's abuse."
Twitter user @Ksnmiyagi called upon the UK's Press Complaints Commission to investigate the story, saying: "@UKPCC Today's front page in The Sun is reprehensible. The editor has condemned this child to bulling and harassment. Please investigate."
The Sun have refused to comment on the negative backlash that Tuesday's front page is receiving.