Britain on a Budget: The Rise of the Supermarket Own Labels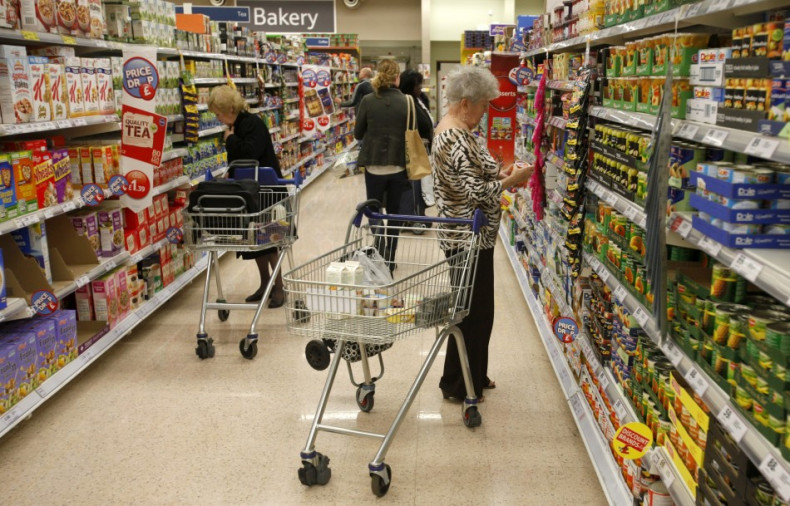 While George Osborne eats his words over the economy as it tumbles deeper into recession, hard-working Britons are chomping their way out of household financial difficulties by buying budget groceries.
In fact, it is not just those at the lower end of the income scale - it is also the squeezed middle classes vying for value at the supermarket.
Britain is on a budget and own-label food is proving more popular than ever.
"Why buy a tin of branded beans when somewhere like Morrisons does an identical version for 18p?" Elizabeth Fish, a freelance writer, told International Business Times UK.
"I understand the brands can profit and have a slightly higher price by arguing their quality is better, but as I don't have a lot of disposable income, quality is a corner I'm willing to cut.
"In many cases, the taste isn't different anyway."
She added: "I think a lot of people see this as 'student living' but I feel it's actually beneficial to everyone in a time where jobs aren't completely safe and prices of items fluctuate so much."
Own label market growing
Kantar Worldpanel, which conducts consumer research, says the supermarket own-label market is growing by 9.3 percent year-on-year.
Fresh research from Mintel, a market intelligence company, shows that for the first time own brand food and drink products have overtaken branded in terms of new product development.
In 2011 own label brands accounted for 54 percent of new food and drink products being developed, against 46 percent for well-known brands.
The year before brands had held a 55 percent share, but as Britain is dragged down into another recession the demand for own labels has been on the rise.
"While there are signs that pressure on consumer budgets is slightly easing, 2012 looks set to see the majority of adults remaining watchful and discerning when shopping," Chris Wisson, senior food analyst at Mintel, said after publishing the research.
"Our research suggests that on balance, consumers expect to buy more standard and value own label foods while cutting back on brands."
Sainsbury's and Tesco eye budget-conscious consumers
Latest retail sales figures for the UK show that volume plunged by 2.3 percent month-on-month in April, a sign that consumers are still keeping their purses clamped shut.
This is having a fatal effect on the retail market, with a 38 percent quarter-on-quarter leap in the number of British retailers going bust in the first three months of the year, according to accountants Wilkins Kennedy, to 670 businesses closing.
Yet Sainsbury's, one of the biggest supermarkets in the UK, reported solid sales growth in own brand products in its annual report.
Its premium Taste the Difference range, intended to offer affordable luxury, grew by 8.7 percent in sales across the year, while its value Basics range saw sales growth of 6.8 percent.
In the past two years alone Sanisbury's has launched or improved 9,000 of its own label products.
"Customers trust us to make the right choices in order to develop own brand products that have the highest health, environment and social standards - these are issues that are very important to our customers, even now, when household budgets are under pressure," Cheryl Kuczynski, spokeswoman for Sainsbury's, told International Business Times UK.
Britain's biggest supermarket, Tesco, recently re-branded its Everyday Value range in a bid to revitalise the well-known blue and white stripes that covered its low cost own label products.
After extensive consumer research Tesco altered many of its existing value products to meet the new and rising demand.
"Tesco was the first supermarket to launch a Value range back in 1993 ... Almost 20 years on and an affordable quality range is more relevant than ever, but customer needs have changed," David Wood, Tesco UK marketing director, said when re-launching the range.
Improvements such as only using fillet in its value fish fingers and putting more chocolate chips in its biscuits are geared towards retaining their existing customers and attracting those used to higher quality away from big name brands.
The supermarket giant has also improved its ready meals - a product with a total market value of £1bn - by adding more meat and using higher quality ingredients.
"Retailers are appearing to put greater weight behind their own label ranges in attempts to encourage consumers to switch into using them," Mintel's Wisson said.
"More comprehensive ranges, product improvements and even range re-launches have all put greater pressure on food and drink brands."
Among those making the switch from brands to own labels are the affluent middle classes, who politicians dub the "squeezed middle" and bear much of the burden of the current economic crisis, because there is "no longer a perception about own label equating to lower quality," Wisson said.
Private label products
One of the biggest secrets of the food industry is that often it is the same companies making products for both big brands and own label goods, known as private label products.
Weetabix, the household cereal brand, produces not only its own breakfast products, but also supplies cereals for some big supermarket chains to sell under their own labels.
Sometimes consumers are paying for the additional distribution and marketing costs that come with well-known brands, as well as perceived security in knowing what they are getting with names they are familiar with.
However with no clear end to the current economic crisis in sight, and with consumers forced to be more prudent than ever before as they juggle their personal finances and rising bills, it looks unlikely that growth in own label product sales will stop any time soon.
More and more people are being financially forced to expand their culinary horizons when it comes to food shopping and many are finding own brands just as palatable as the expensive big brands.
"I often choose own branded products where they are available, simply because the branded products available are three times the cost and are very similar," John Fernandez, a student at the University of Lincoln, told IBTimes UK.
"As a student it is prudent for me to save, however I can see myself as someone who will carry on buying own brand after university, just because food these days is so expensive."