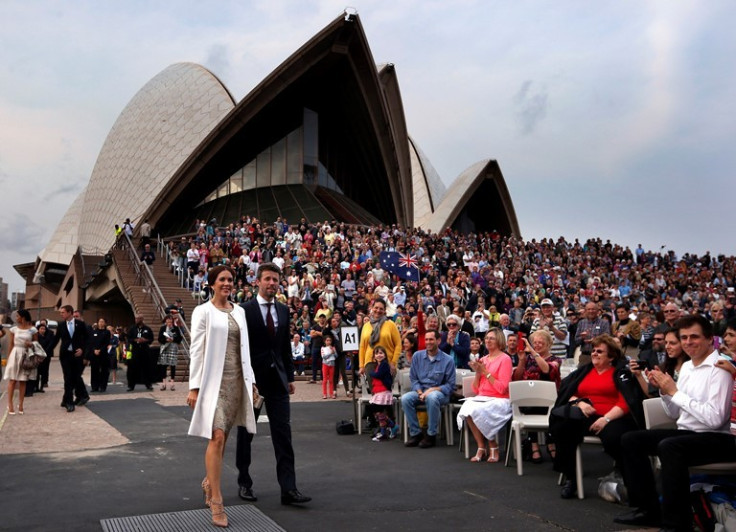 Sydney's Opera House, the most famous building in Australia, has just turned 40 and on Sunday a birthday party took place to celebrate the event. A flotilla of lifesavers performed for huge crowds gathered on the waterfront beside the famous structure at Bennelong Point and Aboriginal dancers held a traditional smoking ceremony to cleanse the site.
Not everyone is enamoured with the opera house, designed by Danish architect Jorn Utzon - Germaine Greer describes it as covered in ''clunky ceramic tiles'' and the interior ''makes a nonsense of the black-opal seascape outside'', but few would argue that it is one of the world's most instantly recognisable buildings.
Speaking at Sunday's celebration Utzon's son Jan said: "A building like this happens once in a lifetime. It is a unique Australian expression of will and enthusiasm and 'let's go do it' kind of spirit."
Jorn Utzon won an international competition in 1956 when his design was chosen from 233 entries. His submission was rescued from a pile of rejections. Inspired by the memory of white sails in his native Aalborg's shipyards, Utzon drew up his blueprint from maps and photographs without visiting the site.
Constructing the building was a huge technical challenge. Measuring 185 metres long and 120 metres wide, each of the 15 ton roof sections are held together by 350km of tensioned steel cable; the roof also contains a million tiles and the building contains 1,000 rooms and 6,225 square metres of glass.
The architect resigned from the project amid rows over spiralling costs and the project was finished behind schedule in 1973. The final cost - Aus$102 million - was way over budget but for many Australians the "Fornicating Armadillos", "oyster shell" or simply "the sails" represent the country's arrival on the global cultural map. Queen Elizabeth II opened the Opera House on 20 October 1973 and in 2007 the building was placed on Unesco's World Heritage List.
Today the Opera House hosts between 2,000 and 3,000 events every year, including rock concerts, exhibitions and - occasionally - opera. With over 8 million visitors annually, a midlife crisis seems unlikely. For "The Sails", it seems the fat lady won't be heard for many years to come.