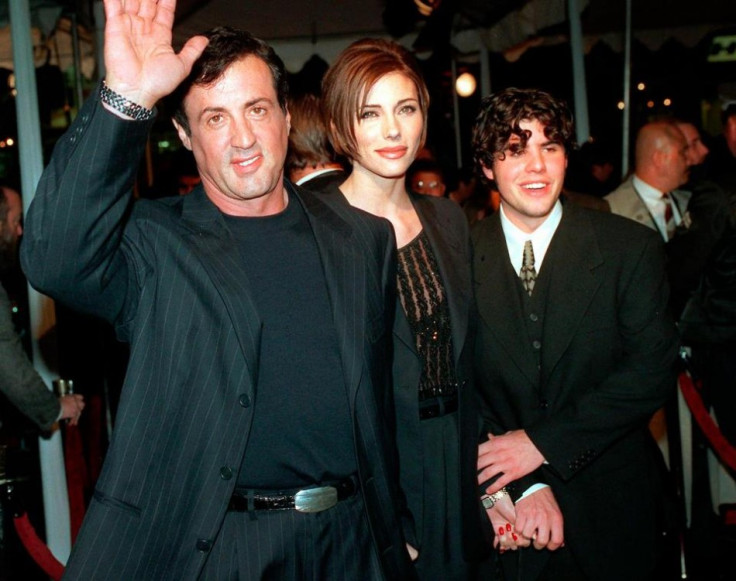 Sage Moonblood Stallone, 36, the son of Hollywood actor Sylvester Stallone, was found dead in his apartment in Los Angeles. Sage, a filmmaker himself, died of a drug overdose, according to a report in TMZ. Sources told the Web site "numerous empty pill bottles" were found in the area where Sage's body was discovered. The body was first found by a maid who then immediately called the paramedics and Sage was pronounced dead after they arrived.
However, in an twist to the tragic incidenct, an unidentified source confessed to Radar Online Sage's death may not have been a suicide.
"I suspect he had been dead for quite a while when he was discovered. Usually medics will be at the scene for around forty-five minutes but they were out of there within half an hour. There were a number of prescription bottles found at the scene but it did not appear to be suicide and no note was found," the source explained.
Stallone, who was at a comic book conference in San Diego at the time, to promote his forthcoming film Expendables 2, was reported as being "grief-stricken" over the news.
"Sylvester Stallone is devastated and grief-stricken over the sudden loss of his son Sage Stallone. His compassion and thoughts are with Sage's mother, Sasha. Sage was a very talented and wonderful young man. His loss will be felt forever," Sylvester Stallone's rep, Michelle Bega, told TMZ. Sage made his film debut alongside his father in Rocky V, as Stallone's onscreen son.
Meanwhile, friends report themselves shocked at the possibility Sage was into drugs.
"I saw him two weeks ago and he seemed great. He was healthy and upbeat and didn't seem depressed at all. I never knew him to do drugs, not even weed, so for him to die from an overdose is kind of shocking to me," a friend told Radar Online.
"(Sage) was full of life, a wonderful, loving person. The last time I talked to him a few days ago he was saying he was getting married, he had a lot of things he was working on and seemed very enthusiastic. There was no indication there was any problem," Sage's attorney, George Braunstein, told People magazine.