At least 27 people have been killed after air strikes hit a hospital and nearby residential buildings in the Aleppo area of Syria. Three doctors and three children were among those who died in the attack on Al Quds hospital on Wednesday (27 April).
Dr Wasem Maaz - the last paediatrician said to have been based in the city - was also killed in air strikes, the UK-based Syrian Observatory for Human Rights said. There are fears the death toll could rise further, with video footage posted on social media showing rescue workers searching throughout the night for survivors.
Medecins Sans Frontieres, which was providing assistance to the Al Quds hospital, condemned the bombing, saying the air strikes were "depriving people of essential healthcare". The humanitarian group said 14 patients and staff had died.
An activist at the scene, named as Zuhair, told the BBC: "It was an air strike by two rockets, heavy rockets from [a] Russian air strike. Near the hospital one building on five floors just crumbled and just crashed down and we don't know how many dead will be under these ruins."
The attacks come as the Observatory said 107 civilians, including 20 children and 13 women, had been killed in Aleppo since Friday as violence between government forces and opposition groups escalated. The United Nations warned a ceasefire agreement, passed in February, was now "barely alive".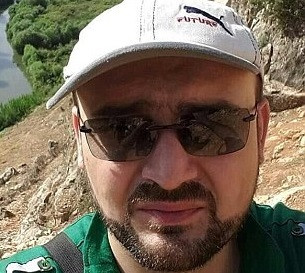 U.N. Special Envoy Staffan de Mistura called for Presidents Barack Obama and Vladimir Putin to intervene "at the highest level" to salvage the situation. De Mistura stressed that the ceasefire must be "revitalised" before the third round of Syria peace talks are expected to resume in May.
In the past 48 hours, de Mistura said that there had been an average of one Syrian civilian killed every 25 minutes and one wounded every 13 minutes, adding: "How can you have substantial talks when you have only news about bombing and shelling? It's something that even I find it difficult, can you imagine the Syrians?"
The Observatory said that at the time of Wednesday's air strikes, the ceasefire was being fully respected in only about 20% of the area it covers. Aleppo, once Syria's economic hub, has been divided by the rebel-controlled east and the regime-held west since 2012.
The UN has been struggling to keep the peace process alive, after the main opposition High Negotiations Committee (HNC) left formal talks last week.