Access to the internet within Syria has been shut off in an apparent attempt by the Syrian government to disrupt the online activities of opponents.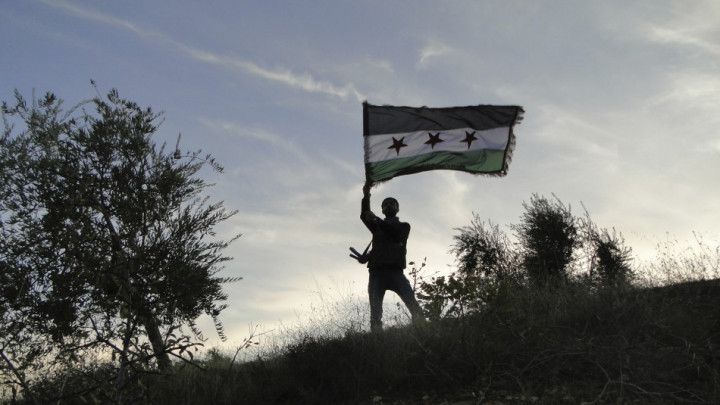 According to multiple monitoring companies, all traffic between Syria and Western online services was cut since just before 8pm GMT on Tuesday night (10pm local time in Damascus). Google reported that all its services were inaccessible. Dan Hubbard, chief technology officer of Umbrella Security Labs said they notices a significant drop in traffic from 6.45pm GMT last night, but "On closer inspection, it seems Syria has largely disappeared from the Internet."
Arbor Networks' ATLAS threat analysis network, a collaborative effort of mor than 250 network operators across the globe, recorded the drop off in traffic as outlined in the graph below.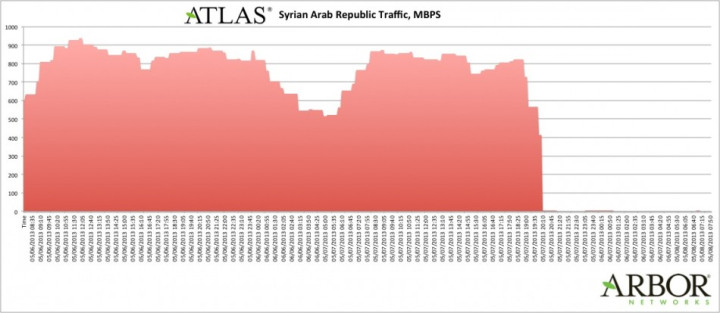 This is the second time in the last seven months that Syria has been cut off from the internet, with most observers blaming the government for the previous two-day blackout in November, as it sought to prevent opposition manoeuvres.
However the government said that blackout was the result of "terrorist activities" which saw someone cutting underground cables which caused the outage. However this was seen as highly unlikely and although the Assad regime in Syria has said nothing officially about the latest outage, it is likely another attempt to hinder the activities of activists.
As well as seeing access to the internet shut down, there has been a number of campaigns of targeted malware hitting Syrian activists which further hinder their attempts to communicate with each other and the outside world.
Effective weapon
The Electronic Frontier Foundation (EFF) said it was "deeply concerned that this blackout is a deliberate attempt to silence Syria's online communications and further draw a curtain over grave events currently unfolding on the ground in Syria. "
However, an internet blackout like this may not be the most effective weapon against activists, as many of them use satellites to access the internet, meaning the blackout has more of an impact on the population at large than on the activists.
The EFF added: "A number of activists on the ground in Syria have access to Internet via satellite links, which can connect them to the Internet but carries a high risk for detection, which can be life threatening."
The online hacktivist group known as Anonymous is attempting to help connect people with the internet using dial up connections, as it has in the past in the likes of Libya and Egypt. Google has also set up a service called Speak2Tweet which allows those who still have a phone connection to leave a voicemail and the service will then tweet the message.
Some people have managed to get through on Twitter from within Syria however, including thye BBC's Middle East bureau chief Paul Danaher, though it is unclear how he managed to send his tweet.
For the first time in monthsthe Internet is completely down in Damascus and has been so since late last night

— Paul Danahar (@pdanahar) May 8, 2013