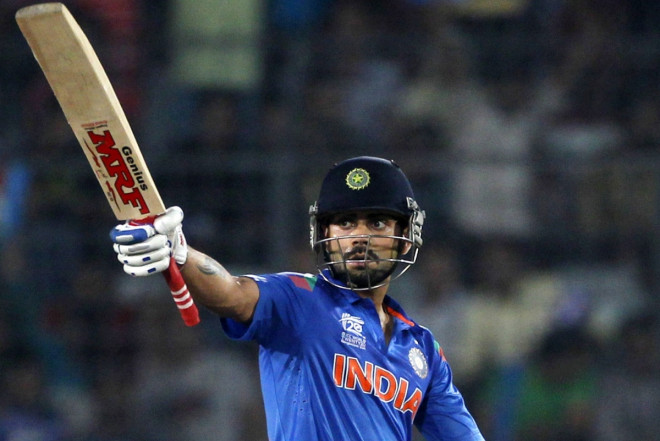 India have set Sri Lanka a target of 131 to win the 2014 World Cup, with Virat Kohli staging a brave lone stand against the Lions' brilliant attack.
Kohli, undoubtedly the star of the tournament, slashed and shimmied his way to 77, and at times appeared as though he was going to win the game on his own.
However Yuvraj Singh struggled for fluency, scoring just 11 at a strikerate of just 52, using up precious deliveries and denying Kohli the strike. Even when he departed in the nineteenth over, India were unable to accelerate, with Kulasekera and Malinga bowling superbly at the death.
When Kohli was run out going for a second off the final ball, it summed up the innings – Sri Lanka's ruthlessness leaving India with no room for manoeuvre. Sri Lanka, after winning the toss, bowled tightly early on, with both Angelo Matthews and Rangana Herath tying down the vaunted Indian batsman and inducing a rash of mistakes.
Ajinkha Rahane was bowled by Matthews trying to break the shackles, before his opening partner Rohit Sharma drove Herath to Senanayake half-through the innings.
But Lasith Malinga made a crucial error in dropping Kohli off Herath, and the spill proved costly as India's number three began to move through the gears.
Kohli first clubbed Herath and Senanayake over the ropes to push India's run rate above six an over in mid-innings, before smiting Kulasakera around the park in an over which went for 16 runs.
But the final 24 deliveries went for less than six an over, and Sri Lanka's brilliant death bowling leaves them favourites at the half-way stage. The wicket appeared slow and low, but offered little turn for the spinners, and Dhoni will probably feel he is 20 runs short of a winning total.