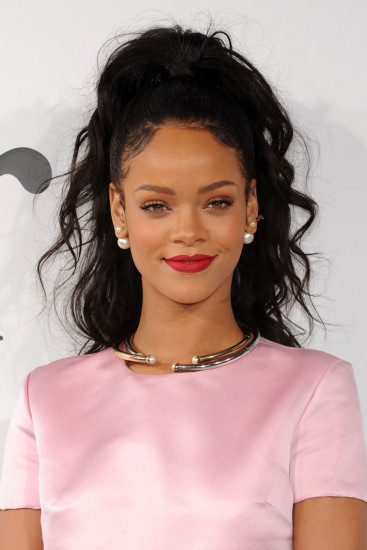 As Meek Mill and Drake's twitter row continues to rage on social media, there may soon be another feud on the horizon.
R&B star Tamar Braxton is in hot water with Rihanna's fans after claiming that the singer does not sing R&b music.
The 38 year old made the controversial comments during an appearance on Power 105.1's Angie Martinez's radio show to promote her new single If I Don't Have You. While discussing the state of R&B, the Love and Way hitmaker claimed that while she did not agree that the genre was dead, she felt that musicians do not get the love and support they deserve.
Braxton went on to admit that she had taken issue with RiRi receiving the 2014 Grammy for the Best Urban Contemporary Album for her Unapologetic album, because she a pop star. Braxton's debut album Love & War add been nominated in the same category.
"[Rihanna] doesn't sing R&B music. She's a pop star. I had an issue with Rihanna being nominated at the Grammys for best R&B album. I love her [though]. Glad she won."
When Martinez pushed her to elaborate on what she considers R&B music is if it is not what Riri is singing, the mother-of-one explained: "It's called Rhythm and Blues. Ribs and Barbecue. It's not pop pop pop tat uh tat tat tat. It's soulful. That's R&B.
She also claimed that Rihanna's songs were great for twerking but the lines had been blurred.
"I'm just saying. I love her; I'm one of her biggest fans period, but that's not R&B music."
Although Rihanna has yet to respond to her comments, the Navy were not pleased with the comments and rushed to her defence. While some accused Braxton of being jealous others claimed she was desperate for publicity.
One person that doesn't care what type of music Chris Brown's ex is singing is Miss Piggy. The impeccably dressed pig from The Muppet Show, who is helplessly in love with Kermit, recently covered Rihanna's hit Bitch Better Have My Money.
The two-minute video, entitled Good Pig Gone Bad, features clips of the porcine character's diva behaviour throughout her illustrious career, cut into a pitch-perfect music video set to the song.