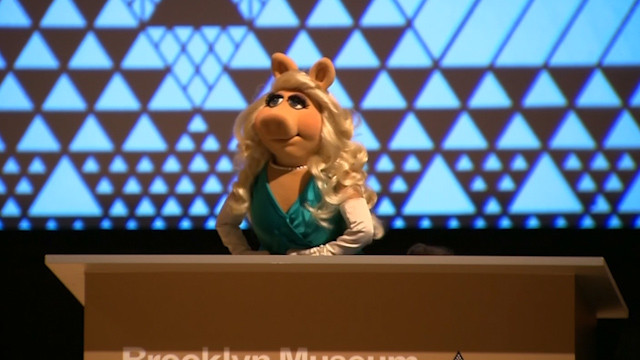 Just when Rihanna thought her marijuana smoking, barely-there outfits and racy music videos had secured her the title of the baddest chick in the game, somebody is after her crown.
Miss Piggy, the impeccably dressed pig from The Muppet Show who is helplessly in love with Kermit, has covered Riri's hit Bitch Better Have My Money.
The two-minute video features the Hollywood A-lister throughout the years, cut into a pitch-perfect music video set to the song, which follows the star as she goes on violent rampage to get money she is owed by a dodgy accountant.
While the 27 year old's seven-minute visuals were given an adult rating due to the high level of nudity, foul language and violence, Miss Piggy's is more diva than dangerous.
The music video, entitled Good Pig Gone Bad, shows the porcine character singing and dancing in fabulous outfits. The montage also includes clips of her outlandish behaviour throughout her illustrious career.
The viral video, presented by Vulture, has gone down a storm with fans and has already amassed over 300,000 hits.
But she still has a long way to go to compete with Rihanna's success. Earlier in July, Chris Brown's ex was crowned the most successful digital singles artist of all time. The Diamonds star managed the impressive feat after accumulating more than 100m song certifications.
In March, she revealed that her next album will be "timeless" and feature some of her best work yet.
"I've made a lot of songs that are really, really big songs," she told MTV News. "From the jump, they just blow up. And I wanted to kind of get back to — not that they weren't real music, but I just wanted to focus on things that felt real, that felt soulful, that felt forever.
"I wanted songs that I could perform in 15 years; I wanted an album that I could perform in 15 years," she added.
Which version do you prefer?